Mass brand makes major investments amid market disruption — and wants to bring the IBD along for the ride.
Editor's note: A version of this story appears in the Sept. 1 issue of Bicycle Retailer & Industry News.
DAYTON, Ohio (BRAIN) — In its 126-year history, Huffy Bicycles has proved time and again that the ability to adapt is embedded in its DNA. From world wars and the slow death of American manufacturing to the rise of mass retailing and the current retail apocalypse, the company, which got its start when founder George Huffman purchased manufacturer Davis Sewing Machine in 1891, has endured just about every market disruption of the modern era.
Huffy began producing bicycles in 1892, and by 1905 it employed 2,000 people at its factory in Ohio, which manufactured 600 bikes and 600 sewing machines per day. Although over the years it made lawn mowers, gas station supplies and other products, the one constant has been the bicycle.
Huffy president and CEO Bill Smith believes that society today has entered the fifth retail revolution. The first four included primitive marketplaces that after a few thousand years begat the general store, led to refrigerated transport and eventually to mass chain and discount retailing — and Huffy has been in existence just long enough to make it through, and thrive in, the last three.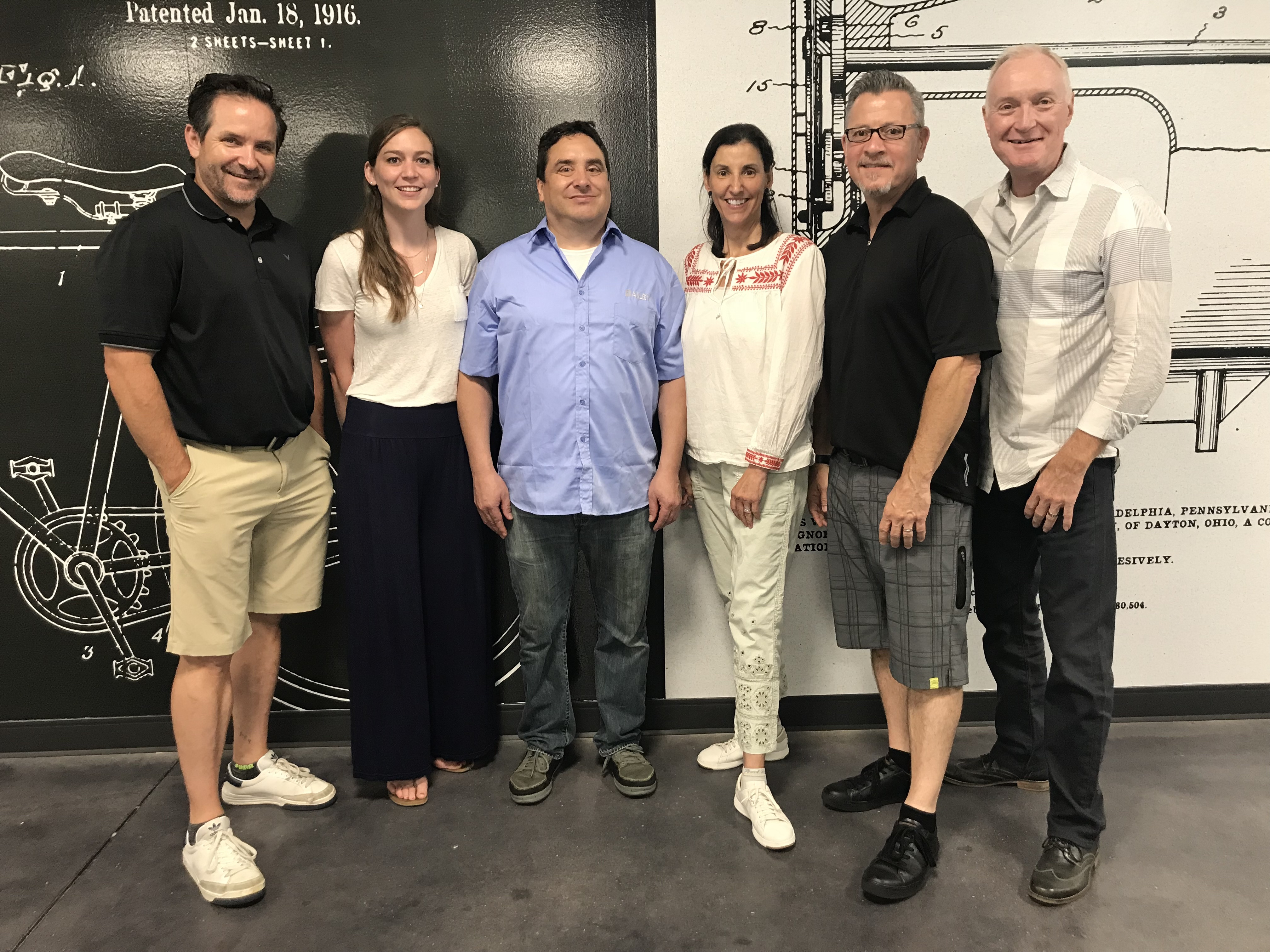 And Smith has every intention of making sure Huffy survives today's fifth revolution, spurred by a little gadget we all have within arm's reach: the mobile phone. Smith believes its mankind's biggest invention because it has equalized the world.
"The rich man in downtown Manhattan, the investment banker, has the same capabilities as the peasant in sub-Saharan Africa — all the same information," he said. "All with a scale, scope and speed we've never imagined. It's changed the way we get and consume information. It's changed the way we all live in a way that nothing prior has been able to do. It's set one pretty high bar.
"If you agree that the mobile phone is this great disrupter and great equalizer, and it isn't a part of your business, if it isn't integrated into your business as a focal point and the cornerstone of how you're going to speak to your consumers and customers, you will fall behind. You won't make it."
But Smith admits that his own company is late to the party — which is why under his leadership, Huffy is in catch-up mode. And it's fighting with a vengeance to make up for lost time.
"It's difficult because of all the daily distractions to realize we are in the midst of one of the most dynamic, disruptive, change-driven retail revolutions that has ever occurred," said Smith, who has helmed the company since 1993. "And we're just in the beginning, nowhere near the end. So we have a sense of urgency, to not just get caught up but to become a leader for this in our industry."
Huffy has invested several million dollars in the past 18 months to become more consumer- and tech-centric in order to ensure the company is around another 126 years. Smith said it's not just survival instinct kicking in.
"That's certainly part of it. But it's that competitive instinct that we have, that we are going to be a part of what this new world is — to show the DNA of this company," he said. "There are examples of that all throughout our history. For us, this is just another part of that history."
A tipping or turning point?
Smith likes to say that retailing is tough, but frankly, bicycle retailing is tougher.
Citing data from Investors Business Daily, Smith painted a grim but accurate picture of the current state of retail and where it's heading. With 3,000 store closings in about three years and an additional 6,000 more predicted to close in 2018, including the demise of 1,700 Toys R Us stores, Smith understands there are no guarantees.
"Sometimes you just have to stop and look at what's happened in just 12 months. If you had told me a year ago that Toys R Us would be in liquidation today, I wouldn't have believed it," he said. "They were our No. 2 customer, so that's a wake-up call."
But even with the loss of Toys R Us, Smith projects Huffy will still end 2018 up from last year, in part due to several new initiatives the company currently has underway — all of which have transpired in about 12 months' time. These include new distribution and products in categories Huffy has never entered, as well as huge investments in consumer-facing technology. It has also hired 26 new employees this year. In January, Huffy moved into a completely remodeled 60,000-square-foot building to accommodate the growth.
"We are going where the consumer is going. Our attitude is that we have a lot of important customers who pay the bills and feed a lot of families. If we're not talking to our customers, if we're not where our customers want to shop, wherever that is — Walmart, the IBD, online — if we're not at that point of contact, and wherever they want to receive product, we become irrelevant," Smith said.
Huffy will launch three new brands in the coming months, including Batch Bicycles, which will debut at Interbike. Batch Bicycles' line will include adult and kids' models designed for the IBD ranging in price from $89 to $499. The goal is to make it easy for both IBDs and the consumer to do business with Huffy, including fair margins, no minimums and a broad digital strategy to support purchasing and marketing efforts via apps and B2C and B2B websites. Batch will sell to consumers online, but pickup will occur at the IBD.
"It would be easy to say we'll only do this online thing with Batch. We will have the apps and the tablets and consumers will have full, immediate real-time access to our inventory and our orders, but we will link consumers with dealers," Smith said. "In the long run, this should be an incremental and complementary business for dealers. We are not naive. There are premium, venerable brands that are well entrenched. We're not going to take those guys on. But we can bring a value to the marketplace."
Huffy is aiming for Batch to be the bridge between mass and specialty retail — and he's optimistic it will work, if the industry can begin to view the market through the eyes of the consumer.
"If we can get past some of the emotional baggage the whole industry carries in that 'us versus them' mentality. The consumer, they don't understand that. To them, it's a bike is a bike is a bike," Smith said. "They want to buy an expensive bike, a midpriced bike or a value bike. They're not thinking about this is one side of the market, and that is the other. We have to think more like consumers and that old baggage will go away."
Huffy parent company UWHK Limited's acquisition of Niner, which was completed in March, is another new initiative. Niner, which sought a buyer toward the end of 2017 after declaring bankruptcy, is Huffy's first foray into the high-end mountain bike market, and an important part of the company's plan. Huffy will continue to provide Niner with financial resources to forge ahead with product innovation, get engineering back on track and assure vendors that the company is in a position to grow.
Allite is a material sciences company Huffy will also launch at Interbike, and in 2019, a third new brand is slated to debut at Eurobike.
"This is the future, one of the pieces, and it's an important one for us and for our industry," Smith said. "But it's not a philanthropic charity effort. We're in it to make money. These initiatives are intended to change our business. It's part of a concerted strategy to diversify our distribution, our products and our brand portfolio.
Keep moving forward
Because Huffy is a privately held company with no debt, it it is able to self-fund its new initiatives.
As a businessman, Smith hates overhead, prefers simplicity and believes in transparency and giving employees ownership. Monthly team meetings are held to walk employees through the financials so that everyone knows what's going on in the business, why decisions are made and to have a sense of where the the company is going. Smith said seeing the numbers helps people understand the business, and more importantly, they can see how they can affect the numbers.
The headquarters' open floor plan allows for departments that might normally operate separately to interact. While no manufacturing is done in the U.S. anymore, all design, sampling and prototyping are done on-site, where designers, engineers, product managers and salespeople work closely to execute ideas, and people are cross-trained. Huffy also doesn't own its factories or warehouses because Smith wants maximum flexibility.
"When the market changes, I want to be able to change. I'll partner with a factory and we'll get real close, but I don't want my hands tied. If you don't have flexibility, it will get you," he said. "That's contrary to what a lot of people say about being vertically integrated, but it works for us."
Huffy's approach to its new brands is deliberate and fully committed. It's not a side project assigned to employees to be worked on part time. Smith considers the new brands to be startup businesses that should be run as such.
"We are serious about it. They are separate subsidiaries. We've invested a lot of money in them and it's not a marketing ploy. There are so many untapped markets in the U.S. for us, and once we identify the opportunity, we assign people full time, give them budgets so they can become this new business entity," he said.
Huffy's new brands will share some resources with their parent company, including financing, purchasing and its factories. But Smith is careful to not let the brands get "Huffyized," which is one reason they are located in a separate wing at Huffy's headquarters, with its own entrance and separate address.
"We want them to be standing with their own identities, taking what they need but having their own identities so they can develop their own cultures," he said.
For Smith, these initiatives are a way for Huffy to have a more global perspective but to also connect with consumers. But it's not just a way for Huffy to stay relevant as the pace of change continues to quicken. By the way Smith's eyes light up when talking about Huffy's future plans, it's clear that he enjoys the challenge and the adventure of entering a new frontier. And he's willing to take calculated risks to keep Huffy moving forward.
"Let's rewrite the book and see what happens. We have a clean slate," Smith said. "We can fix mistakes and go on. How often do you get to start a new business? It's going to be fun."