SEATTLE (BRAIN) — Now that even Shimano has jumped into the gravel bike component market in a definitive way, it's a time of reckoning for suppliers who have nurtured the category's growth since before it was a category.
"The world is catching up to us," said Jan Heine, president of Rene Herse, a Seattle-area brand that offers all-road (AKA gravel, AKA randonneur, etc., etc.) products including cranks, chainrings, tires, handlebars and racks. "We're quite happy about it. It's nice being at the top of a bigger market, instead of being part of a smaller market."
Heine said his company was well ahead of the curve with lightweight wide profile tires and the down-sized double chainring combinations, like 48-33, that the big brands are now emulating. Heine, who is also publisher of Bicycle Quarterly, said the company was the first to promote the idea of the "all-road bike," in 2007, when "gravel grinding" was a more common name for the activity.
"We could have trademarked (all-road), but we think keeping it open helped bring this kind of riding to the mainstream. If Gary Fisher had been successful in trademarking the name mountain bike, those bikes might have never taken off."
The company recently spent two years developing 11-speed chainrings with ramps that claim to allow shifting as fast and smooth as the rings from the big companies but available in more appropriate sizes. The company's forged crank is still among the lightest on the market, and Rene Herse also offers framebuilding components favored by custom builders.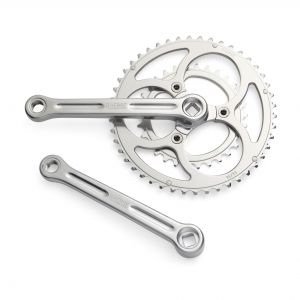 The company is trying to stay on top of the gravel movement in part by sponsoring Dirty Kanza winner Ted King with tires. King is a former European road pro who has switched to gravel racing.
"In the U.S., the Dirty Kanza is probably more important than a Tour de France stage, which tells you how things are changing," Heine said. "Ted is a great resource, and we are developing tires for racing with his help. When you are racing in a pack, sometimes you hit things that you could avoid when you are riding alone. And the speeds are much higher. So in the future that could lead to some new tires from us. And Ted really helps us with the bike shops: he's quite famous."
The brand sells through about 700 U.S. bike shops and also online.
"We feel that the shops are the most important partners for us to expose our products to cyclists. We are too small to advertise so they are really the most important way to get the word out," he said. Heine said the company maintains a "very strong MAP (minimum advertised price policy)," so that small bike shops are not undercut online or elsewhere.
René Herse, the brand's namesake, was a French innovator and racer who began making super light (even by modern standards) high performance randonneur bikes in the 1930s. His first bike weighed just 17.5 pounds with fenders, lights, racks and wide tires. Classic bike expert Michael Kone had acquired the brand from Herse's daughter, with Heine's assistance to use on a new line of frames, but later sold the brand to Heine's company. The company recently stopped using the Compass brand on components and tires in favor of the Rene Herse brand across the board.
"People got confused (by the two brands)," Heine explained. "We decided to focus on one, and Rene Herse had the longer history, while Compass was somewhat generic." The company made the change in February. "Compass had a lot of fans. At first some of them were shocked," he said.  "But the response overall has been very positive. The story of René Herse and his team riding their superlight bikes on the unpaved mountain passes of the French Alps resonates with modern riders."
"Building on that heritage, our goal is not to own the niche, because it's not a niche anymore, but to be the best, highest quality supplier, who defines what bikes can do."