TEMECULA, Calif. (BRAIN) — Getting kids ages 3-7 on their own two wheels with their parents has been the goal of StaCyc Inc. since its inception in 2016. Acquired by Harley-Davidson Inc. in March, StaCyc is fast-tracking this rite of passage with a three-pronged strategy.
Already in 220 powersports shops, the makers of the EDRIVE electric balance bikes hope to be in 75-100 high-end IBDs soon, said Mike Dettmers, StaCyc's vice president of sales and marketing.
"Ultimately, we feel like 300-400 bike (shops) would be a mature network at our price point ($649-$699) and within our niche," he said.
Dettmers said the brand will be in "a few hundred" Harley-Davidson dealers soon. "Our national footprint in all three channels would be somewhere near 2,000 retailers across three industries," Dettmers said.
The bikes will continue to be available online at StaCyc.com but the focus will be on dealer networks. "Activating in their markets, doing demos and creating a culture of riding … is our goal, and that is for sure something IBDs are great at," Dettmers said.
Three of seven territory sales managers have been hired, and they are employees, not independent agents. They will attend regional events and canvass all regions of the U.S., working with IBDs, powersports and Harley-Davidson dealerships.
StaCyc's lineup features two models. The 12 EDRIVE, with 12-inch wheels, is designed for kids ages 3-5 and weighing up to 75 pounds. The 16 EDRIVE, with 16-inch wheels, is for those 5-7 and also weighing up to 75 pounds. The bikes are manufactured in Taiwan.
The bikes can be used in a non-powered mode. There are three power modes with approximate top speeds of 9 mph for the 12 EDRIVE and 11 mph for the 16 EDRIVE.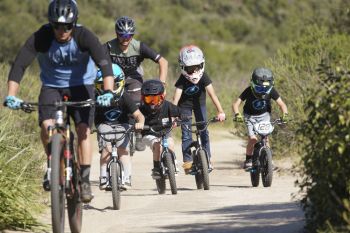 The brand intends to target parents wanting to "share the love of riding with their child sooner than before," Dettmers said.
"Truth is for most parents, kids 3-5 don't really pedal their bikes all that far, especially if they are still riding with training wheels," Dettmers said. "A trail ride of more than a few hundred feet is likely all you'll get out of your 5-year-old on their pedal bike. On StaCyc, we have mountain bike dads taking their kids on three-or-so mile rides on the trails. Not crazy trails, but places they would have never pedaled."
Marketing the bikes will center around StaCyc's website, YouTube channel (StaCyc Lifestyle) and social media. The brand has been test-marketed in the five-store chain Incycle Bicycles in the Los Angeles area the past year. Dettmers said the chain has sold more than 100 units in the past 12 months.
"We've also tested with a smaller boutique mountain bike shop in San Diego, and they were able to sell 40 bikes in about a year's time," he said.
Dettmers sees only more growth in the future with more emphasis on bike-specific markets.
"As we were growing in 2018, demand out-paced our forecast, putting us in an out-of-stock situation for a few months of the year."
More than numbers, StaCyc is about "creating the next generation of riders both in motorcycle and bike.
"It's crazy how many events we go to where we demo our bikes and the kids that are coming to us have never ridden a bike at all. We are doing our best to get kids outside and off their electronics as much as possible."