Parent company has grown 70%, added US workers
CHATTANOOGA, Tenn. (BRAIN) — American Bicycle Group — which said it has grown 70% in recent years and added 18 new jobs at its facility here — was honored at a White House "Made in America Product Showcase" in mid-July.
ABG's Litespeed brand was featured at the event, and President Donald Trump visited its tent on the White House lawn, chatted with ABG's CEO, and later mentioned the company's growth in his speech.
"As a result of moving certain of its operations back to the United States — I love to hear this, because that's what I like: when they move back. We don't have to make product in other countries. Its parent company has experienced a 70 percent — and that just happened," Trump said at the July 15 event. "They just announced 70 percent growth over the last two years. So they moved their operations back, and they're 70 percent up in growth. So I want to congratulate you, Litespeed."
Manufacturers from each of the 50 states were invited to the event. Most set up displays inside the White House, but Litespeed and a few others set up on the lawn. The Litespeed tent was one of the first Trump encountered when he came out from the Oval Office.
"It was a lot like an expo," said Jamie Ann Phillips, ABG's director of marketing, who attended with ABG CEO Peter Hurley and its elite team manager, Bryanna Hurley.
Phillips said she was unsure how Litespeed was chosen to attend the event, which the company learned about only two weeks prior.
Trump exaggerated ABG's growth somewhat. Phillips said the company has grown more than 70% since it moved to a new, larger, facility about three years ago.
With the move, ABG began painting and assembling bikes for all its brands: Litespeed, Quintana Roo and its new brand, Ocoee. It also began a multichannel distribution program for the brands. Ocoee, originally called Remot, is sold consumer direct exclusively, while the other brands are available consumer direct or via retailers.
Phillips said the domestic assembly and multichannel distribution contributed to the growth. Since the move, ABG has added 18 new employees for a total of about 44.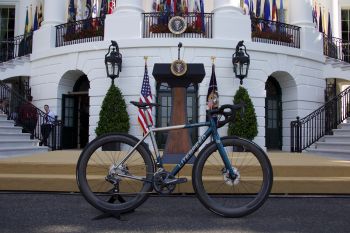 Domestic painting and assembly have allowed ABG to react more quickly to trends and offer consumers the ability to order custom paint and component configurations via its website.
Phillips said Trump's trade war with China has had little effect on ABG. Litespeed frames, made in Chattanooga, have no significant China-made titanium frame competitors.
QR and Ocoee frames are made in China but have significant value added in the U.S. through painting and assembly. Increased tariffs on the frame imports have not forced ABG to increase prices.
Consumer response to ABG's White House visit was mixed. On social media, some Trump critics vowed to never buy a Litespeed, while Trump fans added the bikes to their wish lists. Phillips said traffic on the company's website increased five-fold in the days following the event.
"It was interesting because some people saw us as pro-Trump. We said, no, we are pro-ABG. We are proud to manufacture in America, but we are not taking a political side."
After making about 3,500 words in remarks about domestic manufacturing, with diversions to mention "Sleepy Joe Biden" and oil drilling in the Arctic National Wildlife Refuge, Trump took questions from the media.
The questions, however, were not about domestic manufacturing. Instead, reporters asked about the tweets Trump had made the weekend prior suggesting that four members of Congress "go back and help fix the totally broken and crime infested places from which they came."
Related: Transcript of the President's remarks at Made in America Showcase.
This article appeared in the August 1 issue of BRAIN.