Last year, Eurobike had a cargo bike area with 20 exhibitors. It's doubled for this year.
FRIEDRICHSHAFEN, Germany (BRAIN) — Messe Friedrichshafen was the hub of frenetic activity Tuesday afternoon with Eurobike preparing to open.
The smell of fresh paint and new tire rubber melded and wafted through the halls. Carboard, pallets and plastic wrap partially blocked aisles. Bikes were meticulously buffed on just-built exhibits.
Familiar scenes the day before to be sure, so it's only fitting the 28th edition of the global bike trade show begins Wednesday with a return to the familiar.
After holding the global bike trade show for the first time in July last year and without the consumer Festival Day on its final day, Eurobike 2019 is back to its September roots and bringing back the traditional consumer show-closer on Saturday.
Eurobike will feature 1,400 exhibitors on about 100,000 square-meters (24.7 acres) of exhibition space. Show director Dirk Heidrich said he expects 60,000 visitors, 40,000 on the show's first three business days.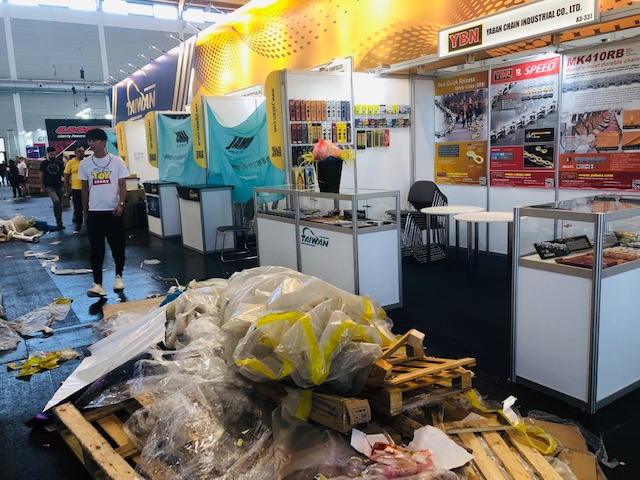 He said the consumer festival is expected to draw another 20,000, and 1,200 media representatives will attend the four-day show. It will also feature more than 100 events, including lectures and workshops and a demo area with a 1,000 test bikes.
Heidrich said the show's focus of startup companies is of particular interest.
"We also have brought forward the subject of startups," he said at a press conference on Thursday. "We'll have a whole day devoted to startup companies and have a startup area for the first time with more than 50 startup companies."
With nearly 1,500 exhibitors on hand, there will be no shortage of bikes, components and outerwear.
"The range of products is what makes Eurobike so unique in the world," Heidrich said. "In particular, trend themes such as urban mobility, pedelec and e-bike and digitization ... We have a number of highly innovative products, but we also have exhibitors in the purely sportive sector, which will raise enthusiasm and visitors."
Heidrich noted the growth of cargo bikes. For the first time last year, Eurobike had a cargo area with 20 exhibitors. It's doubled for this year.
"The subject is growing in the past few years," he said. "You can see this if you look at cities big and small."
Another change, but one that will affect next year's show more, is the announcement of a policy change to engage consumer-direct brands, brands with large dealer events, and other companies that have not traditionally attended trade shows. Brands no longer are required to have a display in order to participate in the consumer festival or pre-show media events.
"Our announcement on the change in the trade fair concept was made with a view of the year 2020," Frank Gaub, Eurobike deputy press spokesman, told BRAIN. "Basically, it has been met with a positive response."