MIAMI (BRAIN) — Two members of the Ross family, whose last name was emblazoned on millions of bikes in the last century, want to bring the brand back to the market. One big problem? The family gave up the trademark in a bankruptcy court more than 30 years ago.
Randy and Shaun Ross, grandson and great-grandson of company founder Albert Ross, respectively, have formed Ross Bicycles LLC, designed a product line, raised nearly a million dollars, and are promoting a line of bikes on RossBicycles.com and RossBikes.com. 
The Rosses are trying to wrest the trademark registration from its current registrar, Century Sports, a company owned by the Goldmeier family. The Rosses contend Century has lost its right to the trademark through disuse. But the Goldmeiers say they're still using it, and are suing the Rosses and their new company, which apparently has yet to sell a bike, for trademark infringement. 
Ross once had sales and brand recognition comparable to Schwinn and Huffy, and was a key supplier to what was once a new retail channel: independent bicycle dealers. Ross also was a pioneer in bringing mountain bikes to the masses and establishing a pro mountain bike race circuit in the early 1980s.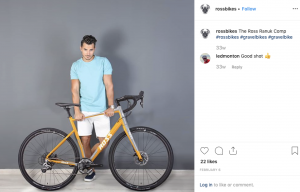 The connection between the two New York families, the Rosses and the Goldmeiers, dates back decades. The Goldmeier family owned Rand International, which bought Ross Bicycles and its trademarks from a bankruptcy auction in 1988. After the purchase the Goldmeiers declined to find a job for Randy Ross, a flashy salesman who took credit for Ross's prescient charge into mountain bikes, but whose "personal style" didn't fit the new owners' plans according to reports at the time.
Randy and Shaun Ross have declined to talk to BRAIN for this article because of pending litigation. They say they will be happy to talk when their new brand is fully launched.
Since the bankruptcy, Randy has been involved with several entrepreneurial ventures. In 2003, he pleaded guilty to multiple charges related to a company, outside the bike industry, that prosecutors said was operating a Ponzi scheme. He was sentenced to 26 months in prison.
Now it's W.A.R.
Randy and Shaun Ross's company has re-branded in recent weeks. Since at least early 2019 they had been promoting a line of Ross-branded bikes on their sites and social media, including in paid social media advertising. Until late October the websites featured illustrations of bikes with Ross labels on the downtubes. Now, the sites and the bike illustrations on them have been rebranded as "W.A.R.," which stands for "We Are Ross." Related social media accounts that previously showed Ross-brand bikes have had that content deleted and now show W.A.R. bikes.
The new branding refers to the Ross family's heritage as a military supplier. 
"Presently, Randy Ross and his son Shaun Ross, the 4th generation of the Ross Bicycles family, along with their investors and bicycle industry veteran staff, are embarking on a path to resurrect the once storied and vibrant brand Ross, by declaring W.A.R. as the new Ross Bicycles brand," an "About Us" page on the site reads.
"Ross was built on innovation, risk, creating trends and being the first to move into areas where others were hesitant. The Ross family will continue this philosophy as we re-launch and re-introduce our bicycles to the world, while donating a percentage of all sales to wounded veterans everywhere."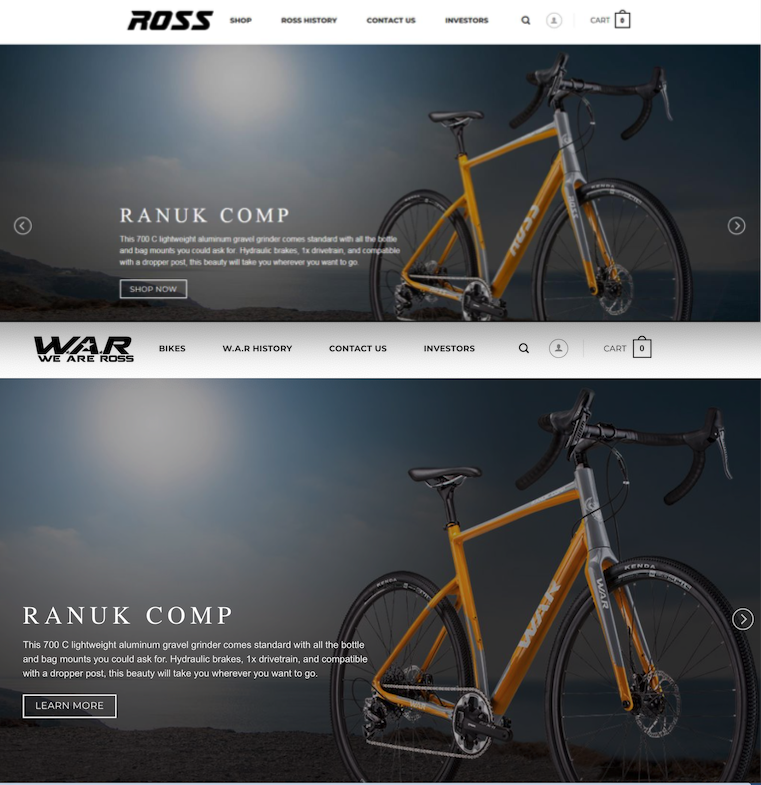 Randy and Shaun have been working for at least two years to relaunch Ross Bicycles. They registered Ross Bicycles LLC in Delaware in 2017, with a Las Vegas, Nevada, address, and purchased the RossBicycles.com and RossBikes.com domains. They enlisted at least two industry veterans to help: former Diamondback and Accell North America executive Phil Howe, and former Performance Bicycle product manager Bo Glenn. 
The company filed Form D paperwork with the Security and Exchange Commission in July 2018 to raise up to $6 million through private equity (later lowering the goal to $3 million, and then to $1.8 million). On Oct. 18 this year, the company reported to the SEC that it had sold shares worth $935,000. 
Ross Bicycles was briefly listed as an exhibitor at the 2019 Sea Otter Classic expo. BRAIN contacted the company in January to inquire about the brand re-launch, but we were unable to learn details and Ross was removed from the exhibitor list before the event. After reviewing the Ross website at that time, BRAIN editors were retargeted with Ross web ads for weeks.
Randy Ross, now 62, worked at the family business from 1977 until 1988. During that period, Ross launched one of the first mass-produced MTBs, which it showed at the 1982 Interbike (Specialized claims they started making its Stumpjumper in 1981). A year later Ross launched the first pro mountain bike race team, called the Ross Indians. By some accounts Randy spearheaded those projects within the company and also was involved in its transition away from domestic manufacturing. (Please see our related story: Ross Bicycle history: It's a New York thing.)
After the bankruptcy, Randy's father, Sherwood "Jerry" Ross, joined Rand for about five years. He was well known across the industry and active in many trade groups. He later made a living as an expert witness in bike-related product liability cases.
A 1988 article in Bicycle Dealer Showcase said Randy "appeared out of the picture" at the new organization, and detailed how Randy took a $150,000 pay cut — down from $290,000 a year — during the difficult years prior to the bankruptcy. BDS reported that former Ross sales reps found Randy was a problem due to his personal style.
In the early 2000s, Randy was operating a telemarketing company in Florida that came under scrutiny by the SEC. Eventually, seven people were found guilty or pleaded guilty for their involvement in a scheme that prosecutors said "defrauded more than 700 victims nationwide of over $18,000,000 through a sophisticated 'Ponzi scheme' involving investments to buy television time to produce and air direct response commercials to advertise and sell a number of different products." (See 2006 press release from prosecutors.)
More recently, Randy has marketed a line of Randy Ross stepper bikes and exercise bikes and marketed Zen Sports Balm. He has a gift for sales and showmanship and has musicians and pro athlete celebrity friends who have been connected to his products. Former NFL player O.J. McDuffie appears in a video for Zen balm, and Randy's stepper brand provided two custom-sized steppers to Shaquille O'Neal, for example.
Abandonment?
The Rosses filed a petition with the U.S. Patent and Trademark Office in November 2017 to cancel the Ross trademark registration on grounds that Century has abandoned it.
Generally trademarks can be ruled to be abandoned if they are not actively used in commerce for more than three years. Randy and Shaun each submitted written testimony to a USPTO board saying Century had not been actively selling Ross bikes for at least 10 years. Century Sports is owned by Millenium Products Group, a consumer products importer owned by the Goldmeier family.
Shaun Ross was able to buy RossBicycles.com for $11.99 in 2015 and RossBikes.com for $1,800 in 2017.
"For several years prior to forming Ross Bicycles, LLC, I reviewed a multitude of industry publications, websites, and bike retailers to determine whether the Ross bicycle brand had been abandoned," Shaun Ross wrote.
"At no time during this review did I encounter any Ross branded bicycles for sale or announced. In addition, no Ross bicycles had been reviewed by any industry publications for many years. Moreover, there were no websites, social media accounts, or any type of online presence for the Ross bicycle brand."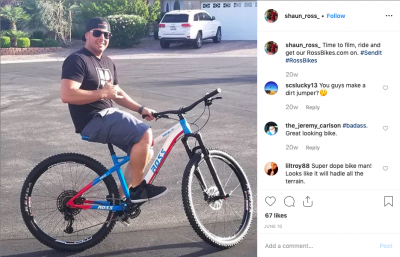 Shaun also submitted written testimony that he had called Millenium on Nov. 1, 2018, and spoke with someone named Steve. Shaun said Steve told him the Ross bicycle brand had been out of business for some time, had no inventory and no plans to manufacture Ross bikes in the future. "The representative also stated that he had no idea where any parts for a Ross bicycle could be obtained," Shaun wrote. He submitted a Verizon bill showing a three-minute call from Las Vegas to Farmingdale, New York, on that date. 
Shaun testified that he had been keeping an eye on the RossBikes.com and RossBicycles.com websites since the early 2000s. He said the websites were completely shut down for years and that he was able to buy RossBicycles.com for $11.99 in 2015 from Northbaydomains, a domain provider; he bought RossBikes.com for $1,800 in 2017 from GoDaddy.com.
'All garbage' 
Steven Goldmeier, who owns and operates Millenium with brother Allen, said the idea that it has abandoned Ross was "all garbage."
"Ross bicycles are on the market today," he told BRAIN. "They are in the warehouse today, we have Ross bicycles in stock, we are shipping them regularly in the marketplace." 
BRAIN has reviewed an invoice and a bill of lading that appear to show that Millenium imported and sold at least 180 Ross bikes as recently as July 2019.
Goldmeier submitted exhibits to the USPTO board showing that his company has Ross bike inventory, has sold Ross bikes recently and has made sales pitches to major retailers including Walmart in recent years. 
Exhibits submitted to the board include photos of a shelving unit with ripped Ross bike boxes, a screenshot of an undated Letgo.com listing for a single Ross bike, and a slide deck showing a sales presentation for bikes that appear years out of date.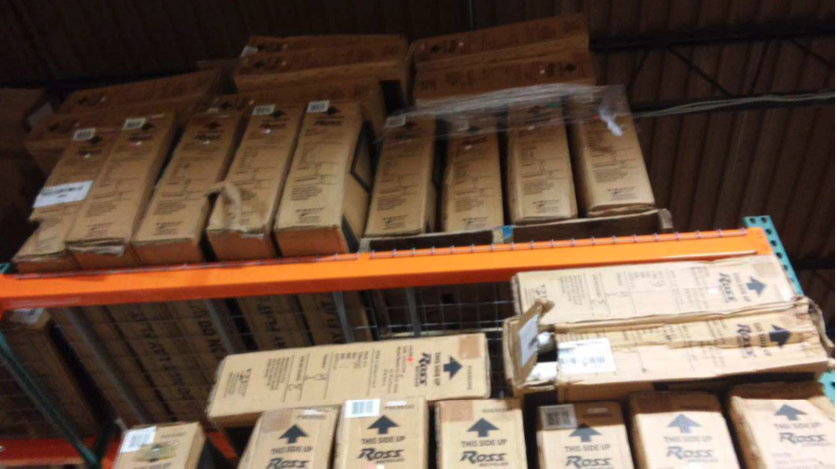 A legal expert tells BRAIN that Century needs to show that its Ross sales are more than token efforts to keep the trademark alive. 
"Central to the legal protections offered for trademarks is the requirement that parties actually use the mark in the course of their business," said Jason Angell, an intellectual property and business attorney at Hopkins & Carley in Palo Alto, California. The firm represents companies in the bicycle and other industries.
"If the evidence before the board shows only a limited number of sales in the past three (or ten) years of old or used inventory in a secondary market such as eBay or other channels that are not within the ordinary course of trade or typical for the bicycle industry, the trademark holder may have a difficult time defeating the cancellation effort," Angell said. 
BRAIN has reviewed an invoice and a bill of lading that appear to show Millenium imported and sold 180 Ross kids' bikes as recently as July 2019. BRAIN also has spoken to two industry members, outside of Millenium, who said they were aware that Millenium had continued to import and sell Ross bikes in significant quantities in recent years. 
Millenium on the offense
Millenium is doing more than fending off the Rosses' abandonment petition: In August, it filed a trademark infringement suit against Randy Ross, Shaun Ross and Ross Bicycles LLC in the U.S. District Court for the Eastern District of New York.
The suit charges that the Rosses "are aggressively engaged in a full-scale, highly orchestrated marketing campaign to promote the company's products under (an) infringing mark."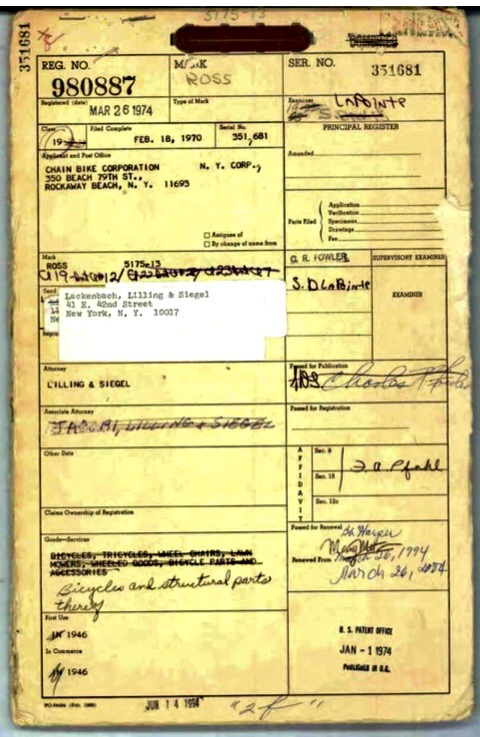 The Rosses have yet to file a response to the infringement complaint. On Oct. 30, the judge in that case extended the deadline for their response to Nov. 25.
Millenium asked the USPTO board to suspended the trademark proceedings while the civil case is resolved, a motion that the Rosses oppose. 
The attorney for the Rosses, Las Vegas-based Mark Borghese, did not respond to an inquiry from BRAIN. 
Another future
Active in the import business for decades, Steven Goldmeier and his companies have been involved in scores of legal battles. The Rand bankruptcy case alone went on for at least six years and the court filing has over 3,000 pages of documents. The case ended with Mark Worksman, who bought Rand from the Goldmeiers, being found in contempt of court in 2016.
Related stories: 
With his long history in the courts, Goldmeier said he views the Ross trademark dispute as a minor irritant. There's another reason he has perspective on the business battle: On President's Day weekend in 2018, his son Alex skied into a tree at New York's Hunter Mountain and sustained major injuries, leaving him partially paralyzed. 
Despite his permanent injuries, Alex has returned to an active life, skiing, playing tennis and bike riding with the help of adaptive programs. This weekend he participated in the New York Marathon on a handcycle. His father now has a new passion, and a new plan for the Ross brand — he is working to develop new products for adaptive sports, including bikes, wheelchairs and other devices.