First new store will be in Austin.
SEATTLE (BRAIN) — Rad Power Bikes has closed a $25 million funding round led by Vulcan Capital and Durable Capital Partners LP. The company, one of the largest U.S. e-bike suppliers, which sells primarily online, said it will use the funding to support new brick and mortar retail locations around the world, and to expand its mobile service and "white glove" delivery offerings.
Vulcan Capital is the investment arm of Vulcan Inc., the company founded by Microsoft co-founder and philanthropist Paul Allen.
Rad Power currently has a brick-and-mortar showroom at its headquarters in Seattle and also has locations in Vancouver, and Utrecht, the Netherlands.

A company spokesman said Rad Power is experimenting with different types of retail locations that will open this year and beyond, including pop-up stores and full brick and mortar locations.
"While we're not ready to share details on our full plans, I can tell you that our next location will be in Austin, Texas," the spokesman said. 
The brand is part of Velofix Direct, the mobile fulfillment service offered by Velofix. It also recently launched its own mobile service and white glove delivery called Rad Mobile Service, in markets including Seattle, Austin, Texas, Sacramento, and Vancouver.
"We are currently expanding this mobile service offering to more locations as part of our national rollout. We will also maintain our successful partnership with VeloFix in markets across the country," the spokesman said.
Regarding the new investment, Rad Power's founder and CEO, Mike Radenbaugh, said, "We found two groups of world class consumer and retail investors who believe in our vision and will help us surprise and delight our customers in new and exciting ways."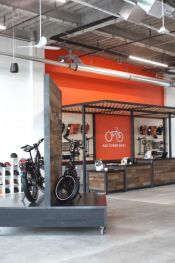 Stuart Nagae, a director at Vulcan Capital, was an early Rad Power Bikes customer and led the investment.  "Rad Power Bikes is the market leader in electric bikes, bootstrapping its way to a profitable business," said Nagae. "This additional capital will enable the company to broaden its market, accelerate growth and continue to deliver the exceptional experience today's customers expect."
Rad Power Bikes was founded in 2007 and now has 200 employees. The company said it has "more than 100,000 owners across 30 countries."
In March last year Rad Power closed on a venture capital round of an undisclosed amount from Darrell Cavens and Mark Vadon, the co-founders of the e-commerce retailer Zulily. The company also raised $320,000 through crowdfunding in 2015.
According to Inc. magazine, Rad's 2018 revenues were $44 million. At the time of the 2019 investment, the company said it was already profitable and projected that it would double its annual revenues in the coming year to $100 million.
The company no longer releases revenue figures but says its e-bike sales more than doubled between 2018 and 2019, and revenue grew more than 4,400% between 2015 and 2018. 
As part of the transaction, Nagae will join Rad Power Bikes' board of directors along with Vadon; Cavens joined the board last year.
Previous BRAIN articles about Rad Power Bikes