WINTER PARK, Colo. (BRAIN) — Evil Bikes is offering bike demos in this mountain bike destination town this summer, at an unusual but fitting venue: a craft brewery's tap room.
Evil is working with Winter Park's Hideaway Park Brewery to offer demos of its bikes along with products from Shimano, Lazer helmets, Pro components, Schwalbe tires, CushCore, Marzocchi and FOX. The program is being spearheaded by Winter Park-based Send Strategy. 
Hideaway Park Brewery owner Andy Brumenschenkel is an avid mountain biker and his taproom is a rallying point for mountain bike rides and a centerpiece of Winter Park's local mountain bike community, according to Send's Matt Pacocha.
Before COVID, Brumenschenkel's summer Tuesday night group rides drew upwards of 50 riders. 
"This year will be different," said Brumenschenkel. "We are following the rules and state laws with regards to COVID-19 to a T, so we cannot promote the ride or run it as we have in the past. We're still a community, though. We know that riding mountain bikes and having a beer after helps people get through tough times, so we're going to do our best to keep promoting that philosophy in the most socially responsible way we can."
Brumenschenkel had a few demo bikes in 2019 and after that trial, decided to expand the idea for 2020.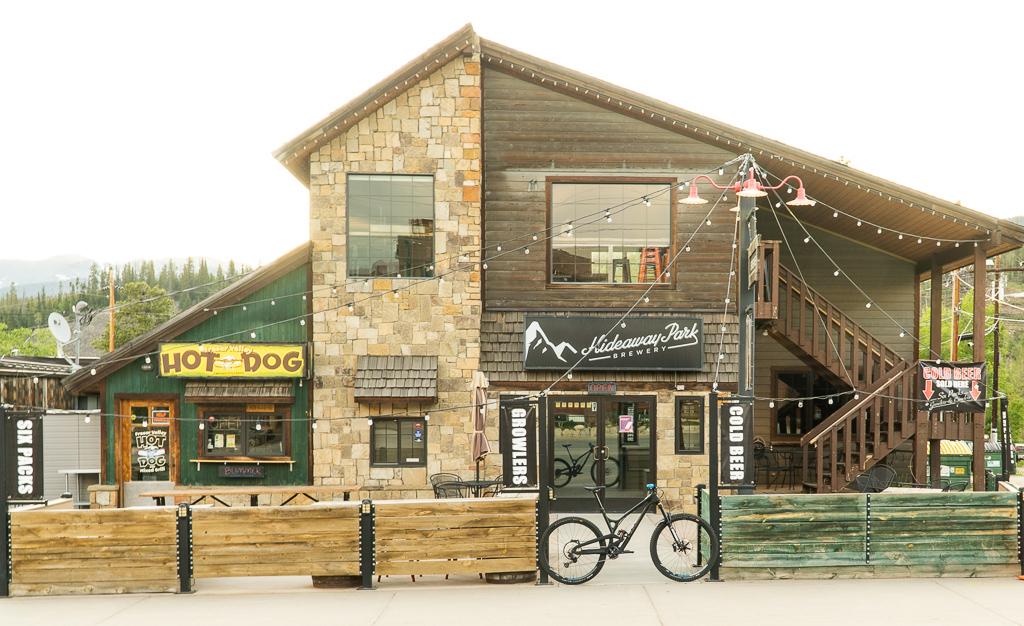 "We like to dream about bikes and gear over beer," said Brumenschenkel. "We sell the gear we demo, but our main goal is to educate and be a resource to riders. As with everything, there is overhead and subsequently a cost to the demo, but we're not trying to run a traditional bike shop or rental business. Moreover, we're trying to compensate — rather stoke out — riders with partner discounts and a free beer after every ride. We see this as a great way to try new stuff on before having to plunk down a wad of hard-earned cash."
Because of COVID, demos are by appointment only for now. Pacocha said there's an advantage in the one-on-one interaction. "We're not trying to be a bike shop. We're trying to provide a new and welcoming way of connecting brands to riders. At the same time, we're giving mountain bikers a meaningful way of trying products without the pressure of the sales floor."
The demo fleet will include the new Following V3 or Offering models; both are 29-inch models handpicked for Winter Park's 600 miles of singletrack. Hideaway Park Brewery and SEND Demo staff will ensure the correct fit, suspension setup, tire pressure, and more. If a rider goes on to purchase an Evil through either the brewery's program or direct from Evilbikes.com, they'll get their demo fee back as a discount on the new bike purchase.
"We're excited about the demo bike builds," said Pacocha. "These two Evils are absolute hoots to ride — literally, you'll be hooting and hollering in the woods on them. They're also equipped with Shimano's full range of 12-speed components from Deore to XTR, which from a buyer's perspective can help the rider understand the performance and economic differences between them. The new Shimano Deore group is amazing, and it highlights what someone on a budget can do, while XTR is on the other end of the spectrum and still the absolute pinnacle of mountain bike componentry. Pair these parts with Schwalbe tires and CushCore tire inserts for grip, and air or coil suspension from FOX or Marzocchi and there is something here for everyone and almost every budget."
Hideaway Park Brewery and SEND Demo's Evil Bikes Demo Experience is running seven days a week, by appointment only, now through Nov. 1. 
More information: sendstrategy.com/evil-bikes-experience. To schedule a demo ride, visit send-demo.square.site or email info@sendstrategy.com.