A version of this article ran in the April issue of Bicycle Retailer & Industry News. 
By Paul Tolmé
Cargo bikes have a long history of use in the Netherlands, so it's not surprising that it took a Dutchman to create one of North America's largest electric cargo bike delivery services. 
With a fleet of 130 Tern HSD e-cargo bikes pulling motorized Carla cargo trailers, in addition to its walkers and van drivers, Dutch-X experienced a growth spurt during the pandemic due to the increased demand for home food deliveries and the growth of online shopping. 
Amazon and its subsidiaries Whole Foods and Amazon Fresh comprise more than half of Dutch-X's business, with other "grocery fulfillment" contracts for New York supermarket chains and food purveyors including Eataly comprising the largest chunk of Dutch-X revenue.
Now, founder Marcus Hoed is looking beyond New York City. "We hope to expand to more cities this year," Hoed said, declining to mention the locations. "We have tested and proven our business models here in New York, one of most challenging cities on the planet, so we know this is viable."
Hoed is not alone in his optimism for electric cargo bikes to replace many delivery vans in American cities — and play a larger role as workhorses for the movement of goods in a cleaner, greener, timelier, and more affordable and efficient manner. Tern has launched the Tern Business initiative aimed at companies seeking high-quality electric fleet bikes, and in Wisconsin a startup named Fleet Cycles will roll out a pilot program this summer to test its U.S.-made heavy-duty electric trikes in 10 cities. 
One only need look to cargo-bike-crazy Europe for inspiration. A survey of 38 European cargo bike brands by Cyclelogistics indicated that they expected their 2021 sales to grow by about 66%. E-cargo bikes are especially effective for so-called "last-mile" deliveries in congested city centers, where pollution from idling delivery vans is a public health and climate concern. 
Electric cargo bikes deliver about 60% faster than vans in city centers while also reducing carbon emissions by 90% compared to diesel vans, and by a third compared to electric vans, according to a 2021 study from the UK. A Dutch study that said e-cargo bikes are a perfect alternative for about 20% of all delivery vans operating in large cities.
While the potential is great, the movement to replace vans, golf carts and other delivery vehicles with e-cargo bikes is still in its infancy in the United States. 
Saris announced an effort in 2020 to partner with Urban Arrow, the Dutch e-cargo bike brand, and the e-bike motor supplier Bosch to build and distribute commercial e-cargo bikes to the public sector. Contacted by BRAIN, Saris said its pilot project in Portland, Ore., and Madison, Wis., was well-received but had been discontinued.
"We saw tons of potential in this space but ultimately made the decision last year that the eCargo Bike division did not make sense as part of our larger business at the time," said Chris Bauch, product manager for Saris Infrastructure. 
A Tern for the Better
Tern Business is one of the industry's most high-profile efforts to develop fleet sales in the emerging e-cargo market. Announced at Eurobike 2019 with plans to launch in spring 2020, Tern put the initiative on hold for a year. "Covid hit and we wanted to focus on our dealers and helping them survive, so we didn't feel like we could take bikes away for our business program," said Tern's Arleigh Greenwald, best known for her past work running Bike Shop Girl Family Cyclery.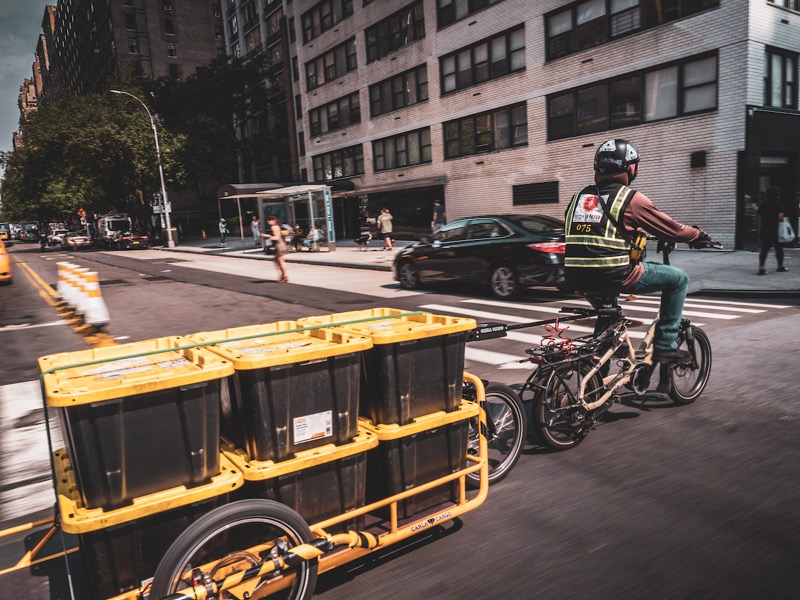 "Typically, our dealers are the middlemen" for Tern's fleet, Greenwald said. Dealers also generate revenue by servicing clients' bike fleets. "It's creating different streams of income for our dealers. As we build out the different industries and verticals, our dealers can sell to the pizza shops and local businesses that are coming to them instead of to a car dealer." 
Tern Business is primarily a storytelling platform that presents case studies of how Tern's e-cargo bikes are being used to replace car and van fleets. Tern is courting municipalities, colleges, and businesses of all sizes with delivery or cargo hauling needs.
One barrier for growth is a lack of awareness that e-cargo bikes even exist, and that they are viable. "We are talking to various cities, and they want to be able to point to other cities and point to successes," Greenwald said. Tern also wants to change the perception of corporate fleet bikes as cheaply made and intended to be scrapped and replaced frequently. 
"We are looking to work with companies that want to have bikes for five to 10 years instead of turning them over every year," Greenwald said, noting that Tern is highlighting the quality and safety of its e-bikes. Municipalities, in particular, need UL-certified e-bikes to prevent, in the jargon of the New York City Fire Department, "thermal instances." Horror stories of uncertified e-bike batteries catching fire have made headlines and caused harm in recent years. "Everything on our Bosch e-bikes is UL-certified," Greenwald said.
Oregon E-Bikes in Hood River is one of the dealers mentioned in the Tern Business case studies. The shop supplies Tern HSDs to MountNBarreL Tours, which runs e-bike wine tours in the Columbia River Gorge. "Tern's dealer support is great, and their bikes are built to last," said Brendan Gallant, co-owner of Oregon E-Bikes. 
Gallant said dealers in densely populated cities, versus those in smaller communities like Hood River, could benefit the most from fleet sales in the e-cargo market. However, "most shops right now are trying to do the work that is already on their plates."
An E-Cargo Trike for Heavy Hauling
"We saw what was happening in Europe around e-mobility and e-cargo bikes in particular, and we saw the opportunity to design and develop a purpose-built e-cargo bike for serious utility," said Mike Basarich, co-founder and president of Fleet-Cycles. 
Based in Wisconsin, Fleet-Cycles plans to initiate 10 pilot programs in different locations this summer, Basarich said. The company has designed its own e-cargo trike that Basarich said is made to replace a light-duty truck or golf cart. E-cargo bikes designed for the consumer market don't hold up under the abuse of the work environment, he said.
The as-yet-unnamed trike consists of a "universal chassis" in the rear with the choice of modular two-wheeled cargo beds or enclosed containers in front of the rider. When sourcing materials and components, "we had to look outside the bike industry and look at parts in the automotive and motorcycle industries, or make our own," Basarich said. 
Dutch-X
Back in New York City, Hoed agrees that dense cities offer the greatest opportunity for moving goods by e-cargo bike. The suburbs are more difficult due to the larger distances between drop-off locations.
Dutch-X has three primary business models. Their entry-level service provides just the rider and the e-bike and leaves dispatching to the client. In their second tier, "we use their dispatch technology and provide the labor and bikes. Third, we fully take over the operation and manage the dispatching, the bikes, everything."
Dutch-X has about 140 full- and part-time riders, and 500 employees overall. The company is among those profiled on the Tern Business site. Hoed switched to Tern in 2021 after having quality and durability issues with a lower-cost supplier.
"We need to make sure the bikes we provide to our riders are safe," Hoed said, noting the importance of UL-certified electronics. He takes pride in the fact that Dutch-X is "a W-2 company," and that his riders are employees, not contractors. 
Hoed said a confluence of factors including climate change and the rapid growth of e-commerce will spur growth in the United States for e-cargo deliveries. "From an environmental perspective, the U.S. is finally starting to catch up with Europe. The opportunity," he added, "is tremendous."