BRAIN tech editor Matt Wiebe roamed the halls of the Taipei Cycle Show to find the hottest product trends for next model year. From mainstream to downright quirky, here's a sampling of products being shown here.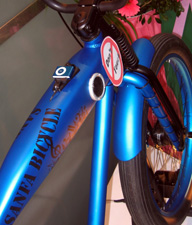 Pop an iPod Nano into the holder of this Sanfa cruiser and music booms out of twin speakers mounted on either side of the faux gas tank. A front dynamo hub provides power to the speakers so there is no need to worry about batteries.
Just in time for the run up to the World Cup, KMC offers its polished and colored flag chain line. It is showing 10 national color options using up to three different colors on the side-plates.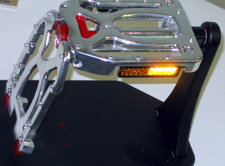 What could be easier than rotating a pedal to the bottom and flicking out a kickstand? Normally you need to find a curb to rest your pedal on, but Massload's kickstand platform pedal unfolds one of the pedal surfaces into a kickstand that reaches the ground.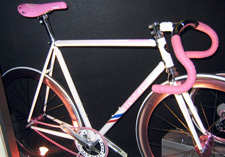 Ten years ago it was all but impossible to get a brazed and lugged bike made in Taiwan. Now most builders are showing at least one lugged fixie bike and sometimes a geared bike as well. Tange has shown its distinctive pink and white mother and daughter fixies before, but that doesn't dull their detail. Note the highly polished stem and headtube lugs on this small-wheel youth model.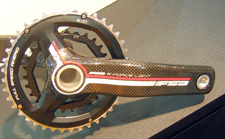 FSA's K-Force light and Afterburner 386 are its latest take on the mountain double compact crankset. Compatible with 9-speed and 10-speed drivetrains, the 386 crankset combines a three-arm spider with an 86-millimeter bolt circle with options of 27/40 or 27/42 chainring combos. The carbon K-Force comes in at 630 grams in MegaExo or BB30 spec', and the hollow forged aluminum Afterburner 386 weighs 750 grams in BB30 guise and 776 grams in MegaExo.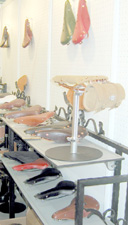 Leather saddles, grips and handlebar tape is everywhere at the show. Jiuh Yeh Craft showed its ever-growing Gyes high-end saddle and accessory line with leather accessories from ornate sprung saddles to stylish pant cuff bands.