Editor's note: A version of this article appeared in the December issue of BRAIN.
TAICHUNG, Taiwan (BRAIN) — Changing labor laws, an aging population and aversion to working in rural locations all challenge Taiwan's bicycle factories as they try to recruit qualified employees.
BRAIN visited several factories on an October tour organized by the Taiwan External Trade Development Council (TAITRA). We saw many employees hard at work in fabrication, assembly and quality control. To fill and keep qualified employees in those positions as well as office positions is becoming harder, according to some factory officials.
"It has always been difficult to recruit here in Taiwan," said Wayne Moore, general manager of Legion, which manufactures disc and rim-brake pads in Changhua, Taiwan. Legion employs 17 workers and doesn't currently have a labor shortage, he said.
Chief among the difficulties are the Taiwan labor laws that changed in 2017. An amendment to the Labor Standards Act created a stable five-day workweek with stricter overtime requirements intended to discourage overtime and encourage additional hiring.
"All of this is good and right," Moore said. "However, the government has, in my opinion, taken it a step too far. Now they restrict the total number of hours an employee can work to just 40 hours a week. So, even if they want to work to get extra cash and the company is willing to pay overtime rates, they legally cannot."
Moore said the consequences are industry delays.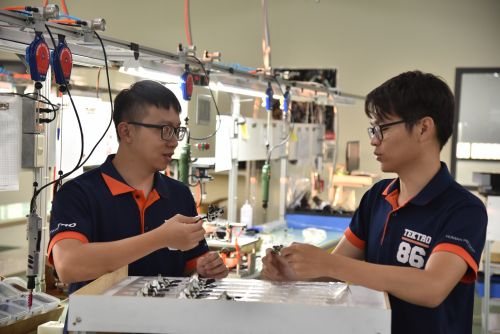 "Companies are reluctant to take on more workers as demand is maybe just a seasonal issue," he said. "This is the reason why companies now face labor shortages. It's not that the labor isn't there; it's they are limited to a max of 40 hours each week for the labor they have."
Steve Fenton, owner of Pro-Lite, a wheel manufacturer in Taichung, agreed, saying, "The labor laws have changed a lot in Taiwan, and frankly, the government has not done a lot of businesses any favors as they simply cut back on the hours of staff who are being told they have to have more time off. Obviously, the morons who came up with these rules have as much business sense as a sun-dried tomato."
Taiwanese companies that cannot find enough domestic workers turn to foreign workers. Foreign labor in Taiwan has doubled to 700,000 in the past decade, according to an editorial in the Taipei Times in October. 
An aging domestic population not only affects factory workers, who tend to be older, but also younger workers. Moore said the culture of taking care of parents and grandparents often conflicts with work.
"The older generation is almost the polar opposite to the young," Moore said. "Their needs are more about long-term security, so they don't want to hop from job to job. Their personal commitments to the local community are more deep-routed, especially so here (Asia) with the tradition/culture of personally taking care of your parents/grandparents. Middle-aged people who may have worked away when younger tend to migrate back to their childhood homes. 
"To this end I do find myself actively recruiting workers that are in their late 40s and 50s as they tend to stay."
Last year, Fenton said his longtime assistant gave notice. She explained her father was ill, and Fenton said he made every attempt to adjust her schedule so she could look after her father and keep her job. 
"However, her two sisters and mother decided that her job was not as important as her sisters, and she would have to stay at home to take care of the father so they wouldn't have to pay for daycare and then there would be more inheritance to share out when the dad passed away," Fenton said.
Then there's the rural factory locations being a detriment to lure younger blue- and white-collar workers.
"They want to be living and working in the major cities as opposed to more rural locations of bicycle factories," Moore said. "They are more interested in working in tech, service and online companies where they perceive working environments are much better and jobs are less physically demanding. Indeed, we recently had a young accountant leave so she could do online sales from home. Our office environment is as good as anywhere, but she simply didn't like the short commute to work, and she believes her future is brighter."
Cross-training can help spread a thinner workforce farther and improve efficiency. At SRAM's Asia headquarters in Taichung, a training center recently opened to cross-train employees in assembly line operations. Bob Chen, SRAM Asia's GM/engineering manager, said cross-training is encouraged and rewarded with increased pay.
At Tektro/TRP in Taichung City, shared job responsibilities are common for all employees, said Dirk Belling, global marketing and brand director, who said the company doesn't have an "extreme" labor shortage but not all open positions are currently filled.
"For example, sales is working with product management, R&D, production so they can work at the highest level with our customers," Belling said. "There is no official cross-training; the spirit at Tektro/TRP is that if help is needed, everybody will get the training to get the job done."
Increased automation can be an answer to labor shortages, and while SRAM said automation lacks flexibility, it's a worthy investment for others like Nuvo. A bicycle accessory manufacturer in Changhua, Nuvo has invested more in automation in the past two years to combat its labor shortage, reduce lead times and increase efficiency, said Amy Shih, Nuvo marketing executive.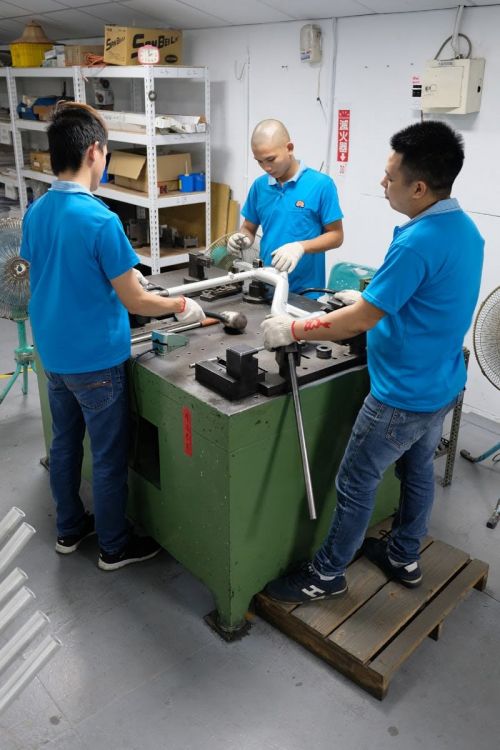 Like Moore, Shih said job location is a detriment to attracting and keeping workers. "Changhua is a countryside area in Taiwan," she said. "Most of young people are not willing to stay and work in the manufacturing industry."
However, Shih said cross-training and identifying and promoting employees who stand out is the key to keeping them and growing the business. "The top benefit for driving employee development is to shape a more efficient, competitive, and engaged workforce," she said. 
Shih said Nuvo's research has shown companies engaging employees see 41% lower absenteeism rates and 17% higher productivity.
Frame manufacturer Sunrise Bicycle Industrial Co. in Taichung City doesn't have a labor shortage, but if demand and capacity increases, more automation will be added, said Alex Lin, Sunrise president's assistant, who added there has been increased emphasis on cross-training.
Belling said Tektro/TRP works with schools, universities and employment agencies to look for employees. "There is a constant up and down, people coming and leaving," Belling said of the Taiwan bike industry as a whole. "Employer branding and management is one of the key parts for a company today to keep growing."
Tektro/TRP recently opened the Taichung R&D office to attract young engineers "who would not want to commute to Changhua every day." Currently, there are 40 employed there, and there's always an R&D need, Belling said, primarily because of the growing European e-bike industry.
"More technologies needs more experts," he said.