CLOPPENBURG, Germany (BRAIN) Jan 24, 10:41 MT —Derby Cycle reported a 36 percent increase in sales for the 2010/2011 fiscal year, led by a nearly 50 percent increase in the number of electric bikes sold.
Derby sold 87,000 e-bikes last year, up from 44,000 units the year before. Kalkhoff is Derby's primary e-bike brand. Total bikes sold rose by 12 percent, from 430,000 to 482,000.
(RELATED: Derby's complete annual report including a Q&A with Seidler and Uwe Bögershausen, the company's CFO, on the decision to partner with Pon.)
Company sales increase to 235.5 million euros ($306.3 million) this year from 173.2 million euros ($225 million) the previous year. Earnings from operations jumped 61.7 percent from 12.1 million euros ($15.7 million) in 2009/2010 to 19.6 million euros ($25.5 million) this year. Derby's financial year ends Sept. 30.
The company is now selling one-third of its products outside its home market in Germany, a result of its ongoing focus on internationalization, a key strategy outlined when Derby floated its IPO last February. About 95 percent of its exports are staying in Europe with strong markets in Austria, France, the U.K. and Spain. Net sales outside Europe, largely in part from Focus USA, grew 113 percent, from 4.4 million euros ($5.7 million) to 9.3 million ($12.1 million).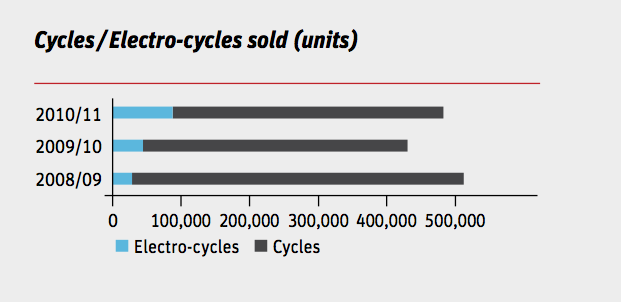 "Once again, we have demonstrated that we have first-class products. Above all, our electric bikes are making outstanding progress on the market, and have played a particular role in bolstering our growth," said Mathias Seidler, Derby CEO. "We identified the bicycling megatrend, and offer the right products for all target groups. We have also received very good feedback at the 2011 bicycle trade fairs, and our pre-order volumes are up significantly on the previous year."
Derby is predicting sales revenue of 250 to 270 million euros ($325 million to $351 million) for the 2011/2012 financial year.
Derby is Germany's largest bike manufacturer by sales, and one of Europe's leading producers. It owns the Focus, Univega, Kalkhoff and Rixe brands. It also holds the license to sell Raleigh in much of mainland Europe, but is not otherwise affiliated with Raleigh in the U.K. or in the U.S. It also owns the Focus Bicycle Inc. in the U.S., Derby Cycle Australia, swissbike and NW Sportgeräte Vertriebs. The Dutch automotive company Pon Holdings is the majority share holder of Derby.