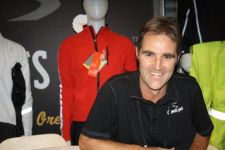 LAS VEGAS, NV(BRAIN) — Showers Pass co-president Ed Dalton has sold his interest in the Portland-based cycling apparel maker to business partner and co-president Kyle Ranson, the company announced Tuesday.
"I am proud to say that Showers Pass has developed into a leader in the bicycling outerwear business and is recognized as a high-performance, high-quality brand," said Dalton.
Dalton will move on to pursue other entrepreneurial interests. Ranson will assume the role of president and CEO immediately.
Ranson said the company is poised for growth. "The team and I are very excited about the future. We're launching some great new products at the Interbike show."
Showers Pass was founded 1997. Ranson joined about five years ago. The company makes a variety of clothing with a focus on rain gear. It also makes a bike-mounted hydration system.