From the October 1 issue of Bicycle Retailer & Industry News
ST. PAUL, MN (BRAIN) — After 15 years in its current location, Park Tool is moving to larger digs. The Minnesota bike tool maker recently broke ground on a new factory and warehouse that it will build up over the fall and have up and running by January.
The new 68,000-square-foot building will be in Oakdale, about a mile and a half from its current factory but about 50 percent larger, with expanded shipping, storage, manufacturing and packaging areas.
Park Tool's current factory had undergone one expansion but was starting to feel too small, and without much land available there was no possibility to add on. Company president Eric Hawkins said the move also is part of a broader strategy to bring more manufacturing in house and better manage its inventory.
"We don't have to have new models of helmets or clothing. We make blue tools and what we introduced last year we'll make that for 20 years. We have some things we have been making for 40 years." — Eric Hawkins
Park Tool already makes about 80 percent of its products at its Minnesota factory, with a majority of the parts sourced from local Twin Cities suppliers. Over the past couple of years the company invested more than a half-million dollars on new tooling including a couple of CNC machines, a welding robot, a laser engraving machine and lathe.
"We want to cut lead times and guarantee quality with a closer, hands-on approach," Hawkins said. "It's a way for us to keep our costs down. We do import some things and some things we're doing in house we're bringing back from overseas. We've always done a lot of assembly, machining, welding and packaging and we want to do more. I can't say I have a grand plan to move everything in house, but what does make sense we're looking closely at bringing back."
The new building will be the company's fourth location since its humble beginnings in a small corner of Hazel Park Schwinn Cycle Center in 1963. Hawkins' father, Howard, and his business partner at the time, Art Engstrom, began making tools for Schwinn in its distinct red color.
But as other people became interested in them, they broke the tool business out into a separate venture, sold off all three Schwinn stores and rebranded in blue as Park Tool, in reference to the Hazel Park area in St. Paul.
The elder Hawkins, now 80, has since retired, as has his business partner.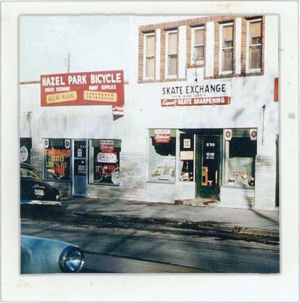 Park Tool, which will reach the half-century milestone in 2013, has grown from 40 employees a couple years ago to 50 this summer. It sells more than 400 products in 72 countries, owns the trademark on the color blue in five categories of bike tools, holds a half-dozen patents and for the past four years has offered regional training seminars for professional mechanics—a program Hawkins said he's thinking about expanding internationally.
Hawkins, who worked at his father's bike shop during his high school years and came back to work for Park Tool in 1983, admits that it gets harder every year to manage the growth, but he points to two advantages: good employees and a longer product cycle.
"We don't have to have new models of helmets or clothing. We make blue tools and what we introduced last year we'll make that for 20 years. We have some things we have been making for 40 years. That's a huge advantage for us," he said.
Still, Park Tool adds 15 to 20 new products for consumers and dealers each year to its catalog in response to new technology from component and bike manufacturers.
At Interbike it will show 21 new products, among them an electric lift repair stand that will make it easier to service e-bikes as well as updates to two of its disc brake tools.
"Bikes keep changing and that keeps us in business. We get contacted by manufacturers that tell us what's coming so we're ready for it and dealers are ready for it," Hawkins said. "The industry sees us as Switzerland. Most manufacturers are willing to share ahead of time what's on the horizon."