From the October 1 issue of Bicycle Retailer & Industry News
CARSLBAD, CA—Outside the entrance of Spy Optic, the wetsuits and towels slung over the railing along the handicap-accessible ramp are the first sign that this is a company where the employees live what they're selling. The commuter bikes racked up inside the lobby are the second. The Spy offices are littered with equipment that speaks to its action sports ethos—skateboard decks, surfboards and, of course, walls of flashy colored goggles and sunglasses—and reflects the youthful and fun personality Spy is trying to inject into the cycling world. 
It has perpetuated a playful personality over the past year through an offbeat television advertisement that ran during the Tour of California showing Spy rider and 2011 U.S. road champion Matthew Busche dirt jumping his road bike (the stunts were performed by fellow Spy rider and professional mountain biker Mike Montgomery); creation of the Belgian Waffle Ride near its Carlsbad, California, headquarters; and an upcoming sponsorship of the popular cyclocross race CrossVegas at Interbike.
"We wanted the shaved leg crowd talking to the shaved leg crowd."
"We're looking for that person that's tired of the same old brands out there. We bring something fun, unique and youthful, a whole different vibe to the industry," said Jim Miller, the sales director Spy hired a year ago to lead the charge into a new Performance category, which includes cycling-specific eyewear.
Miller's first order of business was to tackle the notoriously difficult IBD channel armed with three new cycling models: the Screw, Rivet and O2F. A new interchangeable-lens sunglass, the Cutter, comes out this fall. Over the past year, Miller has hired 21 cycling-specific independent sales reps to add Spy to their lines, resulting in placement at all A-level shops in San Diego and an aggressive push into Orange County, Los Angeles, Arizona and New Mexico. Spy currently sells in about 100 IBDs. Miller says a credible rep force with relationships in the industry is the most critical piece to Spy's future—reps whom shop owners already trust, and who will champion and support the brand, focusing on sell-through, not just sell-in. 
"We wanted the shaved leg crowd talking to the shaved leg crowd," he said.  Spy has also hired an international sales manager to expand the entire Spy brand around the globe, which includes its snow and motocross goggles, prescription optics and sunglasses and lifestyle collections. International sales currently make up 9 percent of Spy's revenue. 
Eventually Spy wants to expand Performance to sports like running, golf and triathlon, but cycling presented the best immediate opportunity due to the high number of cyclists and IBDs in the U.S., and the existing spectrum of brands, according to management. With Oakley the clear high-end market leader, and brands like Serfas and Ryders winning the price-point share and other competitors like Smith and Rudy Project in between, Spy sees potential to chip away at the top. 
It's a tough sell for specialty dealers who generally don't put much power behind eyewear, particularly beyond the impulse-buy brands, or brands that sell themselves, such as Oakley. Just ask Specialized and Giro, two top IBD brands that attempted to branch into high-end eyewear and pulled out of the market after seeing little success.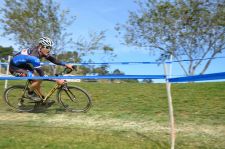 Miller stressed Spy's commitment to the business. 
"We are here to stay," Miller said. "We're going to be a player in this market. We're going to edge out some competition and stake our rightful claim to that market share." The publicly traded Spy has invested significantly in its efforts to boost its Performance category. Miller did not say how much has gone into cycling specifically, but in its six-month earnings statement, Spy reported a $2.4 million increase in sales and marketing expenses during the first half of the year to promote the brand and its new products.  
Spy has had a minimal presence in cycling during its 20-year history, although it patented venting technology called Scoop in 1995 that it is using in its new products. Michael Marckx, an action sports executive Spy brought on to turn around its business last year and a Category 1 masters racer, prioritized cycling as part of his resuscitation plan when he moved into the CEO position late last year as part of a management restructuring at the languishing company. Athlete sponsorship has been a key part of the plan with a small roster of mountain, road, cyclocross, downhill and BMX riders wearing Spy. For 2013, Spy teamed with Giant and San Diego shop Ride Cyclery to form a regional elite and masters road and cyclocross team.  
Still, Marckx admits it has taken longer to open specialty retail doors than he had hoped. 
"Sport Chalet, Dick's, Cabela's, REI, that's where the promise in terms of the business holds," Marckx said. "That doesn't mean we aren't going to knock on every single [IBD] door to try to have a meaningful relationship with them. We have the patience to do it."
Spy was started in 1994 by a group of former Oakley-sponsored athletes, and issued its IPO in 2004. Since then. Spy has seen five quarters of consecutive growth. In the first six months of this year, sales revenue grew 13 percent to $17.6 million.