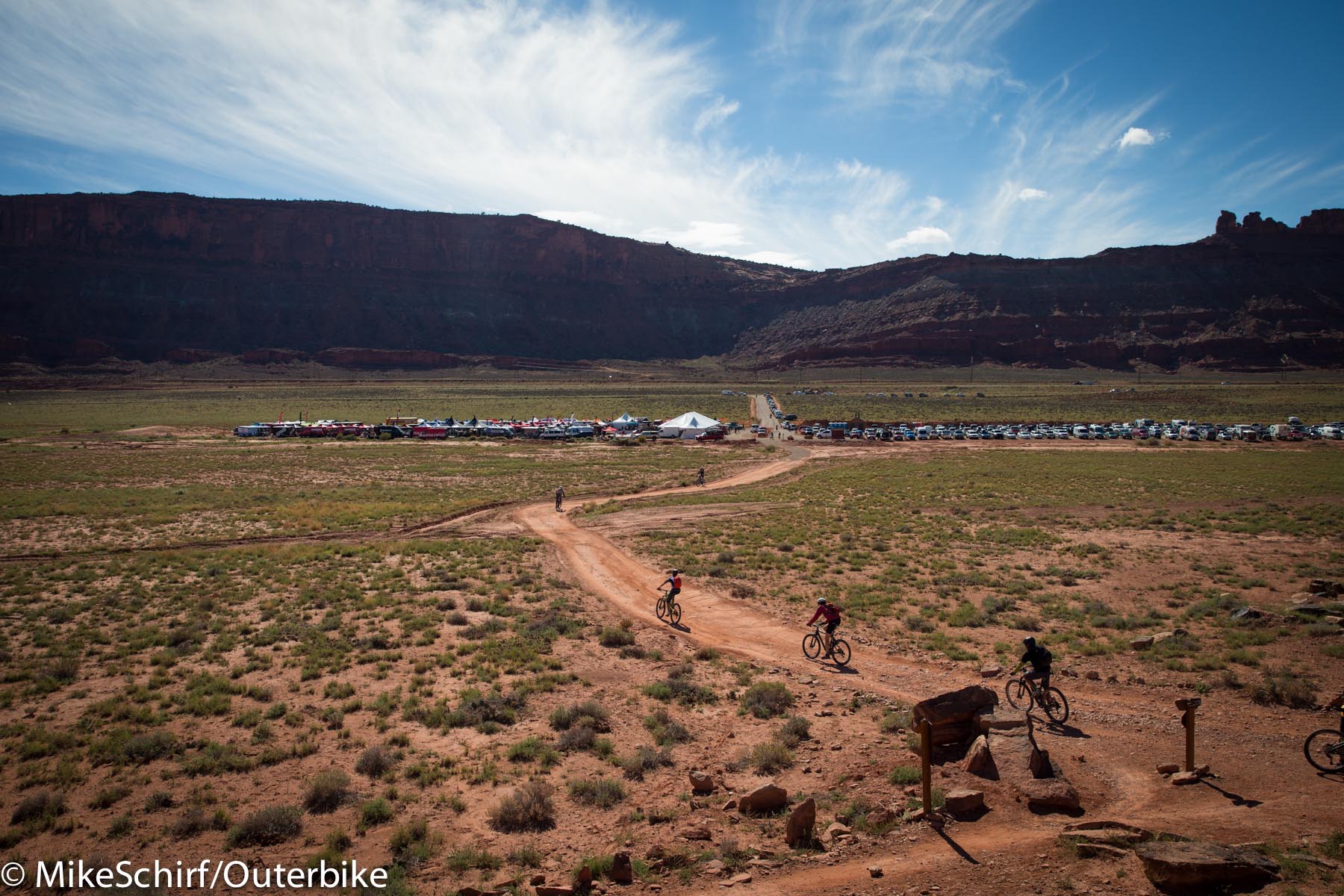 MOAB, UT (BRAIN) — When Todd Denkinger decided he needed a new mountain bike, he started Googling to find opportunities to demo a few possible new rides. He soon stumbled over the website for Outerbike, the three-day demo event held here. And he soon booked tickets to Utah to try out the trails and the bikes.
"My wife didn't really like this comparison," said the Seattle MD. "But I said, 'it's like being able to date 20 people before you make a decision on who to marry.'"
Denkinger had tried about seven bikes already by the time he arrived back at the Ibis booth Sunday morning, where company founder Scot Nicol helped set him up on a new HDR for a few laps.
Outerbike's fourth edition attracted over 1,000 folks like Denkinger: avid mountain bikers who are willing to commit to a trip to the Utah desert to help them choose their next bike (or to just ride their dream bike on the area's famous trails).
Nicol has brought the Ibis demo fleet to Outerbike every year, and his brand enjoys a prime location just inside the entrance. Each morning of the event, scores of riders lined up to enter, running in to get first shot at the bike they wanted to ride. Ibis' 21 demo bikes were usually booked up most of the day and Nicol and other employees were kept busy swapping pedals, adjusting suspension and answering questions from morning until after the VIP beer started flowing around 4 p.m.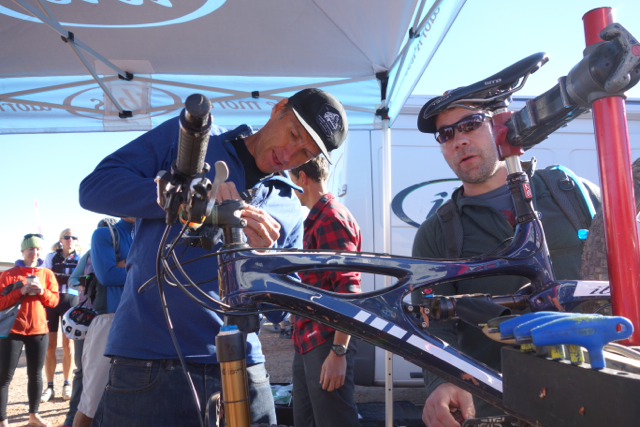 "I like that these are real buyers here," Nicol said. "The pre-qualification is good; if someone makes the commitment to come out here, they are usually really ready to do their homework and buy a bike. Some people will come back and ride one of our bikes three times during the weekend."
While organizers were still tallying figures Monday, Outerbike's Ashley Korenblat estimated that about 1,100 people registered, up about 10 percent from the 2012 edition. Cool, rainy conditions on the opening day might have scared off a few people who had planned to drive in from surrounding areas, but attendance picked up for Saturday and Sunday's classic October Moab weather: sunny, cool and dry. 
The federal government shutdown also might have affected attendance slightly. Off-bike field trips into Arches or Canyonlands national park were not an option because of the shutdown. The shutdown did not affect any of the event's planned rides, however.
Besides consumers from all over the U.S. and abroad, Outerbike attracted about a dozen retail stores, mostly from surrounding states. 
Kona's regional sales manager, Willy Warren, said he visited with several of his accounts from Colorado who made the trip to Moab, bringing along staff to test bikes.
"It's cheaper than going to Interbike," Warren said. "It's not so hot, and the trails are better."