WESTLAKE VILLAGE, Calif. (BRAIN) — The second edition of Lifeboat Events' PressCamp Winter got underway Tuesday as a dozen media members met to discuss new product with 10 companies representing 12 industry brands. Those companies included several first-time exhibitors — such as Canadian rack maker Swagman and performance apparel brand Alé — alongside veteran Campers including Ridley Bikes and Capo Cycling.
Highlights from BRAIN's first day of meetings:  
Ridley Bikes
The Belgian road race and cyclocross specialist came to PressCamp Winter to debut its new aero bike, show off the latest iteration of its triathlon/TT platform, and preview changes to its cyclocross lineup for the 2016 model year.
Launched in 2010, the Noah was among the first aero road bikes available to consumers, Ridley claims. The 2015 Noah SL builds on the intervening years of technological development to reduce drag further in a frameset package weighing just 950 grams.
The frame has full internal routing, improved aerodynamic integration of the headtube and fork, Ridley's F-Split double-bladed fork to deflect air away from the front spokes, and new tube surfaces — including a grooved downtube — to better slice through wind.
The Noah SL will be available to retailers initially as a frameset only ($3,500) the first week of April.
Also shipping in early April is the 2015 Dean Fast ($6,750-$13,00), Ridley's tri/TT model first launched at the 2013 Tour de France. The frame gets internal provisions for both Shimano Di2 and Campagnolo EPS batteries, F-Split aero fork, a new brake design to accommodate wider rims, integrated seat clamp, and wheel cutouts both front and rear. It will be available in stock geometry and — starting in August — with custom stack and reach.
Ridley also sneak-peeked revisions to its 'cross line for 2016 aimed at aligning the brand more closely with its European racing heritage. All 'cross bikes will get Euro-style geometry, such as taller bottom bracket heights for earlier pedaling out of corners, said Richard Wittenberg, Ridley's international director of sales. That leaves the X-Fire model, which was better suited to North American-style racing, out of the Ridley line in 2016.
Aspiring and intermediate CX racers will also get new options in Ridley's top-end X-Night carbon line. Previously available starting at $4,000, the X-Night will come down to an entry price of $2,500 for 2016. Ridley's full cyclocross line is set to reach retailers in July.
Recognizing the widespread adoption of disc brakes among 'crossers, Ridley is introducing a new full-carbon fork with an asymmetric design to better withstand disc braking forces on the left side of the fork. The Oryx Disc 15TA has a tapered steerer, internal cable routing, hidden fender mounts, and a scuff guard on the braking side to avoid damaging the carbon fiber leg when sliding the rotor into the caliper. It accommodates tires up to 700x42c.
Additionally, Ridley is looking to enter the growing gravel/all-road market with new bikes set to hit the market early in the 2016 model year. Few details were available, but the bikes will include ample fender and rack mounts and be available in carbon and aluminum models at a wide range of price points, Wittenberg said. 
Clif Bar
Fresh off the debut of the Clif Organic Energy Food line at Outdoor Retailer Winter Market, Clif Bar showed its new category of nutritionals — based on real food ingredients like pureed bananas, beets and tomatoes— to PressCamp editors on Wednesday. 
Designed to conveniently satiate endurance athletes' craving for real fruit or savory snacks during extended efforts, Clif Organic Energy comes in two 90-gram sweet varieties (Banana Beet Ginger and Banana Mango With Coconut; $2.29 each) and two 120-gram savory offerings (Sweet Potato With Sea Salt and Pizza Margherita; $2.99) in resealable capped packs for either sipping or quick slurping. Nutritionally, the sweet products are similar to energy gels, supplying a hit of carbohydrates along with a bit of sodium, while the savory flavors deliver more sodium as well as protein and fat via such ingredients as olive oil and sunflower seed butter, said Chris Randall, Clif's senior brand manager, athlete segment.
The textures are designed to carry the mouth feel of whole foods, with shreds of coconut in the Banana Mango With Coconut flavor, for example. For Pizza Margherita, quinoa provides a bread-like note and yeast flakes replicate cheese, according to Randall.
Clif Organic Energy Food will be available exclusively to specialty bike, run and outdoor retailers — and select gyms — starting Monday, Feb. 2. 
Swagman
British Columbia-based rack maker Swagman is four years into a push to get into more North American IBDs, and now counts more than 700 specialty bike shops in the U.S. and its native Canada among the brand's retail base.
The company's pitch to dealers: margins above keystone, high-touch service, and flexible ordering rather than take-it-or-leave-it terms. "The program can be a program that we create for the retailer on a specific basis. Our job is to make their job easier," said president Perry Grago.
And 2015 marks one of the biggest product introduction years ever for Swagman, highlighted by new trays that round out the company's rooftop line, said sales director Dave Michael.
The Skyline upright tray ($200) secures bikes by their front tire and fits all wheels sizes from 20- to 29-inch, as well as fat bike tires up to 5 inches wide. 
The stock front ratchet comes positioned for vehicles' passenger side, but can easily be flopped for driver-side duty with the removal of a few stem bolts. A universal mounting system and additional 10-millimeter bolts mean the tray can be fit to virtually any cross bar shape or thickness.
The Enforcer fork-mount tray ($150) also comes with universal bar mounts and fits rear tires up to 4 inches wide. It is through-axle compatible and comes stock with both 9- and 15-millimeter axle cores; a 20-millimeter adapter is sold separately.
Swagman is also a introducing a new tailgate pad, the Tailwhip ($100). It's made from waterproof tarpaulin wrapped around high-density foam to protect bikes and vehicles. A chain of nylon loops on the top of the tailgate allows for easy placement of bikes that can be secured by the downtube with Velcro straps. An extended rear hatch allows easy access to tailgate handles.
KHS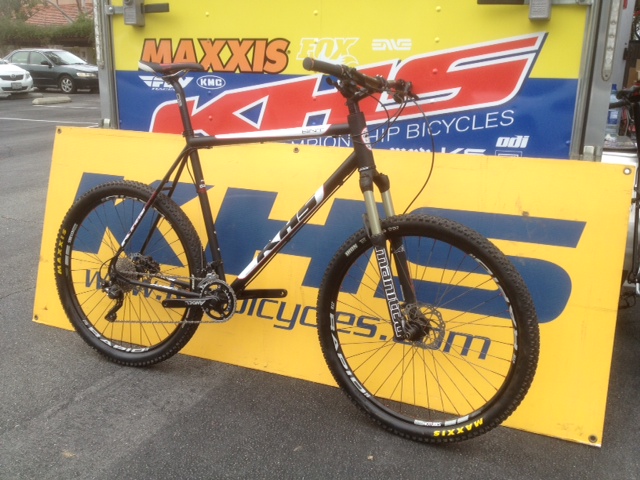 This year marks the 40th anniversary for KHS, which has grown into a giant producing 150 models across the KHS, Manhattan Cruisers and Free Agent BMX brands. The company was also one of the earliest adopters of the meet-in-the-middle MTB wheel size, launching 650b bikes in 2009. That selection has grown to 15 models for 2015, and KHS marketing man Flick (just Flick) figures that given the head start, the company has more 27.5-inch bikes out shredding trails than any other brand.
But two other bikes KHS had on display at PressCamp Winter stood tallest — literally — among the rest. Designed for riders 6-foot-4 and taller, KHS introduces for 2015 the new BNT (for "Big & Tall") hardtail 29er. Designed by Lennard Zinn, the BNT comes in XXL (23-inch) and XXXL (25.5-inch) sizes, giving the big guys an alternative to going custom for a properly fitted mountain rig.
Zinn also designed the 747 road bike, which KHS has brought back for a third year. 
Both bikes are made from stout Reynolds 520 steel and come spec'd with 200-millimeter cranks for long-legged pedal strokes.