WESTLAKE VILLAGE, Calif. (BRAIN) — Highlights from our final day of visits with suppliers as the second edition of PressCamp Winter wrapped up Thursday.
Raleigh
Could this be the rig that makes anti-e-bike IBDs change their tune on stocking electrics? That remains to be seen, but Raleigh's test launch of its new Misceo urban e-bike, the first U.S. release of a bike with Shimano's STEPS mid-drive system, was met with feverish demand, according to Larry Pizzi of Currie Technologies, Raleigh's e-bike sibling in the Accell North America family.
Raleigh's early run of Misceos sold out well ahead of their upcoming April release, with major multi-store players like Mike's Bikes and Erik's Bike Shop buying in. Pizzi attributes the enthusiasm in part to Shimano's brand equity among dealers.
"Bosch (mid-drive systems) brought reliability and credibility to e-bikes, but they're an outsider to the industry," he said. "We opened a bunch of new dealers with Bosch, but Shimano takes it to another level in terms of credibility with dealers." 
With an MSRP of $3,000, the Misceo comes equipped with an 8-speed Shimano Alfine Di2 internally geared hub, Shimano M445 hydraulic disc brakes, 700x40c Kenda tires, carbon-bladed fork and 6061 aluminum frame.
Though the test run of Misceos is sold out, Raleigh plans a full model-year 2016 release of the bike in May or June. A STEPS version of Raleigh's Detour step-through city bike is also in the works, and Currie's iZip brand will adopt the system, Pizzi said. Fellow Accell brands Haibike and Lapierre will continue with Bosch systems.
Capo Cycling Apparel
Capo's custom business has come on strong of late — some seasons it eclipses the Bay Area apparel brand's in-line sales. So it should be no surprise Capo has been shrinking its in-line collection.
Company president and co-founder Gary Vasconi views it as a shift similar to what he has seen in Italy, where Capo's apparel is manufactured. "They don't really sell in-line product there anymore," and the U.S. is moving in the same direction, he added. 
Capo established its custom business through the IBD channel, cycling teams and clubs, and recent industry partnerships include making kits for Santa Cruz Bicycles. Outside the industry, Capo has leveraged significant business in corporate America, producing custom kits for companies in health care, finance, food service and other sectors that institute wellness programs and commuter initiatives for their work forces. For example, business software giant SAP encourages its employees to participate in three Bay Area cycling events per year, and enlisted Capo to produce its company kit. Capo has now sold more than 1,000 of those to SAP employees worldwide.
Custom kits can be ordered across Capo's product range, from the Corsa comfort and performance line to the top-end GS series. Jerseys range from $66 to $125, bibs from $82 to $150, with a 35-kit minimum. Turnaround is six to eight weeks.
On the in-line side at Capo, the company is ramping up a host of new offerings — jerseys, bibs, vests and jackets — in what it calls its "Purpose Built Clothing," with luminescent properties that reflect light even in some daytime conditions to enhance rider visibility. 
"If we can make the rider more visible and avoid an altercation, we're going to do that," Vasconi said.
Abus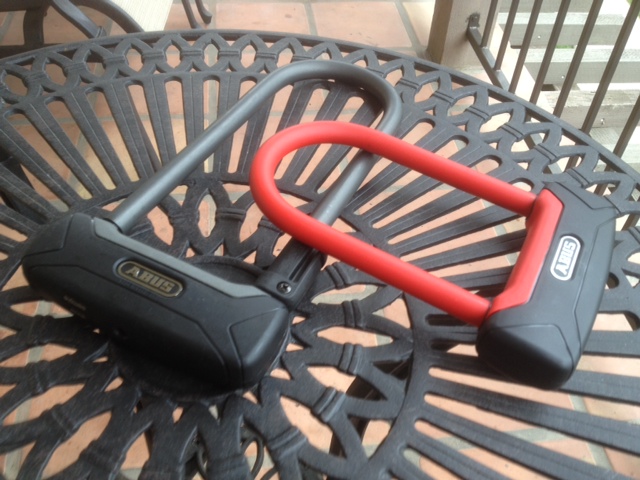 Abus showed the Granit Plus 640, a refresh of one of the German lock maker's most popular U-locks, at Interbike in September, and is about to deliver it to U.S. dealers in March. 
The lock boasts higher-level security than its forerunner, the Granite 64, with a thicker 12-millimeter shackle and dual locking on both ends of the shackle via four contact points. It's also wider now to fit around reinforced parking meters, is available in red or black and comes in two shackle lengths: 5-inch ($99) and 9-inch ($129).
"It rounds out the top-end line for us nicely," said Joan Hanscom, PR and marketing manager for Abus USA.
The company is also poised to move into the U.S. helmet market by the end of 2015, but is still working out its distribution strategy. "Abus is really coming into the market just with commuter helmets. The road market is already pretty crowded," said Hanscom.
Those commuter lids will include the Pedelec, featuring a removable visor and integrated rear light with three settings. Under the light sits a "rain cape garage," housing a light cover that stretches over the helmet and attaches to the front brim of the helmet. The Pedelec currently sells in Canada for CAN$149. U.S. pricing has yet to be determined.
SRM
Power measurement brand SRM showed off a new magnetic e-brake for its $5,300 IndoorTrainer Electronic that communicates with an iPad app displaying such metrics as power, cadence, heart rate and resistance. The feature allows users to program rides, interval training and step testing for lactic threshold.
Looking to grab market share from players like Garmin, SRM has also upgraded its PC7 head unit by adding GPS to the new PC8. The unit displays speed, cadence, heart rate, distance, ascent, time of day, power and other measurements. The customizable display allows users to choose what they see on the screen, when they want to see it. Athletes can also track advanced metrics like training stress score, intensity factor, torque value, watts per kilo and normalized power. 
The PC8 retails for $850.