MONTEREY, Calif. (BRAIN) — Whether you're a first-timer or a veteran, we're glad you're into grabbing life by the moments because we've planned some fun things for you to do this year at the Subaru Sea Otter Classic powered by SRAM. Like racing in a suit and tie or pumps (or both?), testing new products in real time, touring the scenic backcountry of the Laguna Seca Recreation Area, or playing around in the kids' carnival. Racing has been central to Sea Otter since 1991 and has grown from a handful of races to dozens spanning more than 10 disciplines across a variety of categories. Tone it down and there's yoga, live music, carnival games, stunt shows or sipping suds at the Sierra Nevada beer garden while watching world-class bike racing. Read on for a summary of activities.
WHAT'S NEW AND MUST-DO
SRAM Pump Park
For a free sample of what you can do on a pump track, see how the pros throw down in an invitation-only competition on Friday when you can watch one of the weekend's most entertaining events. Like what you see? Then get on the track yourself and test your skills on Saturday and Sunday when the SRAM Pump Park will be open to the public!
Raleigh Open Road Tour
You've made the most of indoor cycling and you've got the fitness to prove it, but even the best gym can't grant you bragging rights AND a post-ride lunch and massage. We know you're ready for a challenge with a few perks built in, so check out the Raleigh Open Road Tour.
Brompton World Championship USA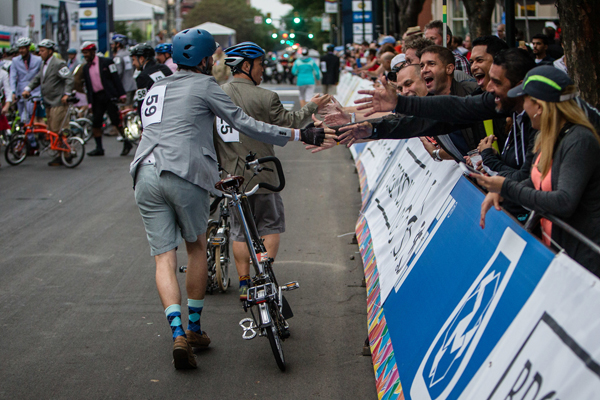 The unsanctioned Brompton World Championship USA will kick off at 5 p.m. on Friday and has very few rules, one of which is NO VISIBLE LYCRA! Category winners will be awarded after the event, including Fastest Male, Fastest Female, Fastest Veteran, Fastest Team, and, in keeping with the spirit of the race, Best Dressed. The fastest Male and Female racers will score a flight to London and entry into the Brompton World Championship Final later in the year. 
Haibike eMTB Race epowered by Bosch
Leave your ego at home and be the first of your friends to take aim at the podium in the Haibike eMTB Race epowered by Bosch. Demo bikes are available for racing at Haibike's and Bosch's expo tents, located close to the Sea Otter Bridge, as well as from a variety of other vendors. The race takes place on Friday afternoon and will offer age group categories. 
BACK BY POPULAR DEMAND
Demos, demos, demos 
The chance to pick up, try on, test, and taste much buzzed-about products has become Sea Otter's largest attraction. Cruise the expo or choose from one of three demo zones: SRAM Skills Zone, Specialized Kids Zone, or the Bosch eBike Zone + Demo where you can swing a leg over a bike and sharpen your skills, gain new ones, or try one of the latest trends in cycling before you buy. Open from 9 a.m. to 5 p.m. Thursday, Friday, Saturday, and 9 a.m. to 4 p.m. on Sunday.
JUST FOR KIDS
The Sea Otter Classic has had a focus on kids' activities throughout its history thanks to the volume of active moms and dads who arrive to race and leave their spouse or partner and kids to entertain themselves while they're off competing. 
Specialized Sea Otter Egg Hunt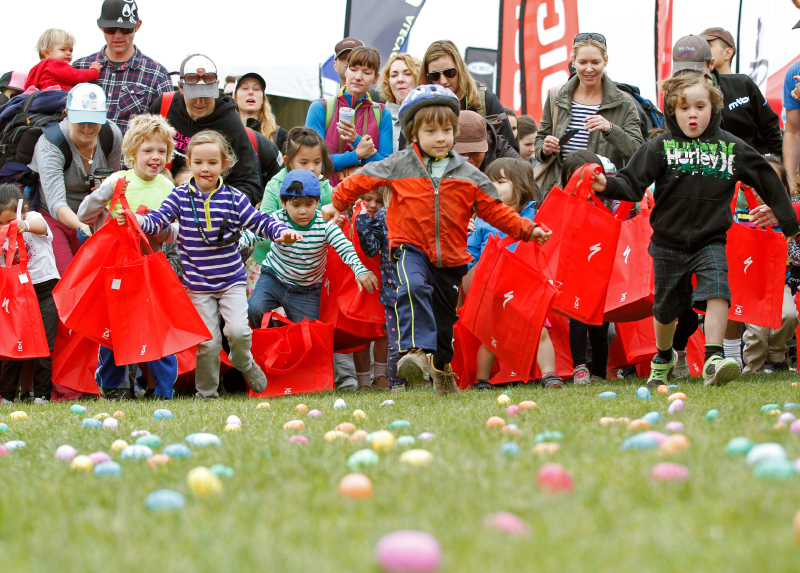 The Sea Otter Egg Hunt, hosted by event mascot Skipper the Sea Otter, rewards eagle-eyed kids who spot eggs hidden on the lawn in the ride zone. Prizes are hidden in the eggs, with a few big prizes from event sponsors.
Specialized Kids Zone 
Not your average playground, the Specialized Kids Zone allows kids 12 and under to try out their budding bike skills on age-appropriate obstacles, plus there's a separate area for pushbikes. Races are held all four days, with prizes and certificates for participants. The Specialized Kids Ride Zone is open from 9 a.m. to 5 p.m. Thursday, Friday, Saturday, and 9 a.m. to 4 p.m. on Sunday and is free with festival admission.
Specialized Kids Races 
Every child is a winner in this age-appropriate competition.  Kids maneuver through a course carefully designed to build skills and inspire confidence. Racing is open to kids 12 and under; no entry fee or registration required. Racing takes place 11 a.m. on Thursday, Friday, Saturday, and Sunday. Racers age 5 and under will compete at the Specialized Kids Zone; racers ages 6-12 will do battle separately at the Specialized Kids Zone. Consult the festival map for race
locations.
This is just a sampling of what the Sea Otter Classic has to offer. If you're still looking for that one thing you shouldn't do, it's this: You shouldn't be bored at Sea Otter. Be sure to check out our complete schedule of events and activities which can be found on pages 16 and 17 of the Sea Otter Guide guide or at socschedules.com.