SALT LAKE CITY, Utah (BRAIN) — It's been called the epicenter of bike innovation. And as you walk the aisles of the North American Handmade Bicycle Show, it's easy to see why. From radical to subtle, the artistry is wide-ranging. In the photo gallery below we serve up a small selection of highlights that stopped us in our tracks. For more coverage from NAHBS, make sure to turn to BRAIN's upcoming April 15 issue.
---
Somewhat hidden in the corner of the HED booth was Peacock Groove's masterpiece, which won Best in Show as well as Best Themed Bike awards from NAHBS. The bike built by Erik Noren is a tribute to pop star Prince and owned by Anna Schwinn. It stood out for the amount of detail on it. From song lyrics on the HED wheels to doves on the handlebar tape and etched onto the brake levers, to custom machined disc rotors and cable routers, the amount of detail can only be appreciated from up close. One of Prince's guitar picks is even nicely nestled onto the stem.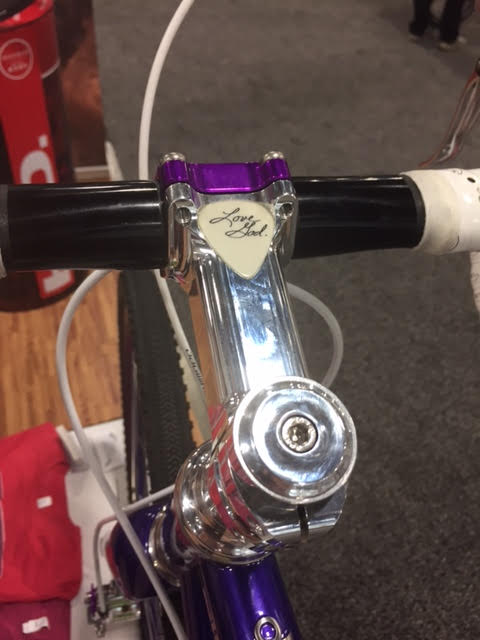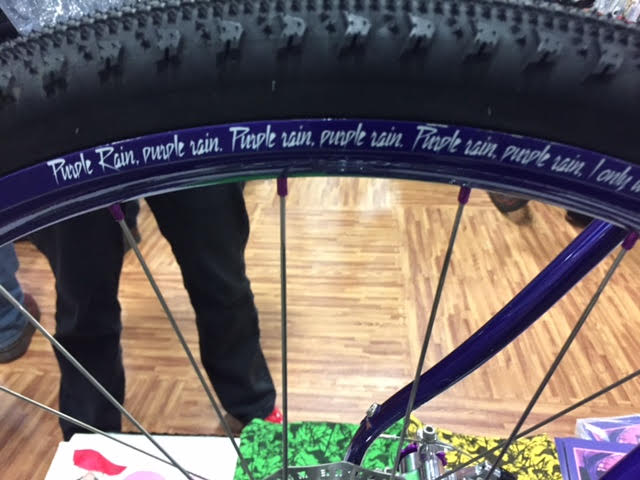 Also in the HED booth was Cervélo's carbon P5X, the first frame built by HED at its Minneapolis facility. It was a collaboration between the companies. For more on HED's expanding business into framebuilding projects, see the BRAIN April 15 issue.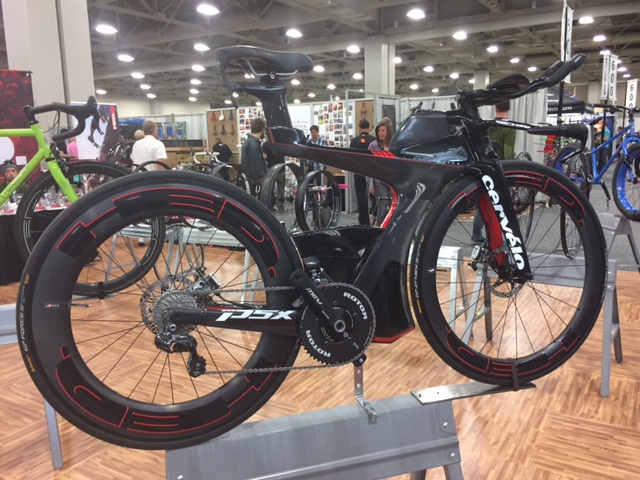 The Pro's Closet had a sizable and well-placed booth at the entrance of NAHBS that showcased its group of collector bikes. The vintage models, some of which it owns and others that are on loan, were a museum of bike history. The Pro's Closet said several consumers traded in their old bikes for credits to use on the purchase of a custom-built frame or complete bike at the show. Among the vintage bikes was Tinker Juarez's 1993 Team Storm Klein, this 1992 Clark-Kent Fat bike with two tires sewn together, this 1975 Tom Ritchey road bike, and Davis Phinney's 1984 Olympic Serotta (with Murray on the dowtube). Also on dispay was Mountain Goat's 1988 Dinoflage Deluxe, with a memoriam to the late Jeff Archer, longtime retailer and NAHBS judge who owned the brand.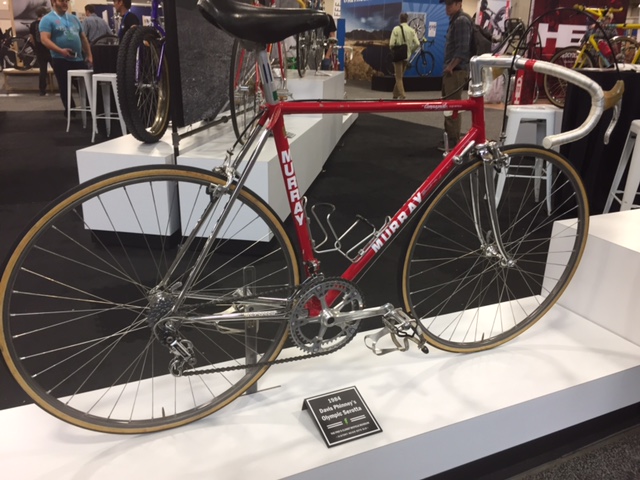 Ron Andrews of King Cage was welding water bottle cages at the show. He also makes pedal cages and beer openers out of stainless steel and titanium — all by hand in Durango, Colorado. Andrew also built his metal bending tool machines.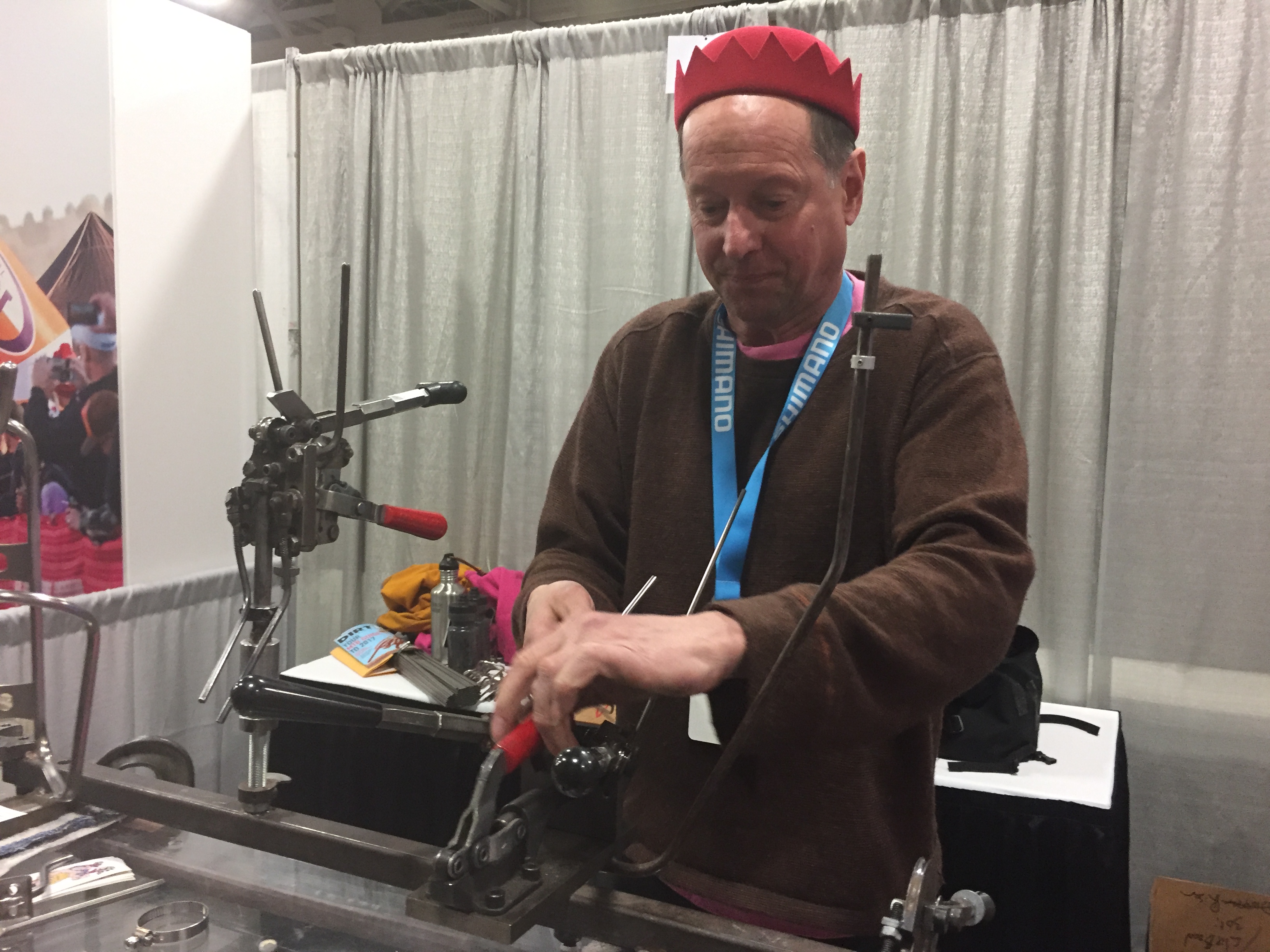 HIA Velo's Olivier Lavigueur was doing live layups of carbon forks at the company's booth. HIA was at the show for the first time after unveiling its first handmade carbon bike, the Allied Alfa, earlier this year. Lavigueur, who came from Guru, brought three fork layup kits to build one each day of the show — a three-hour process.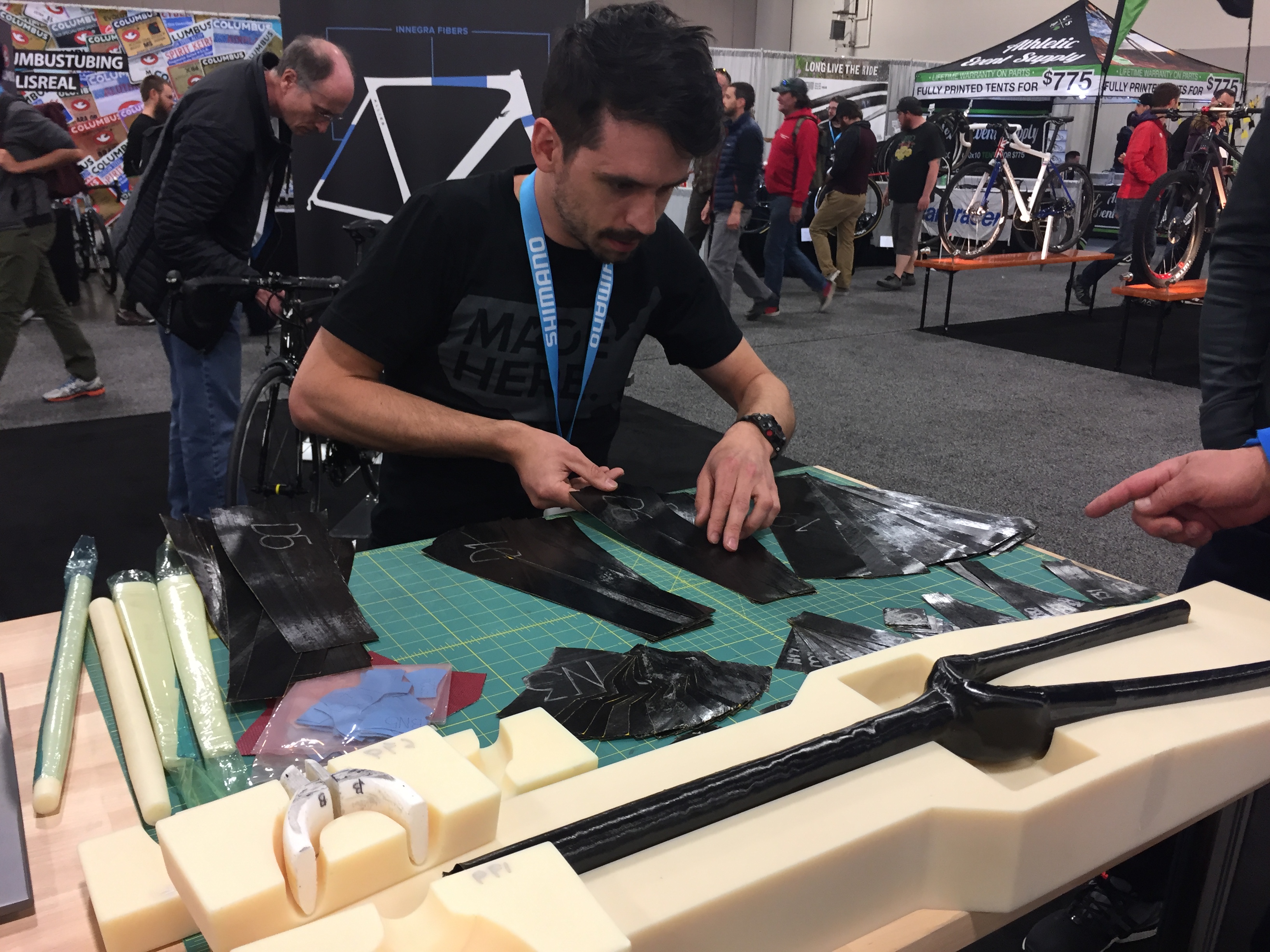 White Industries is expanding beyond hubs, cranks and freewheels and showed its colorful headsets at the show. "It seemed like the next progression for us," said Jake Toepfer. The headsets, which come in various options, from inset to standard, external inch and 1/8 to tapered and zero stack, are anodized then engraved with White Industries logos. All of these are prototypes, with production models by Interbike. Toepfer said they focused on making them easy to service and compatibility.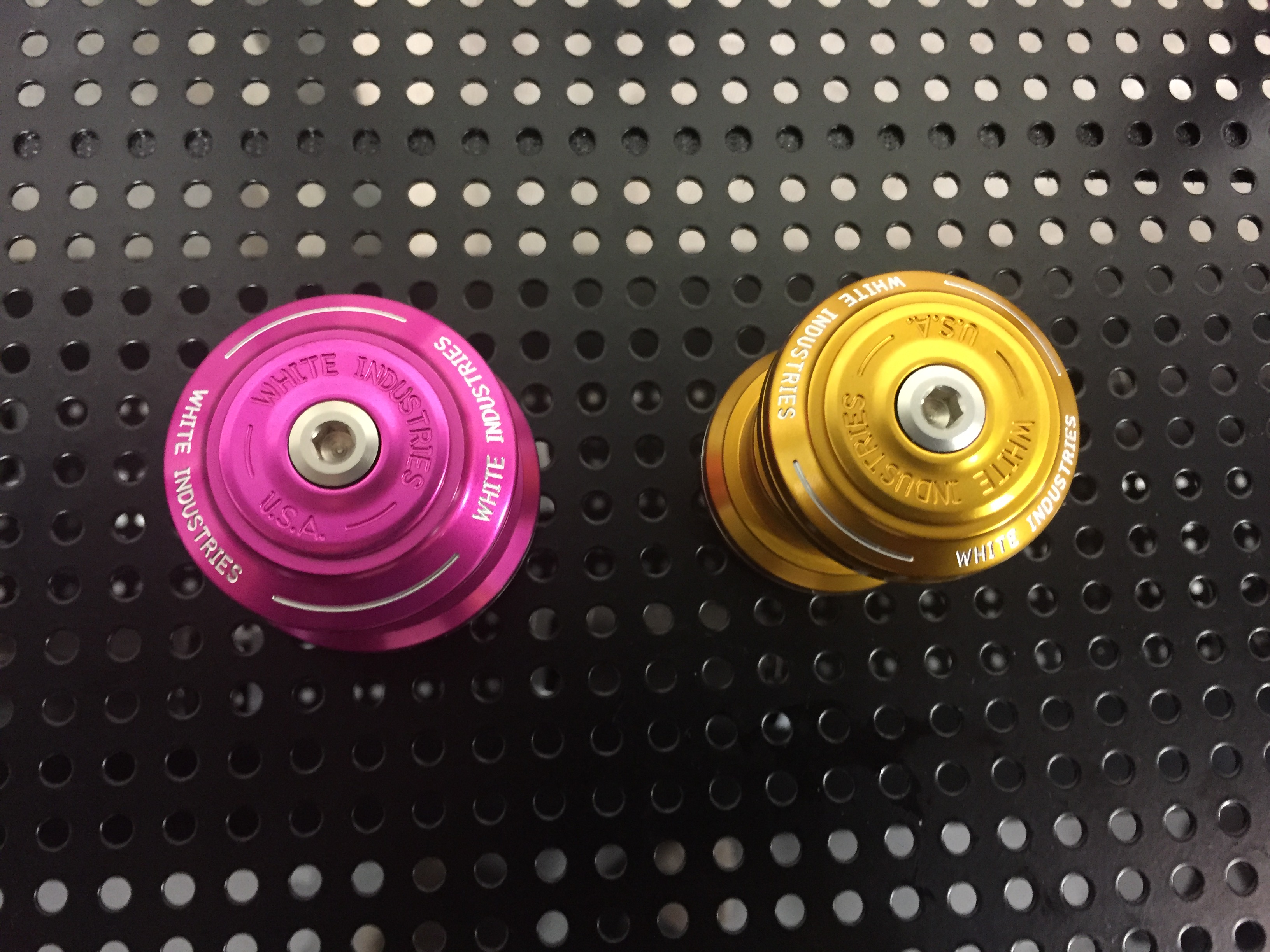 Over at Chris King's booth, a small batch of bourbon-colored headsets, drew eyeballs. Although the intent was to put them into production, the bourbon color is too hard to do consistently, so the small batch made for builders' bikes at the show will be the only ones available.
Ray Keener and his son Will with the Dean titanium bike built large enough for him to ride. What size? Somewhere between 62 and 65 depending on where you measure from. With S&S couplers and Paragon Machine Works dropouts, the bike weighs in at 18 pounds. "For me, a guy my size and couplings, that's super light," Ray Keener said, proudly. He didn't spare any expense, either. The bike is outfitted with SRAM eTap, so no wires on this travel bike.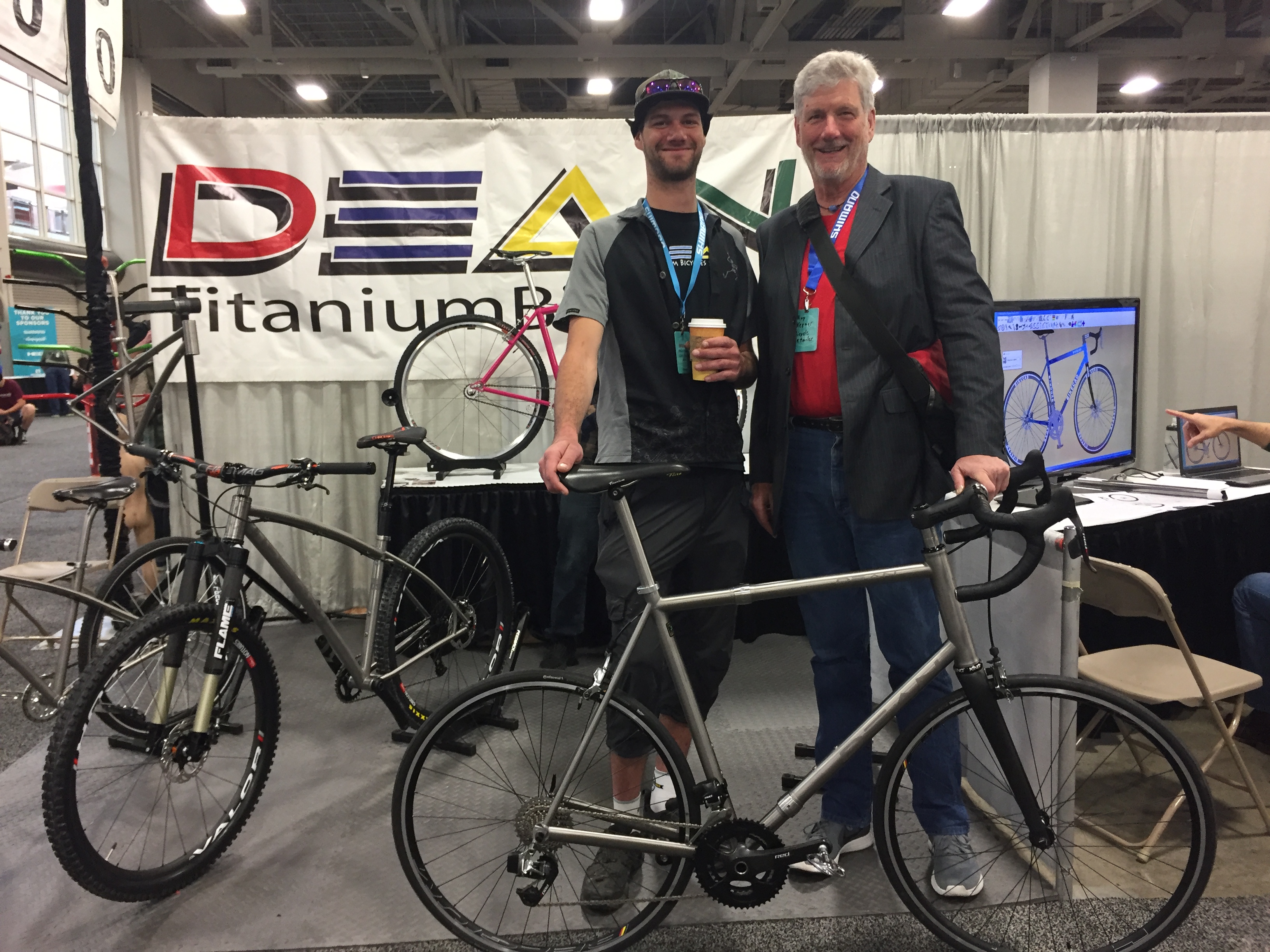 Custom-painted Silca frame pumps were the builders' accessory, with several road models incorporating them beautifully including Portland, Oregon's, Breadwinner, Mosaic, Shamrock Cycles, and many others. Perhaps the frame pump will make a return into the mainstream? Josh Poertner of Silca certainly has seen sales surge among builders since reintroducing it less than two years ago.
But it wasn't all about road, as fatter tires have revived the hardtail mountain framebuilding market with 27- and 29-plus models. Many U.S. builders took a creative or custom take on plus bikes including WH Bradford, Moots and Blaze. Steve Potts showed his full-suspension silk ti with 27.5 x 2.8 rubber.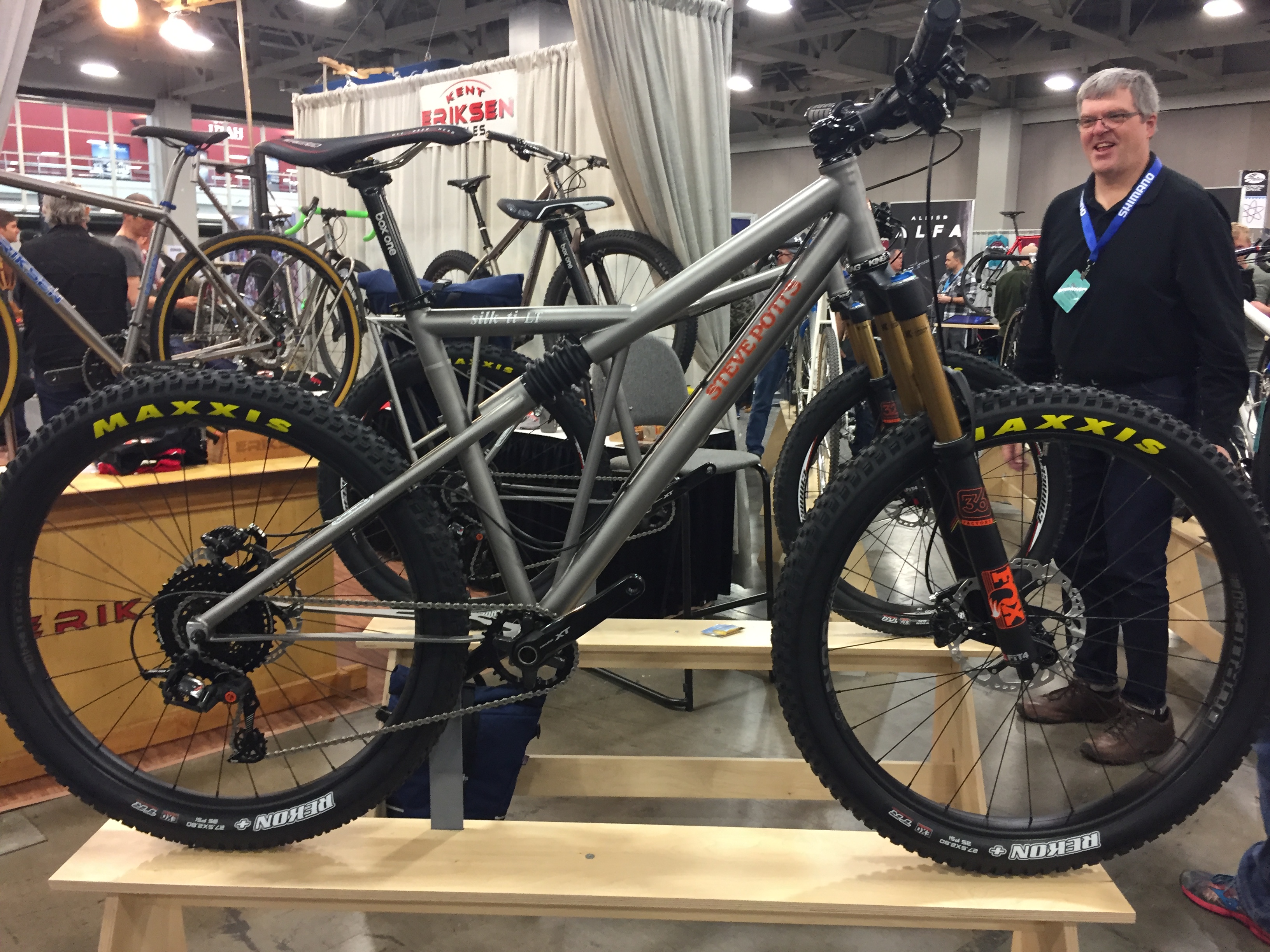 It was being called the Flintstones bike, the Mad Max bike or the Gilligan bike. But Craig Calfee calls his moped the Big Bamboo. It looks like an e-bike, but Calfee said it's technically a moped. It's powered by Bafang's new BBHD motor, so it goes much faster than what the U.S. allows an e-bike — it can go up to 40 mph on its 20-inch BMX-inspired wheels. With a 70T chainring, he said it's geared for pedaling at fast speed. Calfee made his own battery out of LG cells, which is tucked into the bamboo toptube. The bike has turn signals and front and rear lights. "This is a commuter bike designed to go at the same speed as traffic," Calfee said. "I'm not trying to hide the fact that it's a moped."