Editor's note: This article appears in the festival guide for this year's Sea Otter Classic, which starts Thursday and runs through Sunday. Visit bicycleretailer.com later this week for on-site coverage from Sea Otter.
Whether you've been coming to the Subaru Sea Otter Classic powered by SRAM since its inception in 1991 or this is your first year, you will certainly be able to feel the festive atmosphere and welcoming vibe that is this "Celebration of Cycling." It is this camaraderie and feeling of community that consistently brings athletes and fans back to Sea Otter every spring. While the vibe has not changed since those early days, 2017 brings lots of technological innovations. Read on to learn how these advancements will make your time at Sea Otter even more enjoyable.  
Online enhancements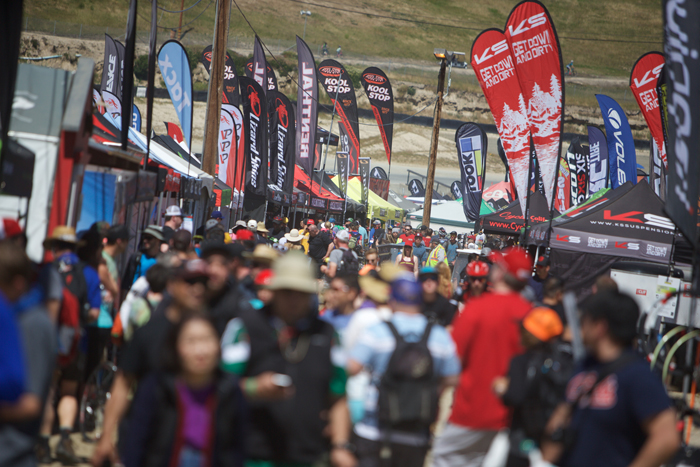 Chances are, when you registered for your event or bought your festival passes this year, you noticed the new Sea Otter website. That was just the start! When you clicked on the Course Map for your race or recreational ride, you were taken to the Trailforks page for that event. Here you were able to find user-contributed information like GPS data and photos. Hopefully that helped you plan for your big day!
Schedule personalization
With so much to do and see during the four days of Sea Otter, you will definitely need to take advantage of the new schedule personalization option. By heading to "The Complete Schedule" on the new Sea Otter website, you can create an account and add events to your own personal schedule. Add them to your personal calendar or view them on the website, you won't miss your favorite events, athlete "meet n' greets" and trials shows with this new option. 
Here are some "must see" events for the weekend:
Inaugural Kids' Laguna Seca Race: New this year — grab your 12-and-under rider for a rare chance to race on the famed raceway! On Saturday at noon, kids will be led by the professional men's cross-country field to race from the Sea Otter Bridge down the track and back. Don't miss this photo op as Skipper cheers everyone on!
SRAM Pump Park: Back again — the berms and rollers of this closed-circuit dirt track are not to be missed. See the pros show off their stuff on Friday, then get your own turn to try it out on Saturday and Sunday when it is open to the public.
Haibike eMTB Race ePowered by Bosch:It's year two for this fan-favorite race that combines rider skill with eMTB power. Bring your own e-bike or borrow one on-site from Haibike, Bosch or other e-bike vendors. Not ready to race? Demo an e-bike instead. Borrow one from an on-site vendor and try it out at the e-MTB bike demo zone or the roads surrounding Laguna Seca.
Specialized Kids Zone: The Specialized Kids Track offers riders ages 12 and under the opportunity to try out obstacles appropriate for their age and size. Ready to compete? Every kid is a winner at the kids' races that are held daily at 11 a.m. Skipper is there to cheer on the riders and everyone who participates receives a medal. In addition to Saturday's race on the track, there are tons of activities planned all day long for kids. Every day at 10 a.m., Skipper hosts an egg hunt where kids 8 and under can hunt for eggs on the grass field with the chance to win some amazing prizes. The carnival is open all day with bounce houses galore. Kids can also swing by the California Parks Department booth to check out their animal skulls and give the remote-controlled Jeep track a try. 
Demos, demos demos: Looking for a new ride or that hot, new product to enhance your cycling experience? Try before you buy at the 150-plus exhibitors who will be demoing their products in the Expo. 
Stunt shows: Watch 12x U.S. National Champion Mike Steidley as he traverses a custom set of obstacles, jumps, and ramps during his high-energy stunt show. These daily shows offer giveaways and are followed by an autograph session. 
Find your exhibitor with ease
Once you've checked out the schedule for events you want to attend, you may want to look for your favorite vendor or see what exhibitors are new at Sea Otter this year. With over 500 exhibitors included in our Expo this year, it can be an overwhelming task to find the one you are looking for. To solve this problem, we've added Map Dynamics Technology to our online Expo map. Just pull up the Sea Otter webpage up on your smartphone, find the exhibitor you are looking for, and you will be directed to that exhibitor's location on the Expo map. 
Share your love of Sea Otter
There's tons to tweet, snap, like and share at Sea Otter this year. Whether you are a racer, recreational rider, or bicycle junkie, we love the love. Sea Otter is super social this year and we'd love to have you join in the fun.