SARATOGA SPRINGS, N.Y. (BRAIN) — Ben Serotta is making bikes again, with two projects in the works: One small and one semi-big.
The longtime builder's own brand shut down in 2013 during the collapse of the Divine Cycling Group. He has worked on a variety of projects since then, including consulting on the design and manufacturing of share bikes. He continues to work on bicycle transportation projects, a new-found passion.
But a return to framebuilding was always in the plans (see "Ben Serotta: I will build bikes another day," our 2013 article), and last year he got started on it, hands-on.
"I felt like if I was going to get back in, I wanted to actually build bikes myself, which is something I haven't done in a long time," he told BRAIN in an interview this week.
"Initially the plan was to do a few steel bikes. I wanted to spend time in the shop and touch things and try things out."
Serotta began brazing frames at Frank Wadelton's shop, FTW, in Bellows Falls, Vermont. Eventually, because he like to do things his own way, he invested in some custom tubing and frame parts and tooling, and decided to get more formal about the program. That led to the launch of the Amodomio brand (a modo mio means "in my way" in Italian).
This is his small project.
Ben Serotta does not have rights to the Serotta brand name for bikes, but the Amodomio frames say "Serotta Design Studio" on the chainstay and have Serotta's signature on the toptube.
Amodomio frames are custom sized and available in fillet brazed or TIG welded versions. The fillet brazed frames are built by Serotta himself, while the TIG frames are built by Wadelton. The frames are painted by Vicious Cycles in New Paltz, New York. The frames will be available with rim or disc brakes and in SRAM eTap or mechanical shifting versions with external cable routing. Because of the frames' thin Columbus tubing, Serotta prefers not to drill them for internal cables or wires.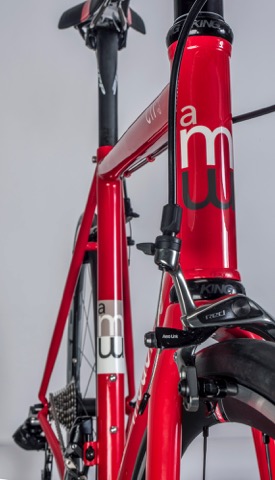 The frames are being offered by about five U.S. bike shops, and Serotta said he doesn't plan to expand much beyond that.
"The fillet-brazed ones, especially, I can't do more than a couple dozen of those a year. I don't want it to stop being fun. If we had 100 shops, even if they only bought one frame each, I couldn't make enough," he said with a laugh.
Earlier this week, Serotta announced he was auctioning a custom Amodomio to benefit CycleKids.
But the Amodomio project is only part of Serotta's plan to get back into bike making. He's also working on a line of what he calls a "semi-production" frame, which will be manufactured in Taiwan. He declined to say what brand the bikes will bear.
"There are a few details to smooth out before I can tell you the brand," he said. The frames will be marketed as "by Ben Serotta," however.
This is his semi-big project.
The new brand will offer eight sizes of road frames, produced in small batches in Taiwan as needed. He declined to say what material the frames will be, except to say they will not be steel.
"It's intended to be a global brand and will be globally sourced. I'm not married to having it made in Taiwan indefinitely, it could go somewhere else."
Despite his years of experience in the bike industry, Serotta only visited Taiwan when he started working on a share bike consulting project a few years ago.
"I visited a lot of factories and had a fabulous experience," he said. "After years of suggesting that you have to make bikes here to have a quality product, I saw that some factories over there do fabulous work. Not all of them, but some of them."
The more things change ...
Since 2013, there have been significant changes in the bike market and in road bike design. With time to assess both, Serotta has come back to relatively conservative positions.
For example, on bike design, Serotta is not a huge fan of the gravel bike trend. He said he's always felt comfortable riding any of his road bikes on dirt or gravel roads, and prefers the handling of a traditional road racing bike with a relatively low bottom bracket, rather than a high-bottom bracket, upright position gravel bike. 
"Perhaps I have participated in this to some extent, but I get irritated at the industry when every time it tries to sell more stuff it invents a new category. And there are some people who, anytime there is a new type of bike to buy, they will buy one. But not that many," he said.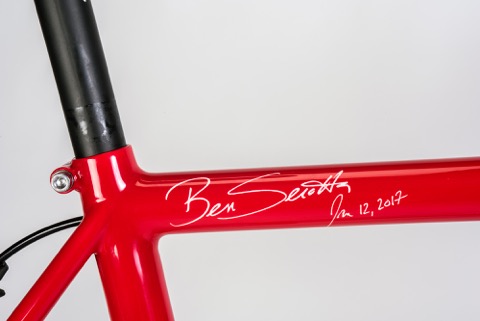 For his new bikes, Serotta stuck with road racing geometry.
"You aren't going to be riding over sand dunes with these bikes. These aren't racing-specific bikes, but they are raceable. They are intended for someone who really rides and who is reasonably athletic," he said. He said even his personal bike position has gotten a bit lower and longer in recent years, moving back toward a more traditional road race position.
Still Serotta has responded to some trends. His new frames and forks have clearance for a 32mm tire, although he designs the bikes around a 25-28mm tire. The unnamed semi-production frame line will be available for disc brakes only.
"I feel the disc brakes are inevitable. At this point I'm agreeing they are good for many applications and they are what bikes are going to use in the future," he said, sounding a bit weary of the debate over road discs.
As for the changes in retail and consumer habits, Serotta said he's concluded that sales through specialty bike shops is the way to go, although he said for some customers it's appropriate to sell consumer direct. "The clear goal is for the consumer to have an excellent experience start to finish," he said.
"At one point I was starting to think we didn't need bike shops," he said. "But I've come to think now that we need to sell and deliver bikes in a professional way, a high quality, personal way. And that's not having a box show up outside your garage."