PARK CITY, Utah (BRAIN) — Pivot had been scheduled to unveil the revamp of its Mach 4 Carbon model at Eurobike. But a robust early selling season for the original version of the lightweight 27.5-inch, 115-millimeter-travel bike, which debuted here at PressCamp three years ago, accelerated the time table.
With a low-slung toptube providing generous standover, the bike was a favorite among shorter riders, and had sold out from sizes XS to M about a month and half ago, Pivot founder Chris Cocalis said.
An entirely new, stiffer rear triangle increases rear hub spacing from 142 millimeters to Boost 148, creating clearance for tires up to 2.6 inches. Geometry remains unchanged from the original Mach 4 Carbon, which has been a cross-over hit with both XC racers and trail riders. But two separate categories of spec now address those riders separately.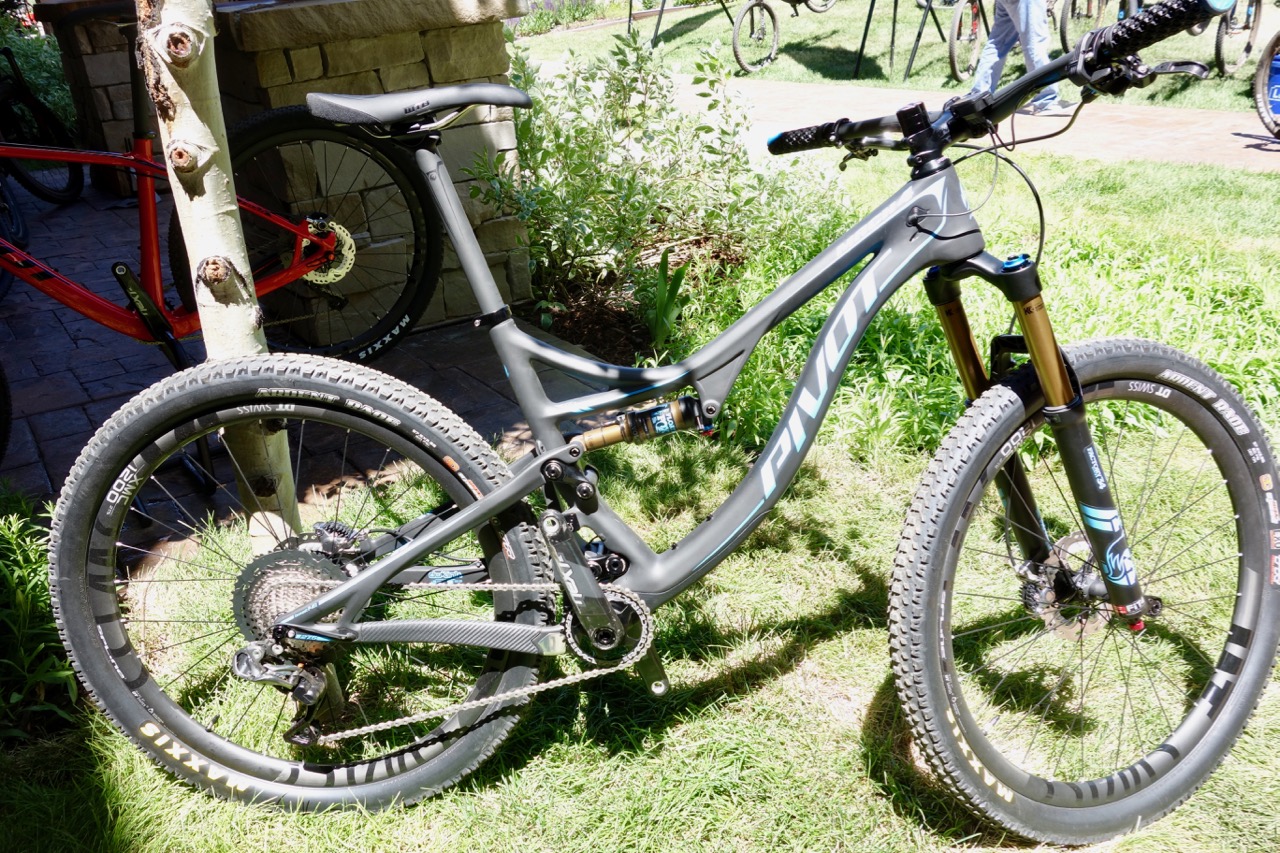 "The previous spec on the Mach 4 was a 120-millimeter-travel fork and a kind of in-between cross-country/trail tire. So for the new Mach 4 ... we've split our offering into two categories. Now at every level of our builds we have our XC Race builds and our Trail builds," Cocalis said.
The Trail builds include 130-millimeter Fox 34 forks with Boost 110 spacing (also fitting tires up to 2.6 inches), Maxxis Ardent 2.35 tires, 740-millimeter-wide bars, and shorter stems. The XC Race builds feature 100-millimeter Fox 32 Step Cast forks (recommended tire clearance up to 2.35 inches), Maxxis Ikon 2.2 tires, and Pivot's own Phoenix carbon flat bar. XC Race and Trail come in nine spec levels each.
Pivot is also debuting a new version of its LES 27.5 carbon race hardtail. Like the Mach 4 it gets updated to Boost spacing, but also gains the Pivot Cable Port System for internally routing both mechanical and electronic drivetrains, including a Di2 battery. The ground-up frame redesign uses new layups and ride tuning to increase bottom bracket stiffness and rear triangle torsion while also increasing compliance to better soak up chatter, Cocalis said.
One thing that doesn't change is the frame's geometry, which Cocalis says was ahead of its time when it was introduced four years ago.
"The last LES 27.5 was really considered pushing the boundaries of geometry for cross-country racing, and at the time we really got quite a bit of criticism for the overly long front end and overly slack head angle. And now it's really right where everyone else is coming in," he said. "It's funny now that it's 100 percent accepted and expected."
Cocalis admits it's still a very niche bike, but complementing the 29-inch LES, it allows Pivot to reach racers of just about any age or size.
"I'm not going to bank my retirement on 27.5-inch racing hardtails, but with the amount of support we do for NICA and accommodating smaller riders and women, this bike sells extremely well in the small and extra-small sizes. It's really a key market for us to accommodate the entire range of riders in the marketplace."