Editor's note: Urban Tribe Cargo Bicycles changed its company name to Bunch Bikes after this article was published.
LONGMONT, Colo. (BRAIN) — Two start-up bike industry brands each are taking inspiration from a popular blogger who promotes frugality and simple living, including a "bad-ass" lifestyle that involves lots of bike riding.
Pete Adeney retired at age 30, after working a few years in the tech industry, by living frugally and investing wisely. After a few years of retirement he launched MrMoneyMustache.com to share his philosophy. The blog caught the attention of many: he's now been profiled in The New Yorker, Forbes, The Wall Street Journal, NPR, Bicycling and elsewhere. Oddly, the success of his blog about early retirement has caused him to become semi-unretired, and he now travels every couple months for blog-related events and earns a steady income from the site.
But, except for trips to the airport, he uses bikes to get around Longmont, where he lives with his wife and son. He writes often about the ability of bikes to reduce expenses and improve well being, including one blog post ("What do you mean you don't have a bike?") where he wrote,
"A bike-based lifestyle is an all-encompassing change for the better. It's like rolling back the past hundred years of humanity's clueless paving-over of the surface of the Earth, without having to sacrifice a single benefit of modernization. It's like shedding all of the stress and responsibility of adulthood that have crusted over you and going back to being eight years old again... without losing an ounce of that golden power and freedom that comes with being an adult."
Adeney's blog is monetized with affiliate ads from products he supports, including financial services and books. The blog has a link to Bike Nashbar, where he's bought several of his own bikes, but it's not a paid affiliate link, just a recommendation.
Adeney's philosophy has inspired the founders of at least two bike brands: Urban Tribe Cargo Bikes and Fortified Bicycle. Although he has mentioned each in social media, Adeney said they are not paid endorsements. "The criteria for promotion is just offering a great bike at unusually good price to the readers," Adeney told BRAIN in an email.
Fortified is a Boston-based brand that offers urban bikes with features to deter theft and maintenance. The company launched in 2012 with a bike light and Mr. Money Mustache has mentioned its bikes on social media several times this year. (We've posted a separate story about Fortified on BicycleRetailer.)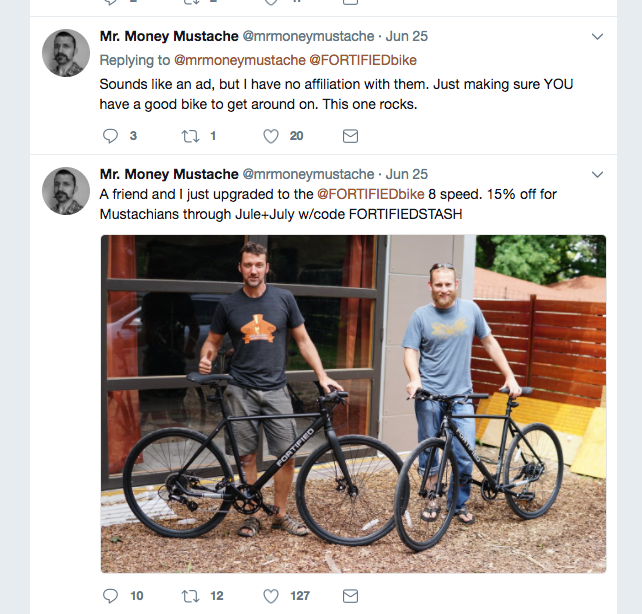 Urban Tribe Cargo Bicycles is a brand new Denton, Texas, company selling three-wheeled, front-loading cargo bikes, similar to those used in Europe.
Urban Tribe's founder is Aaron Powell, who has been reading Mr. Money Mustache since soon after the blog launched. Inspired by Adeney's ideas, Powell and his wife greatly simplified their lives.
"We were living a typical high-consumption, middle class America lifestyle," Powell told BRAIN this week. "We were spending a lot of what we were making and had no plans to change. Then I read his blog and thought about it and decided I didn't want to be working the rest of my life. I wanted to take control and retire early and enjoy life."
One of the first things Powell did was sell his car and start commuting by bike, 10 miles each way, to his job as a middle and high school band teacher in Dallas. Later, he launched an e-commerce jewelry business that allowed the couple more flexibility to travel.
While on a family trip to Copenhagen last summer, Powell was struck by the city's use of bikes.
"Everything was so different over there. It was faster to bike than to drive everywhere in city. We never had to rent a car and I never had to share a road with cars. And I saw parents riding around with kids in cargo bikes, I'd never seen anything like that before. It was great to see all the cargo bikes outside of playgrounds and parks."
Powell returned to Dallas and researched buying a cargo bike like he'd seen in Europe. He discovered they would cost $4,000-5,000, if he could even find one to buy. He saw a business opportunity and began planning to have bikes produced in Asia.
For Powell, who now has two young children, cargo bikes suit his family's Mr. Money Mustache-inspired life. And the e-commerce business, which allows flexibility and autonomy, also fits the philosophy. Even the company name was inspired by a 2015 Mr. Money Mustache blog posting, Get Rich With Your Own Urban Tribe. 
While long wheelbase cargo bikes are available and are growing in popularity in the U.S., Powell noted that most seem to be designed and marketed at athletic young cycling enthusiasts, mostly male, who don't mind riding them in heavy traffic. The Urban Tribe Cargo Bike, by contrast, is aimed at moms and young families who are not necessarily bike enthusiasts.
Powell has never worked in the bike industry and he still hasn't been to China, where the bikes are made. But he's been able to communicate with a factory there to specify the cargo bikes, working off an established design. "I've been working my butt off for the last 11 or 12 months," he said.
"What I'm trying to do is offer these here at a price an average middle class family can afford. I'd like to see these become commonplace here in a few years. I hope that we can start a movement," he said.
This month, he's taking delivery of the first production batch of the Urban Tribe Cargo Bikes, which will be assembled and shipped from Texas. They sell consumer direct for $1,970 with a standard 6-speed drivetrain or $2,660 with a 250-watt electric assist. He's offering pre-order discount pricing of $1,379 and $1,862, respectively. Urban Tribe will ship the bikes fully assembled, for a shipping cost starting at $195, and offer local pickup. Powell said he's had many inquiries from Canada — Adeney is Canadian born and his blog is popular there. Shipping costs to Canada will start at $350.
To keep prices low, Powell said he has no plans to sell through bike shops.
For months, Powell has been promoting the brand on social media, including an Instagram account, and said the response has been far beyond his expectations. He's communicated with Adeney a few times and he participates in the Mr. Money Mustache forum. This week, Adeney, who has 77,000 Twitter followers, mentioned Urban Tribe on his Twitter feed.
"It's amazing how much power one tweet has," said Powell, who wasn't expecting the mention. "I was on live chat on our website and all of a sudden my speaker started blowing up. We were adding five new users every second. We had 300 people live on the site for several hours, and a couple have already purchased bikes."