As promised in my entry last week about One on One, I'm finally getting around to sharing some photos and thoughts from recent visits BRAIN sales guy Barry and I made to several bike companies in and around Minneapolis. Press deadlines and a short-lived cold (thankfully), kept me from tackling this blog entry sooner. But here goes.
Our first stop was Time Sport USA in Edina. Mary Moncorge, advertising and marketing manager, was nice enough to take a break from her training regime (she's training to do an Xterra race) to meet Barry and I at 8 in the morning. After a quick stop at Caribou Coffee for some much-needed caffeine, Mary gave us a tour of Time's offices and warehouse.
Time Sport USA, a subsidiary of the French company Time Sport International, has been there less than a year. Its previous offices were out in Santa Barbara, California, but they moved out to Minnesota about a year ago to gain a more centralized location and better shipping times to Midwest, Southern and East Coast dealers.
Mary, who joined Time Sport USA in November 2007, moved to California from Normandy, France, and acclimated well to Cali's summer sun. She seems to be getting used to Minnesota's freezing temps.
She gave us a quick overview of the many carbon fiber frames on display in the showroom. Time, which was started back in 1987-88 by Roland Cattin, formerly with Look, originally offered pedals and shoes. The brand's claim to fame was coming up with a clipless pedal that resolved knee issues by providing lateral and angular float. But in 1994, the company spread its wings into carbon fiber forks and framebuilding.
More recently, it has entered the wheel category with its first two offerings, Equal and Hi-Tense, which made their debut at Interbike last year.
Mary was quick to point out that Time still does most of its frame manufacturing—and all of its R&D—out of France. The exceptions are a couple of entry level frames. (You can see the intricate carbon fiber braiding process on YouTube) Time introduced a cross racing frame in 2007 and plans are on deck to introduce a tri frame by 2011.
She said Time recently moved its factory to Lyon, consolidating three separate carbon fiber production facilities into one. So the weaving, assembly and R&D of carbon frame manufacturing all takes place in the same factory now. Production and R&D for pedals and other parts is still handled out of another factory in Vaulx-Milieu.
Also, Time recently had an efficiency expert revamp its processes, bumping up production to 140 frames per week from around 80 frames a week—impressive considering the detail that goes into each one.
We were surprised to see their warehouse quite empty. Mary said they're sold out of their new frames, which were in transit to the warehouse, where they will be shipped out to dealers.
From there we headed to Minneapolis to Kurt Kinetic, where we met with Paul Carlsen, division manager for Kurt's cycling arm, and Steve Gill, who handles PR for Kinetic. Paul gave us a quick rundown of Kurt, Kinetic's parent company, which does $125 million in sales annually. Kinetic trainers make up only about 4 percent of that total.
Kurt is a pretty diverse company that manufactures parts and products for the aerospace, defense, semiconductor, automotive, commercial, medical, computer and oil industries. Many of these other divisions are recession proof, which helps the company stay afloat during challenging times.
Paul said Kurt is best known for vises—which can be found in just about any machine shop you walk into. It got into the cycling trainer business back in 1999 almost haphazardly. It manufactured trainer frames for Cycle-Ops under contract, when owned by its original founder (Jeff Nichols). When Cycle-Ops went bankrupt in '98-'99, Saris beat Kurt in a bid to buy the business. Kurt had invested quite a bit on inventory and tooling and decided not to let that investment go to waste.
Probably what was most surprising about the visit was to see that metal parts manufacturing still takes place here on U.S. soil. I assumed all that had moved overseas. Paul gave us a tour of the 100,000-square-foot facility where Kurt makes everything from air bomb casings to drill tubes for oil drilling to oil tanks for Harley-Davidson. It's just one of several offices/factories the company has (others are located in Nebraska, Colorado and other cities in Minnesota).
Trainer manufacturing was moved overseas about 5-6 years ago in order to keep competitive price points, Paul said. But now the company is thinking about bringing that manufacturing back because of recent cost increases. Some trainers are housed at this Minneapolis facility, but most are shipped directly to distributors. All repair and warranty work is done out of here, however.
Though the cycling/trainer division is a small part of Kurt's overall business, it's steadily growing here in the U.S. and growing fairly fast internationally, Paul said. Growth demands are easy to accommodate thanks to the company's corporate structure—many divisions share common resources, such as IT, and staff. Paul himself has been with Kurt five years, and at the Kinetic division for the past 2-3 years.
As an editor, it's always a treat to visit bike companies and see the inner workings of their business in person. So I'd like to thank Mary, Paul and Steve for setting aside some time to chat and for welcoming us into their world.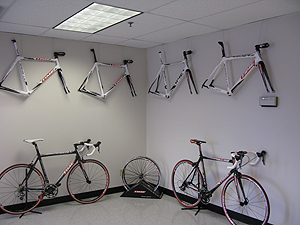 Part of Time Sport USA's showroom. The subsidiary was formed back in 2001 by Doug Knox and recently moved to Edina, MN, from sunny Santa Barbara, CA.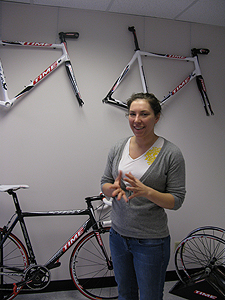 Mary explains some of the finer points of the company's various carbon frames, including the RTM (Resin Transfer Molding) process, which allows its engineers to fully manipulate the content, quality and shape of carbon fiber tubing to fit specific riding demands.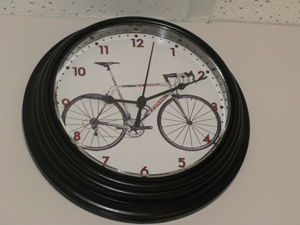 Had to take a photo of this—Time's clock. Look closely and you'll see a Time frame.
Kurt Kinetic's first trainer autographed by Erin Mirabella, winner of an Olympic bronze medal in 2004 in track cycling.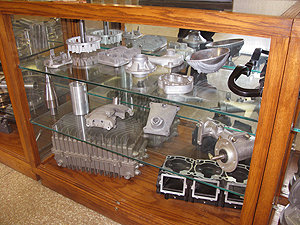 Display cases in the lobby full of different kinds of parts Kurt makes show off the company's ample expertise in metal work. Pretty cool stuff.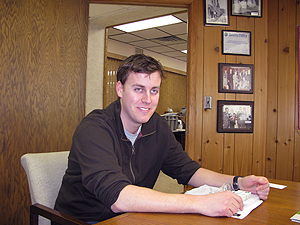 Paul Carlsen, who heads up Kurt's Kinetic division.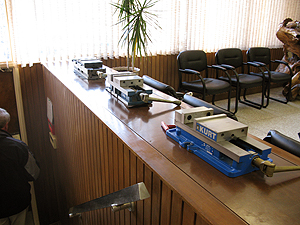 Some of what Kurt's most known for are its vises.
Check back here for Part 2 of this road trip where I'll share photos and thoughts from visits to Park Tool and Hed Wheels.