When one of America's top retailers voluntarily parts ways with America's largest premier bike manufacturer, there's gotta be a back-story.
So here's how it went down when University Bikes in Boulder, a Top 100 Gold award winner (which means Top 100 five years in a row) drops Trek.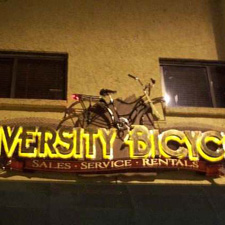 An additional twist is that Lester Binegar, U Bikes' General Manager was a Trek/Gary Fisher/LeMond sales rep for over a decade.
It sure wasn't a product-driven decision. "First and foremost, Trek is a great company that makes great products, especially over the last four years," said Binegar. "We also sell Specialized, Cannondale, and Electra.  These companies also make great products."
"Our biggest issue had to do with one of the other Trek dealers in town selling at low margin with sub-standard service, often sending customers away when they couldn't handle legitimate warranty issues."
You all know all about Trek, so here's a bit about University Bikes. Founded by Doug Emerson in a garage in 1985, it's now 10,000 square feet with a staff of 55 that sells over 3000 bikes a year.
And if there's a store in America with a larger, more attentive staff, let me know who your candidate might be. They better be good.
You see, U Bikes spends next to nothing on advertising and marketing. The pervasively positive word-of-mouth is more than sufficient in a "small town" like Boulder.
And they spend the money they save on staff. There's ALWAYS a greeter at the front door. You're never left alone in the store (unless you want to be).
They have created a store brand that transcends the bike brands they carry. Something many stores aspire to, and few accomplish.
An example of their impact on the community: In 2007, we did a days' worth of consumer interviews at the Boulder Farmer's Market, six blocks from U Bikes.
We were trying to capture the frustration entry-level consumers often feel when faced with the intimidating IBD environment.
We failed. 90% of our interviews were with U Bikes' customers, who were delighted with their shopping experiences. By the end of the day we said, "We'd better go do this in Denver!"
At any rate, let's hear more from Binegar regarding the thinking that went into the U Bikes "no more Trek" decision: 
"We work our butts off to give every one of our customers a great experience and we charge what we need to in order to run a profitable business," Binegar continued.  "We grew tired of being asked to match prices with a sub-standard dealer.  Especially since we don't have that problem with our other brands."
"In the end, customers come here because they trust us to have the bike they need.  For the rare customer who actually wants a certain brand like Trek, we will happily send them to the better of the two Trek dealers still in Boulder," Binegar concluded.
So the bottom-line here: Retailers often talk about the powerlessness they feel in the face of the distribution decisions the top bike brands make.
If you're good enough, and you're big enough, YOU wield the power!