BOULDER, Colo. (BRAIN) — The scale of the COVID-19 outbreak extends from the individual to the global, across medical, political, and economic spheres. The bicycle industry has its own specific concerns within the developing crisis. 
In a wide survey of the industry this week, BRAIN has spoken with suppliers, retailers, and industry leaders from Asia, Europe and North America. We found a fair share of cynicism and gallows humor, along with clear-eyed optimism, entrepreneurial fortitude and compassion.
"The real story that needs to be reported on is the people who have been affected and continue to be affected by this outbreak," said Ryan Birkicht, senior communications manager for Pacific Cycle, a Dorel Industries division. 
"Our employees and partners, both domestically and overseas, will continue to be our No. 1 focus," Birkicht said.
RELATED: Industry reactions to the COVID-19 outbreak | REI closes some offices for 'deep cleaning' | Sea Otter monitoring virus situation | Handmade show postponed to August | Taipei show canceled, small May event planned

Production delays
The U.S. and European markets continue to source an overwhelming majority of their bike products from China. Even products made elsewhere contain often-critical Chinese components and raw materials, including rubber, aluminum and steel. Most vendors tell BRAIN that their factories are nearly back to normal after what amounted to an extended Chinese New Year break through February.
Any delays are cushioned by inventory in transit or in warehouses prior to the holiday.
Any delays are cushioned by inventory in transit or in warehouses prior to the holiday. Vendors are warning retailers of delays of a few weeks to a few months, starting with shipments that under normal circumstances would have started arriving in April. A recent BRAIN web poll found most retailers had yet to experience delays or shortages.
Travel restrictions and event postponements
More important than production and shipping delays, restrictions on travel and event cancellations and postponements have delayed the industry planning for upcoming season. The Taipei Cycle show, originally set to open this week, has been postponed to May, when a more modest substitute event will be held. Most vendors from Europe and the U.S. have been unable to visit Chinese factories for more than a month, and companies are imposing more restrictions on travel to other parts of Asia, Italy, and elsewhere. Shimano North America, for one, has banned all business air travel and event attendance within the U.S. The travel restrictions will last longer than the production delays and could delay some consumer-facing product launches and activations.
Shimano North America, for one, has banned all business air travel and event attendance within the U.S.
The list of canceled or postponed bike events grows by the week. This week, the North American Handmade Bicycle Show announced it would postpone its Dallas show from March to August. Organizers of April's Sea Otter Classic said they are monitoring the situation and will announce a decision in a few days. In Europe, there is rumbling of cancellations of spring professional bike races; Northern Italy, a hotbed for the cycling industry and professional competition, has had 79 deaths from the virus as of Tuesday afternoon. 
The sports and media industries are closely watching to see if the IOC cancels or postpones the Summer Olympics, now scheduled for August in Tokyo.
Economic impact
Of even more import: the outbreak, unless it reverses course very soon, is widely expected to dampen consumer spending globally and could cause recessions in some nations. Some of the world's largest companies and industries, from Apple to the auto and passenger airline industries, and consumer goods brands, have already forecast significant earnings declines for the coming quarter. The Federal Reserve made an emergency interest rate cut on Tuesday, but Wall Street's initial response was an accelerated decline in stock and bond prices, reversing some of the gains made in Monday's rebound.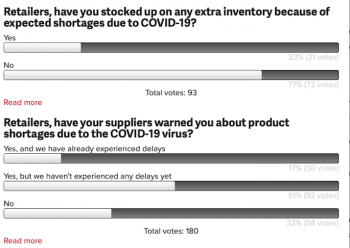 The National Retail Federation last week said it predicted growth in retail sales this year, despite the virus and other concerns.
The ride-sharing company Lyft warned investors last week that the virus had caused bike and scooter production delays and could lead to further supply chain disruptions and other business disruptions.
However, in a conference call with analysts Tuesday, Fox Factory executives said they had experienced few supply chain delays, and the company was expecting no significant softening of demand for its products. 
In a recent BRAIN web poll, 23% of responding retailers said they were stockpiling at least some extra inventory to prepare for possible slow downs. One retailer told BRAIN on Tuesday that his store was bringing in extra "bread and butter" bikes as a precaution. 
However, several wholesalers told BRAIN on Tuesday they have seen no evidence of stockpiling.
RELATED: Industry reactions to the COVID-19 outbreak | REI closes some offices for 'deep cleaning' | Sea Otter monitoring virus situation | Handmade show postponed to August | Taipei show canceled, small May event planned