TAICHUNG, Taiwan (BRAIN) — The industry's major bike makers sent product managers to the heart of Taiwan's manufacturing area this week to consider products for complete bikes that bike shops won't see until later 2013 or later. In some cases the suppliers are cagey about allowing BRAIN to publish details of products that are so far from the marketplace, but we found a few. Here's a quick look at a handful.
Ritchey to offer Monolink saddle and post
Tom Ritchey himself was instrumental in the pushing for the development of the brand's new saddle design, which features a carbon Monolink rail. At Eurobike last summer, Ritchey showed the Monolink seatpost, which is compatible with some Selle Italia and FSA saddles. The company is showing its compatible saddles at Taichung Bike Week.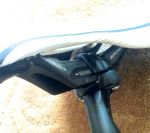 The Vector Evo saddles offer increased compliance, larger adjustable range and more resistance to sag than standard saddle rail systems, Ritchey's Eric Brecheen said. The Vector Evo saddles will be on 2014 model year bikes and available for the aftermarket early next fall.
Ritchey also showed tubeless road tire-compatible wheels for 2014, along with more additions to its growing trail riding collection of components, including stems and handlebars. And, like nearly everyone else at Bike Week, Ritchey showed some new 650B tires, rims and wheels. A 2014 model year 650B wheel intended for trail riding will be available with standard 9mm quick release or 15mm thru axle on the front and 142mm thru axle or standard 135 quick release rear. The tubeless-compatible wheel has a 21mm inner diameter.
Kore expands large diameter handlebar offerings
Kore is continuing a two-year-old process of refocusing its brand on the mountain bike, pulling back from its BMX, road and cyclocross offerings of the past. A key product for its refocused line is its 35mm outside diameter handlebars and stems and for 2014 Kore is offering products with the new size for the enduro/single-crown fork market.
Kore brand manager Ollie Thomas said the larger outside diameter results in a handlebar that is 8 percent lighter and 10 percent stiffer than 31.8 mm bars. The increased diameter means the stems are about 1 gram heavier, he said. Thomas said the new sized handlebars/stems system received "a lot of spec" for 2014.
SR Suntour goes big on 650B
Call it 27.5-inch or 650B, SR Suntour has "a full program" of suspension forks for the new wheel size, the company's Henri Manders said. Among the 650B offerings is the Auron fork, a new design that will be available exclusively in the size. The Auron includes a lighter cartridge than previous SR Suntour forks and an improved version of its spring-loaded Q Loc thru axle.
While more common as original equipment on bikes sold in Europe than in North America, SR Suntour has steadily increased its capacity and marketshare in suspension forks in the last 10 years. It is probably the most vertically aligned suspension fork maker, doing magnesium and aluminum castings in-house, as well as machining and assembling its own cartridges and other assemblies.
Company officials now estimate that their only rival in overall sales is RockShox, which clearly has a larger share at the high-end of the market than Suntour. Suntour is betting on its work with the new brand DVO to give it a larger presence in the mid-priced to high-end part of the market.
Also big on 650B: Vee Rubber
Vee Rubber has 13 tread patterns for 650B mountain bike tires, in widths from 1.95 to 2.50 inches; the company reckons it has the largest variety of 650B tires in the industry. Vee Rubber makes tires for several other brands and its 650B offerings are getting the attention of OE buyers at Bike Week, the company's Preston Fray said.
The Thailand-based tire maker has targeted a couple other niches, also: it has perhaps the only 29er city tire, the Speedster, which is available in 29x2.1 and 29x2.3. The same tread design also is offered in fat bike size, for fat tire beach cruisers. Its Mission fat bike winter tire has a suggested retail price of $60, about half the cost of other fat snow tires.
Innos offers integrated handlebar lights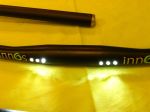 Danish newcomer Innos is displaying products more typical of a retailer show, like Eurobike or Interbike. But Innos' elegant handlebar and seatpost lights are getting attention from Bike Week attendees, and  the company is getting OE as well as aftermarket inquiries, general manager Jan Sondergaard said.
Innos has installed LED bulbs inside handlebars. Advantages include crash and theft protection and a streamlined look. Batteries are accessible from the end of the bar. Sondergaard said the lights would add about $20 to the retail price of a bike.