ROLLINSFORD, NH (BRAIN) — If you are a rider heavily invested in ceramic bearings in your hubs, bottom bracket and jockey wheels and are obsessive about chain cleanliness, dynamo hubs are not even on your radar.
But for a growing number of road riders, the slight drag of a dynamo hub is a small price to pay for extended riding hours and added safety. For gravel riders and randonneurs, long hours of nighttime riding are too long for batteries, making dynamos a necessity.
"LED lighting has gotten so efficient and dynamo hubs have gotten lighter and lower-drag that for the first time dynamo systems are a real option for performance road riding," said James Penfold, Ibex Sports president. Ibex distributes Exposure lights to the U.S. market.
Peter White, who distributes Schmidt dynamo hubs and Supernova and Busch & Muller lights, says Schmidt dynamo hubs have twice the drag of a Campagnolo Record or Shimano Dura-Ace hub.
"For road riders it's a psychological issue. Knowing there is more drag is insufferable," White said.
BioLogic's Joule HG hub targets compulsive road riders, offering a little switch down on the hub to turn it off. The company claims the Joule HG switched off has even lower drag than its Joule 3 hub with the lights off.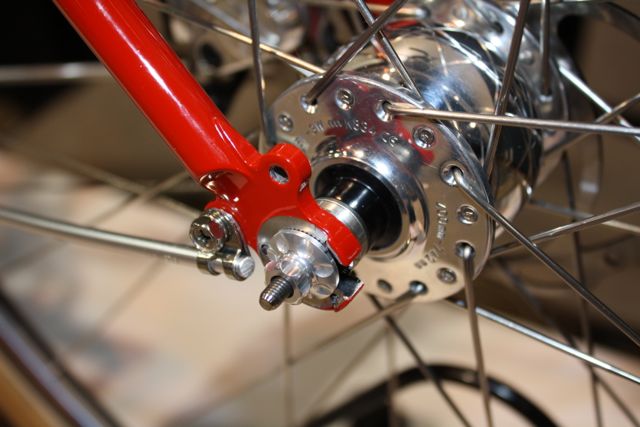 And though Tom Petrie, president of Cantitoe Road, which distributes BioLogic hubs and Trelock lights, is a self-confessed ceramic bearing addict, the ability to dial out the magnets on the Joule HG hubs is a deal maker to him. "If I'm heading out in the evening and it's not quite dark yet, dialing the drag out of the hub until I need it makes a lot of sense," he said.
All these distributors sell very powerful battery lights, but they see dynamo systems as the future. As utility and transportation cycling grows in the U.S., a migration to dynamo lights popular in Europe is inevitable.
"The largest market for these new systems is going to be commuters tired of charging batteries. Or even tired of the un-green aspect of having to throw toxic batteries away when they wear out," Petrie said.
Calfee's Adventure bike comes with a lighting system included. Mike Moore, Calfee's sales and marketing manager, says the light units are so light, around 70 grams, and are so bright, that including a full system makes sense. Calfee laces its dynamo hubs, such as Schmidt or Exposure USE hubs, to Enve carbon rims.
Complete dynamo wheels with disc and caliper brake compatibility like Cantitoe's Biologic Joule3 wheel or Exposure's Revo light and USE wheel are available from about $400.
Headlights and taillights have a standing mode that continues shining the light when the bike comes to a stop. And some taillights feature a brake light that comes on when a rider slows down.
Dynamo hubs come with spade connectors that take bare lighting system wires. The connectors allow the hub to be unplugged when the wheel needs to be removed for a car rack or to repair a flat. And dynamo lighting systems work with any dynamo hub.
Schmidt offers a connector-less system called SL. A custom dropout face mates with pads on the Schmidt SL hub to make the electrical connection. This allows wheel replacement just like a non-dynamo bike.