PARK CITY, UT (BRAIN) — Highlights from the first half of Wednesday at Deer Valley:
Turner Bikes
After a year's absence, the Flux model returns to the Turner Bikes lineup looking hardly anything like its old self.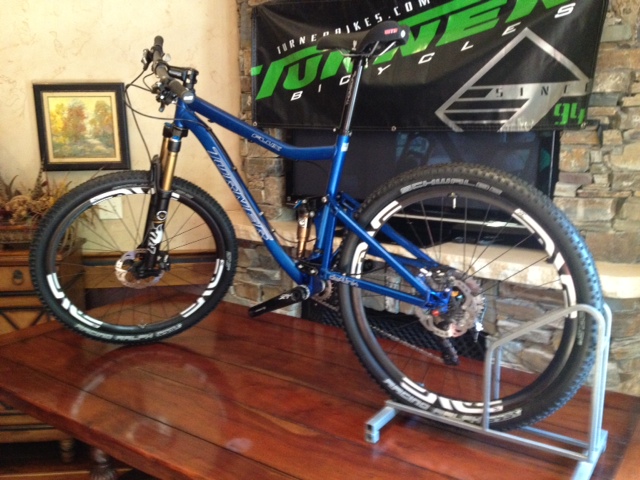 David Turner introduced the Flux in 2004 as a 100-millimeter, 26-inch-wheeled Horst Link cross-country bike. The most obvious change with the 2014 Flux is the addition of 27.5-inch wheels. And while it looks like a plenty capable XC rig, the Flux has adopted a more trail-minded attitude, bumping up travel to 120 millimeters and slackening the head angle to a more aggressive 68 degrees. And of course, DW-Link long ago replaced Horst Link all the way down the Turner lineup.
The Flux is also the first Turner to feature tapered and shaped tubes rather than round tubes in the front triangle. When Sapa Profiles decided to stop making frames a couple years ago, Turner transitioned his frame manufacturing to Portland's Zen Fabrication, opening the brand up to new tube shapes and sizes.
The whole package comes in a quarter-pound lighter than the previous Flux, but is stiffer thanks to the larger tubes. Those tubes also allowed Turner to remove the trademark brace atop the toptube/seat tube junction, lending the Flux a more elegant appearance.
For riders hesitant to sink their money into a whole new bike in order to adopt 27.5-inch wheels, Turner is also offering a "starter kit" package for the Flux and its other 27.5 model, the 140-millimeter-travel Burner. The package includes frame, wheels, tires, fork and headset, allowing consumers to transfer their drivetrain and cockpit components over rather than purchase a new complete. Options include alloy wheels or Enve carbon hoops. Turner sells the whole package to retailers wholesale, allowing them to maintain attractive margins. 
Hayes Components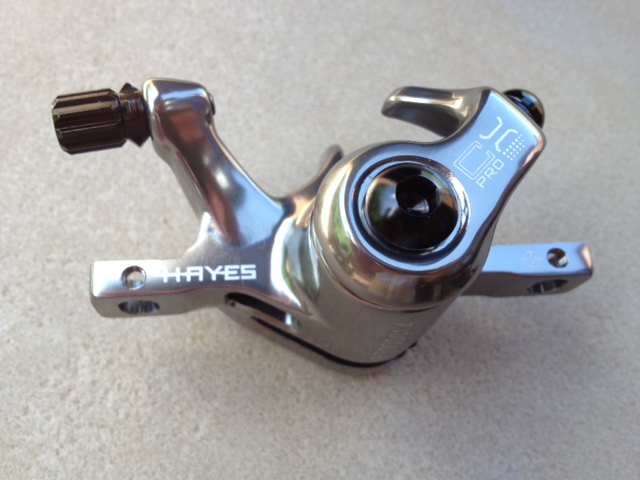 A rough prototype of Hayes' new cyclocross disc brake, the CX Pro, arrived Wednesday morning at the company's PressCamp condo. The polished caliper is not color-correct yet, Hayes marketing director Scott T. Struve was quick to point out, but the proto' sported finalized features such as a machined caliper body and mount area.
The CX Pro also gets Hayes' Cross Hair setup technology — a pair of 2-millimeter screws to align the caliper with the rotor. It's set for a fall release, with pricing to be determined.
Hayes also unveiled new Marvel and Minute lines from its Manitou fork brand. For 2014, both lines come in 26-, 27.5- and 29-inch versions. All forks, down to the lowest price point, are tunable via an easily accessed shim stack under the compression knob on the right leg.
The XC-oriented Marvel comes in travel options of 80, 100 and 120 millimeters, while the Minute trail model comes in 120 and 140 millimeters.
As downhill racers experiment with the growing "tweener" wheel size, the Manitou Dorado inverted DH fork will officially be compatible with 27.5-inch wheels for 2014.
All forks should be available this summer.
Orbea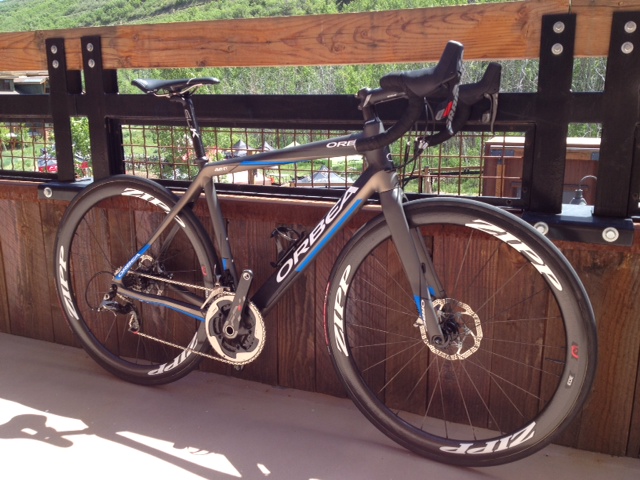 Known for a strong racing heritage — its affiliation with the Euskaltel-Euskadi team is the longest-standing relationship in ProTour history — Orbea came to PressCamp with a new bike more for the rider looking to finish the local gran fondo rather than step to the top of a Cat 1 podium.
The new Avant platform offers a shorter and higher handlebar reach for a more comfortable riding position than pure race bikes. The frame, down through all seven spec levels, is disc and rim brake compatible, with a rim brake mount under the chainstays and a disc mount between the left seatstay and chainstay. The fork also has provisions for both rim and disc brakes.
To get around hub spacing issues, Orbea gave the Avant a 135-millimeter rear to allow for disc hubs, and adds 2.5-millimeter spacers on each side of rim brake hubs to fit the spacing. All models also include internal cable routing and a PressFit 86 BB to fit all major brands of bottom brackets, said Scott Warren, U.S. product manager for Orbea.
The Avant frame is also adaptable for touring or gravel duty, with fender and rack mounts and room for tires up to 28 millimeters with either brake setup.
Four of the seven models come disc-equipped, and prices range from $2,299 for Shimano 105 with rim brakes to $8,499 for SRAM Red with hydraulic discs.