FRIEDRICHSHAFEN, Germany (BRAIN) — Stepping out of the exhibit halls in the courtyards at the Messe Friedrichshafen — the massive expo center that hosts the Eurobike show — you take some risks.
The courtyards have smoking zones that get ample use. They also have crowded, noisy beer and bratwurst vendors, a massive and impeccably landscaped dirt jump and pump track area, and frequent performances matched with thumping music and mic-wielding hipsters screaming in German. 
It's also not a bad place to do business, whether your job is to sell a new product or find one to write about. Between the vendors and mic wielders, you often stumble upon small new brands that weren't able to get a spot in the sold-out indoor halls. Most of those brands buy booth space outdoors, put up with the noise and hope it doesn't rain too much.
In the case of Lauf, a new suspension fork maker from Iceland, they had no plan to exhibit inside but had just brought samples from Reykjavik to show potential OE customers at the show. But on Wednesday when CEO and co-founder Benedikt Skulason emerged from the booth of a massive bike brand, he found himself mobbed by curious passersby, eager to take a look at the unusual fork in his hands.
Before long, Skulason and co-founder Bergur Benediktsson found themselves inhabiting an ad hoc display space in the courtyard, showing Eurobikers the forks and letting them test ride a handful of bikes equipped with it. 
They found a wooden pallet for test riders to ride over. That was their "display"'s only prop. Lauf had cannily painted its forks to exactly match the colors and graphics of the test frames, which were from Specialized, Scott, Cube, Niner and other big brands. 
The Lauf forks — as unusual as they are — looked right at home on the sample bikes. So much so that, according to show chatter, the president of one well-known bike maker was surprised and curious when a retailer asked to see his brand's new fork.
Blades to leaves
Lauf means "leaf" in Icelandic, a reference to the fork's leaf spring design. Six fiberglass leaf springs per side attach the carbon front blades to a carbon rear piece that holds the axle and brake mount.
Skulason saw leaf springs in action at his old job, as an R&D engineer for Össur, an Icelandic company that makes prosthetics, including Olympian Oscar Pistorius's carbon fiber running blades. 
"I love mountain biking, so I spent a lot of time thinking about how I could apply this technology to bikes," he said. 
The advantages of the leaf springs are many: they are light and durable, with no moving parts. There is no stiction to inhibit movement, so the springs are able to respond to very small bumps. The fork's design minimizes unsprung weight, which further improves small bump reaction. The design causes the axle to move in a path that creates a progressive spring curve, compliant at the start of its travel and then ramping up near the end.
Lauf chose to make the springs fiberglass because if flexes two-to-three times more than carbon fiber and its failure characteristics are better. 
"It won't snap, it just folds when it breaks," Skulason said, noting that Lauf has built in a huge safety margin and that the springs can stand up to millions of cycles at loads several times what they could encounter in actual use.
"They'll never break and they never need to be maintained. You can hose them off when they get muddy, if you want your bike to look pretty."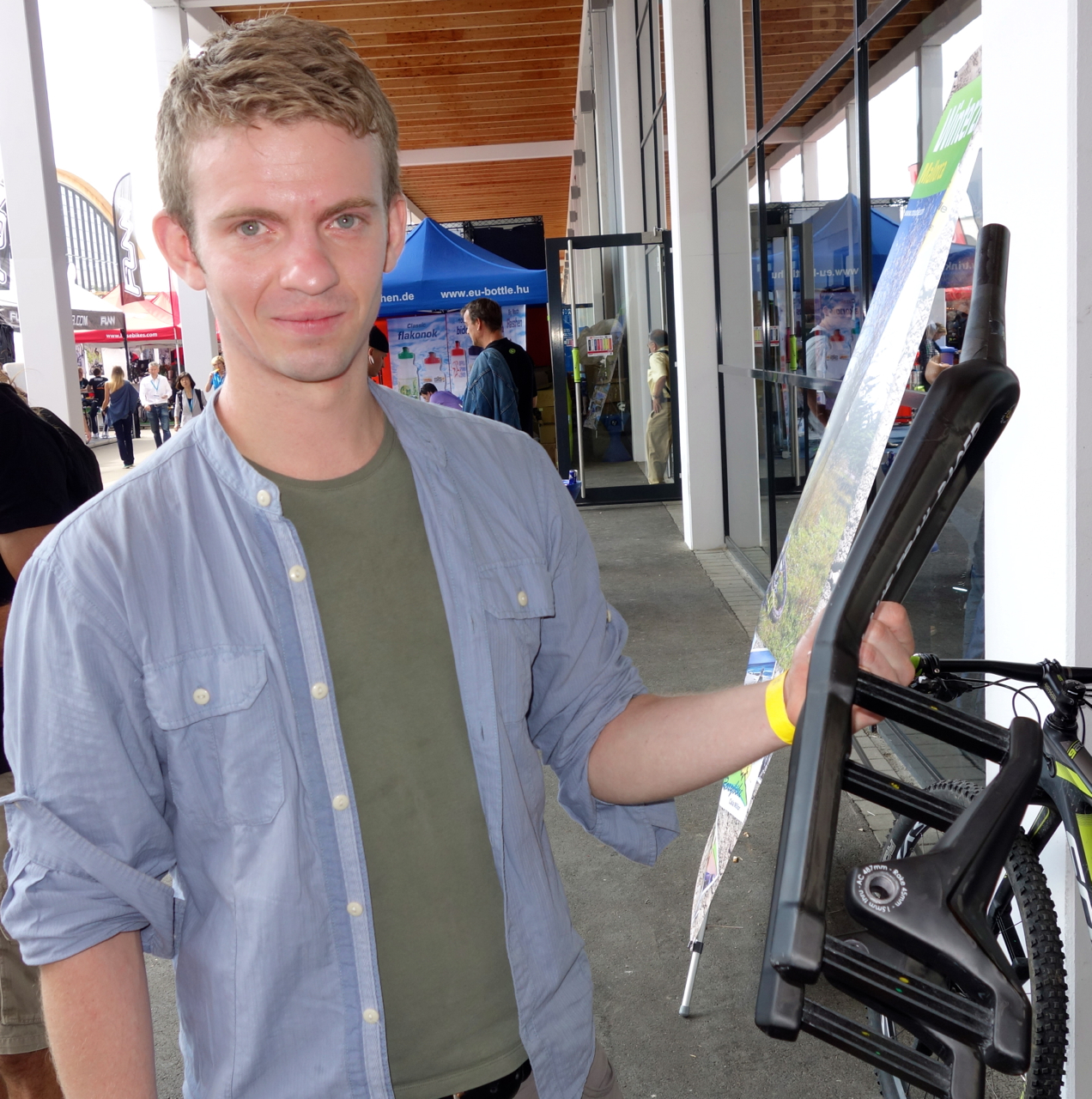 The result is a 990-gram 29er fork with 60mm of travel. More travel might have required some kind of dampening device, but Skulason said it's unnecessary at 60mm. The fork is designed for cross-country and marathon racers looking to build up a super light and comfortable race rig. It will retail for about $1,000. 
The fork will come in a choice of three spring stiffnesses to suit varying rider weights and riding styles. The fiberglass springs are not swappable after the fork is built.
The first brand to spec the fork will likely be Open, which plans to use the Lauf fork on a limited edition, superlight 2014 hardtail 29er.
The Lauf's short-travel, zero-maintenance, smooth-riding attributes would also make it a good match for lower priced cul de sac cruisers, and Skulason said Lauf plans a cheaper model for that application.
For now, Lauf plans to begin accepting fork orders in October and to ship next July. The fork will be made in China.