PALOS VERDES, Calif. (BRAIN) — Highlights from our final day of visits with suppliers at Winter PressCamp. Look for additional coverage in the March 1 issue of Bicycle Retailer:
Boardman Bikes
U.K. bike brand Boardman entered the U.S. market just last year, but already big changes are ahead for its Elite road line.
The company headed by former road pro Chris Boardman works on a two-year model cycle, allowing more meaningful R&D time than many bike manufacturers, said Fletch Newland, North American sales director. Engineering with computational fluid dynamics followed up by wind tunnel validation, Boardman's designers take a holistic approach to aero and TT testing, ensuring that not only the bike, but rider and bike together efficiently cut through the wind.
So it is that the update of Boardman's AiR/TT time trial platform is 4 percent more aerodynamic than its predecessor, translating to huge time gains across, say, an Iron Man distance, Newland points out. All models, starting from the $3,000 Shimano 105-spec'd Air/TT 9, get Boardman's proprietary integrated front brake manufactured by TRP. A new four-position aerodynamic seatpost offers seat angles of 76 to 79 degrees.
The AiR aero road bike line now gets the same high-modulus carbon frame throughout the four-model line, rather than reserving it only for top-end spec. It gets hidden cable routing and is compatible with both Di2 and mechanical systems. The high-end AiR 9.6 and AiR 9.8 also get Boardman's integrated front brake design. MSRP ranges from $3,000 to $11,000.
The SLR race and sportif model is offered as a frameset only effective MY 2014 (MSRP: $2,200), making way for the new SLS endurance road model. The SLS has more relaxed geometry than straight race bikes, and the 850-gram frame—again, each bike in the line gets the same grade of carbon—features profiled stays for a compliant ride and a full monocoque carbon fork. It will be available in four versions from $2,800 (Shimano 105) to $5,800 (SRAM Red).
Boardman launched in the U.S. last year with five dealers, but has grown to 20 retailers representing 25 stores, Newland said, with an eye toward growing to around 40 dealers in the near term.
Reynolds Cycling
Wheel maker Reynolds unveiled a new high-end carbon mountain wheel line dubbed BlackLabel, featuring low-profile black-on-black graphics befitting the new name. But the wheel is more than a cosmetic makeover.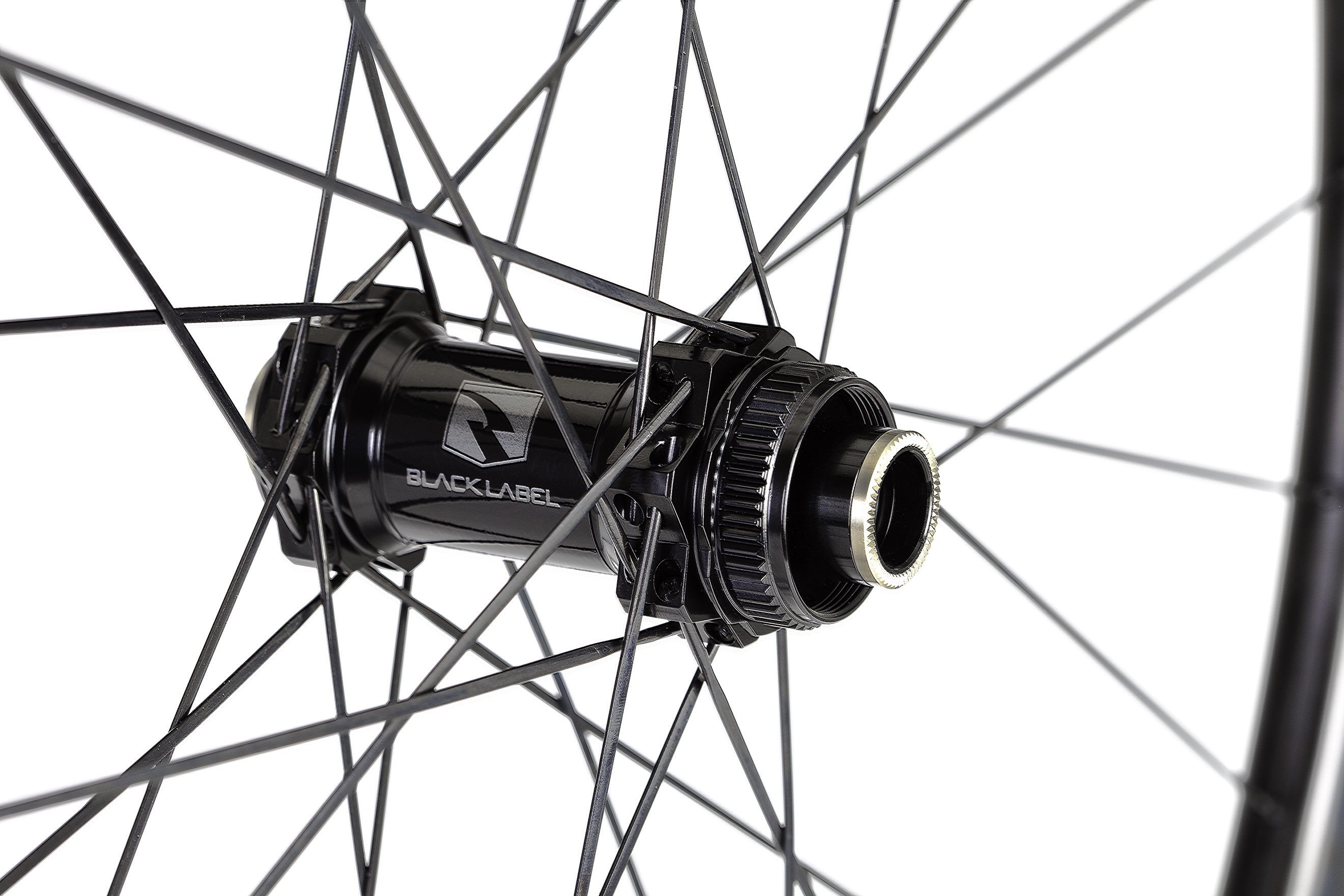 Sales and marketing director Rob Aguero said the company had noticed many customers were bypassing Reynolds' carbon off-road wheelsets in favor of building their own wheels with Reynolds' rims and aftermarket hubs from other brands. And the company couldn't help but recognize the success Utah neighbor Enve Composites was having selling its high-end carbon wheelsets built around DT Swiss and Chris King hubs.
So the four-model BlackLabel line—27.5 XC, 27.5 AM, 29er XC and 29er Trail—is built on DT Swiss 240 hubs with DT Swiss and Reynolds branding, bladed DT Aerolite spokes, external nipples and a unique carbon rim profile for each wheel model dressed up in sublimated graphics rather than decals. The result is a wheel that builds up stiffer and lighter than Reynolds' previous carbon MTB wheels, Aguero said. The 29er XC, for example, sheds 100 grams. Wheelsets start shipping in May at an MSRP of $2,400.
Reynolds also unveiled a new proprietary rim brake pad designed for use with its carbon road wheels. The Cryo-Blue Power brake pads are made from a polymer that, when combined with Reynolds' CTG brake track, reduces heat build-up under braking, according to the company.
The new pads' tapered shape delivers an improved lever feel and more progressive stopping power over Reynolds' previous pads, said product manager Todd Tanner. In testing, Reynolds found that Cryo-Blue Power deliver 33 percent more stopping power in dry conditions and a 42 percent increase in wet conditions.
The pads retail for $70, and will ship with all 2014 Reynolds carbon road wheels.
Orbea
Orbea rose to prominence on the merits of its performance road bikes and, more recently, carbon XC race mountain hardtails. But the Spanish brand has firmly planted a flag in new ground with the aluminum 2014 Rallon enduro full-suspension rig.
Riding a wave of glowing reviews from consumer media, the Rallon just began delivering to retailers in January. It's the fourth generation for the Rallon name, but the current iteration stands well apart from its antecedents.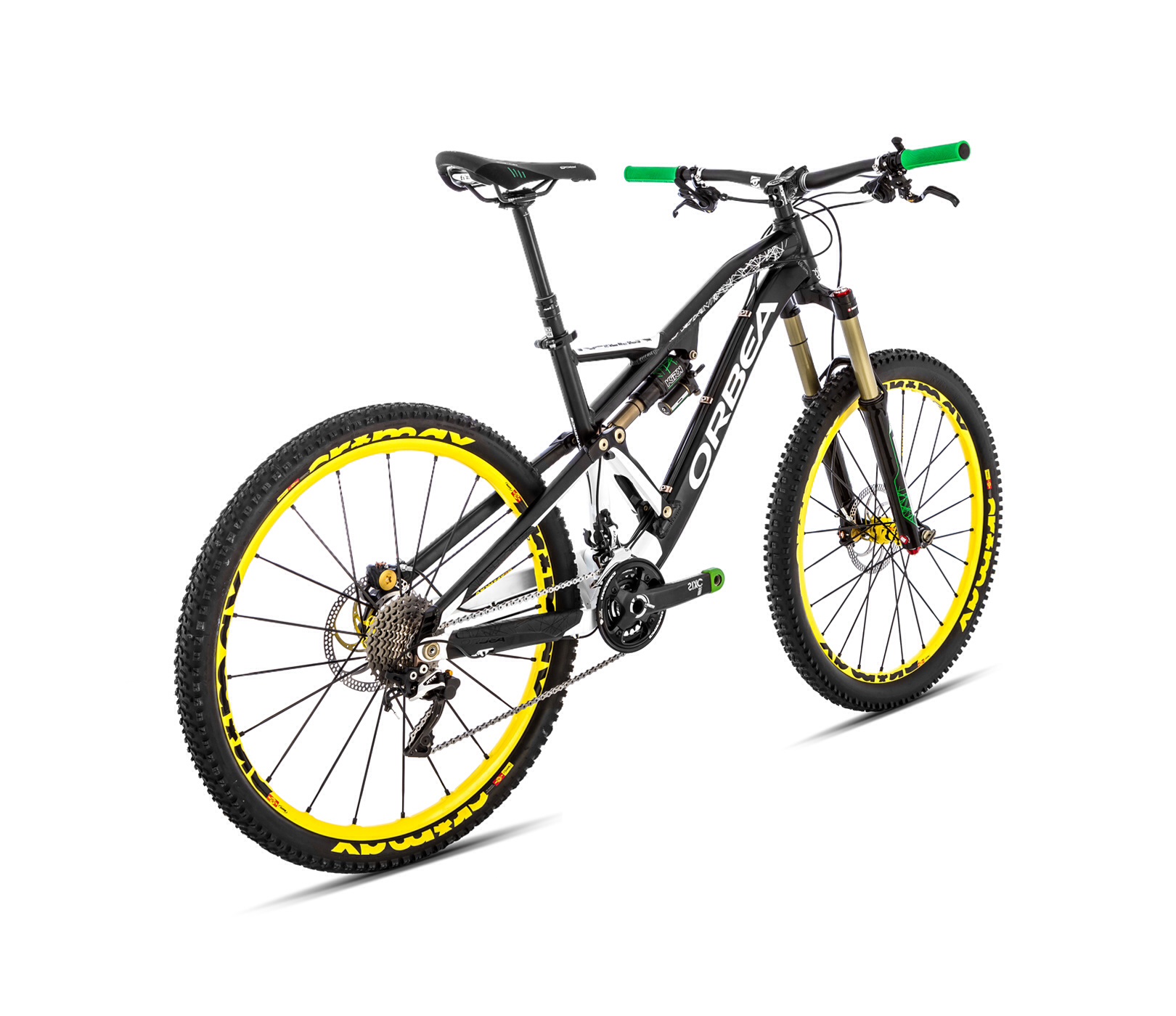 Perhaps most notably, the 160-mil-travel, 27.5-wheel bump eater is the first production bike in the U.S. market to come stock with front and rear shocks from vaunted French brand BOS—at least at the two highest spec levels. Riders worried about the prospect of having to service their suspension components across an ocean with a supplier in Toulouse may be reassured by the fact that BOS has a service center in Las Vegas, with turnaround times well under a week, according to Orbea.
The highly tunable suspension system is optimized for maximum performance when gravity's on the rider's side, like a mini-DH rig. "It's just a shredder bike," said Jordan Hukee, Orbea creative director.
Still, the suspension kinematics weren't designed with a "to hell with climbing" mind-set. A high rear pivot mated with a five-inch yoke at the front triangle and concentric rear axle creates a slight up-and-back travel arc and resists squat, Orbea says.
Since it was designed with enduro racing in mind—and that terms means wildly different race conditions in different parts of the world—the forward axle of the rear shock mount is slotted so that with a quick turn of a hex key it slackens head and seat tube angles a half-degree to 66 and 74.5 degrees, respectively, and drops BB height from an already low 345 mil to 338.
Pricing ranges from $3,299 to $8,799. The Rallon is also available as a frame only or frame/fork combo.