New model debuting Thursday at Sea Otter is the first to be designed around RockShox's Bluto suspension fat bike fork.
MONTEREY, Calif. (BRAIN) — Call it the fat bike for all seasons.
Borealis Bikes — which launched last fall with its lightweight carbon fiber fat bike, the Yampa — arrives at Sea Otter Thursday with the first fatty designed around RockShox's new Bluto fat bike suspension fork.
(Editor's note: While the Borealis is the first, Rocky Mountain is among the other bike brands promising fat bikes with the Bluto. The Rocky Mountain Blizzard will be available this fall)
Designed as a year-round bike for all trail conditions, the carbon Echo comes stock with 100 millimeters of front travel, though the Bluto is adjustable between 80 and 120 millimeters, according to Borealis co-founder Adam Miller. Borealis also specs its own new 150-millimeter front hub for the fork's spacing.
With RockShox based in Borealis' hometown of Colorado Springs, the young bike brand had a front-row seat to the Bluto's development.
"Since they're just up the road, we were the first company to see it because they got the first one from Taiwan and drove it down to show us," Miller told BRAIN. "We told them as soon as we saw the fork we were making a bike for it. We rode all the different prototypes from the very first one and gave them feedback. So they supplied us with product and we designed our frame around it."
The Echo gets a suspension-tuned geometry that is more mountain bike than snow bike, Miller noted.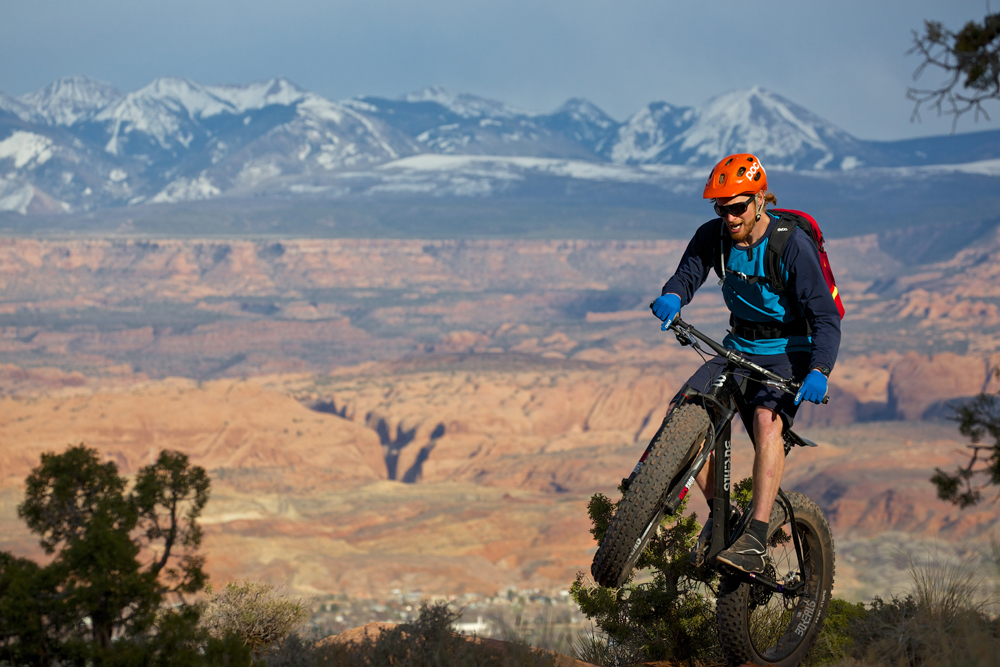 "It's much more mountain bike specific. There's a longer toptube and we spec a short stem and wide bars with it, so it's more of an all-mountain handlebar platform. We also have shorter chainstays, so it's a little bit quicker and more nimble, I'd say," he said.
"It's really a brand-new type of bike. We're not calling it a snow bike; it's a mountain bike you can toss around and shred all over the place, but it has big tires. So the challenge was how to develop the optimal geometry around a niche market that doesn't even exist yet. Through a few rounds of prototyping I think we came up with an awesome geometry for the bike."
The Echo has clearance for 4.8-inch-wide tires on 100-millimeter rims and comes with internal routing for cables and dropper posts, three water bottle mounts, and new 197-millimeter rear spacing with a 12-millimeter RockShox Maxle and Borealis' own new hub for the application.
Bikes will available in mid-May at four spec levels, ranging from a SRAM XO/X9 build at $3,999 to an XX1 build with Carbondale rims for $7,199. Borealis is taking orders this week at Sea Otter, where it has a dozen Echos available for demo along with eight Yampas.