IRVINE, Calif. (BRAIN) – Shimano has unveiled its newest XTR mountain bike component line, including an 11-speed drivetrain with 1x11 capability. Billing the line as its most advanced XTR line yet, the group features Race and Trail "Rider Tuned" products that are more tunable than previous generations.
"The new XTR line is really 'rider inspired'," said Matt Robinson, mountain bike product manager at Shimano. "So how does it adapt and how can we apply it to what riders are doing out there? That's how we approached XTR."
The goal for Shimano's new XTR M9000 11-speed drivetrain was to ensure a smooth pedaling rhythm in all types of terrain, with a focus on technical climbing.
Shimano addressed this with close step gearing configurations of the cassette and crank.
The FC-M9000 Race and FC-M9020 Trail modular cranks allow the rider to set up either single or double chain rings using the same crank arm. The cranksets are formed from a combination of titanium, carbon and aluminum, and the dedicated XTR 1x chain rings utilize Shimano's debut proprietary chain retention technology with a tooth profile that eliminates the need for a chainguide. The M9020 Trail crank is available in single (30T, 32T, 34T, 36T), double (34-24T,36-26T, 38-28T) or triple (40-30-22T) chainring configurations, while the M9000 Race is lighter and has a narrow 158mm Q factor.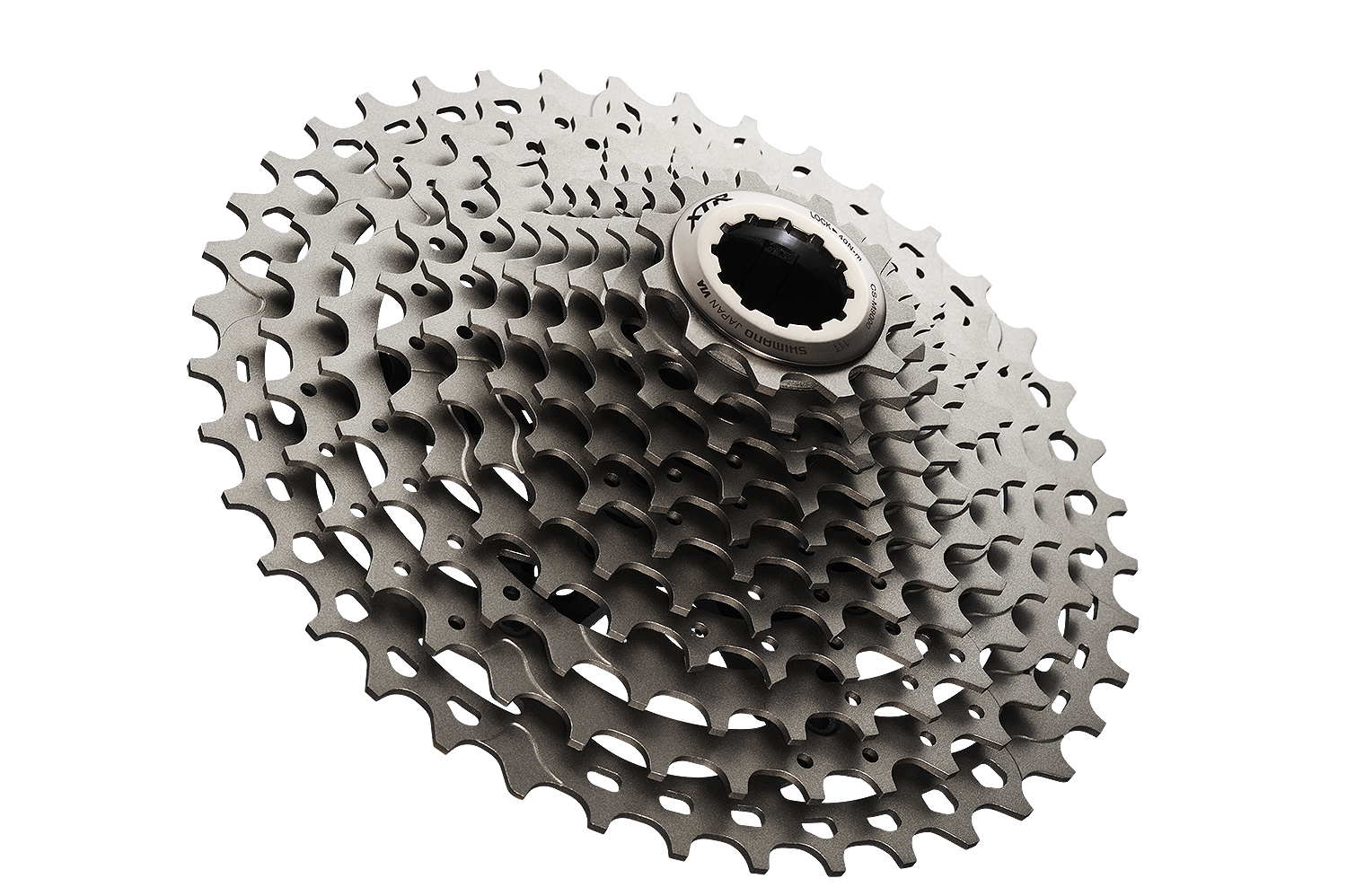 The XTR 11-speed 40T cassette is the widest range Shimano has ever offered, and features "rhythm step" gear progression: 11-13-15-17-19-21-24-27-31-35-40T. It also features a carbon spider with aluminum, titanium and steel cogs.
Its new 11-speed chain uses a special asymmetric plate design as well as Shimano's new SIL-TEC surface treatment to improve overall performance and provide a quieter ride.
The new XTR shifting systems are lighter action and more stable than previous iterations. The XTR M9000 shifter features ball bearing construction and a polymer-coated shift cable for smoother activation, while both carbon levers are more ergonomic.
For those choosing to run a front derailleur, Shimano has introduced its first-ever side-swing derailleur, which it claims will increase shifting performance by 100 percent. It's designed specifically with modern trail bikes in mind, allowing 15mm of increased tire clearance and better cable routing to reduce shifting effort.
Shimano has also refined its Shadow Plus clutch rear derailleur. The XTR RD-M9000's design optimizes the slant angle to improve shifting, and the derailleur is also lower profile to keep it out of harm's way. An external clutch adjustment makes it easier to tune, and the entire derailleur is easier to set up. It is compatible with all XTR front chain ring variations, and is available in mid-and long-cage options.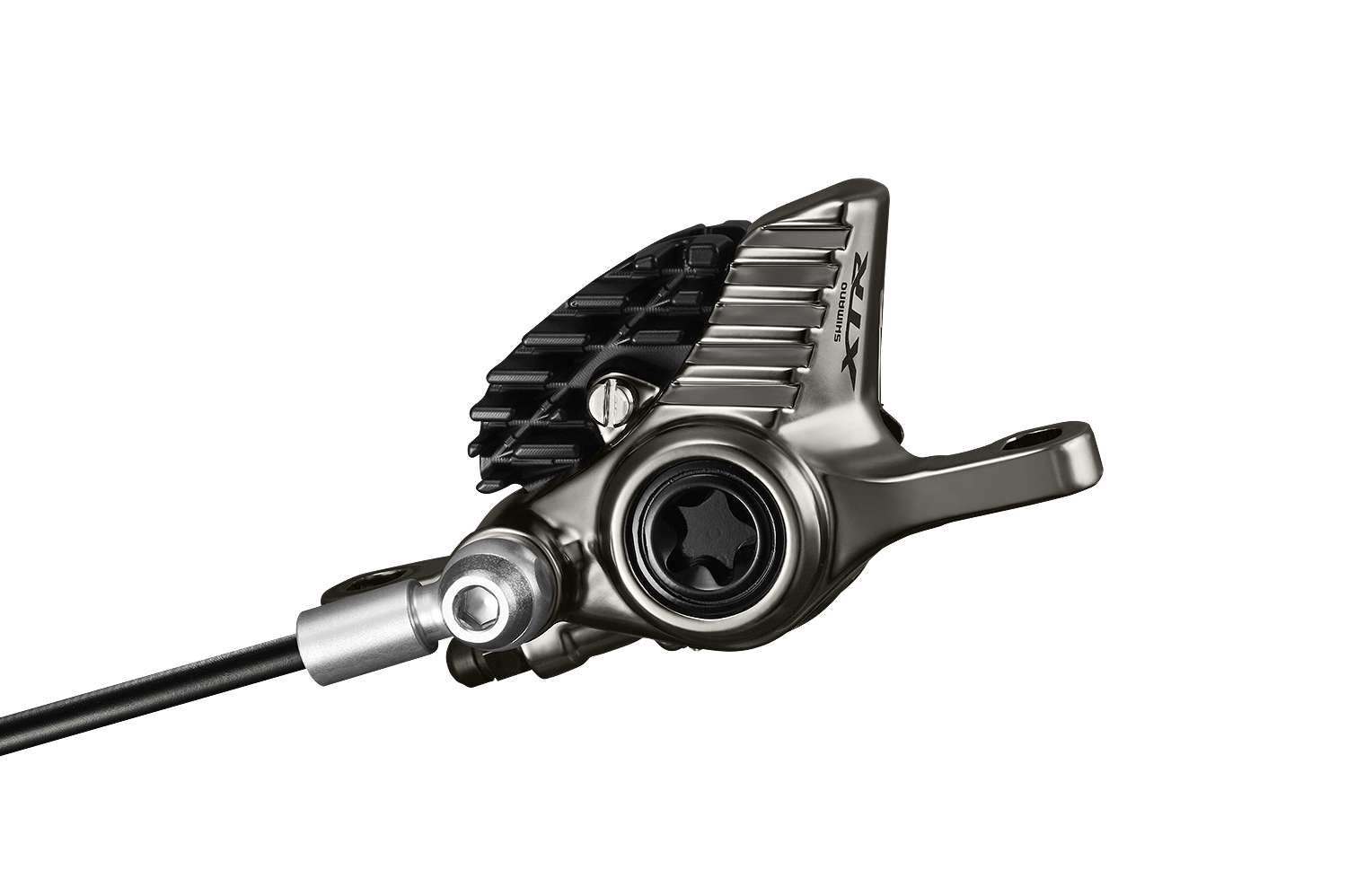 The latest XTR M9000 hydraulic disc brakes offer varying levels of heat control, utilizing a glass fiber phenolic insulated piston, while an insulated pad coating allows for 10 percent more heat resistance. It's also lighter weight thanks to a magnesium caliper and master cylinder and carbon levers. The XTR M9020 Trail brake system come standard with Shimano's ICE Technologies pads and uses an aluminum caliper. The XTR FREEZA rotor is now available in a greater size range with lighter weight spiders, in 140mm, 160mm, 180mm and 203mm diameters.
Shimano's all-new XTR M9000 wheelsets are the company's most advanced MTB wheels and its first to feature carbon laminate rim technology. They use 28 butted spokes front and rear and include a new lightweight bearing and axle system. The M9000 Race wheels have a 20mm internal rim width while the M9020 Trail wheels have a 24mm internal rim width. Both the Race and Trail use a new UST tubeless carbon laminated aluminum rim and are available in 27.5 and 29-inch options. For serious XC racers, Shimano has unveiled its 29-inch ultra-light carbon tubular wheelset.
The new XTR line will be available by early summer 2014.