IRVINE, Calif (BRAIN) — Shimano gave the go ahead for media to publish details of its first electronic-shifting off-road group — XTR Di2 — at 8:01 am. PT Friday.
After refining its electronic shifting platform on the road for more than five years, the new mountain bike group will be available at retail in the final quarter of 2014; pricing details are not available, but the company said it would be roughly 40 percent more expensive than its mechanical shifting counterpart, the 11-speed XTR M9000 group. That's about the same as the difference between Dura-Ace Di2 and mechanical Dura-Ace.
Shimano said it tested the system for more than 12,000 trail miles in all conditions. "We spent a lot of time working on it," said Matt Robertson, mountain bike product manager at Shimano American. "The tech is hidden and everything is as low profile as possible to protect it during all types of riding."
The new XTR Di2 features two shifting modes. While in Synchronized Shift mode, the rider can program the system to shift both derailleurs at the same time using a single shifter.
The system communicates with the front derailleur based on what the rear derailleur is doing, and riders can program each derailleur to react to a single shift. An audible warning signals when the system is about to execute a front shift when in Synchro mode.
"You don't shift. You tell it what to do," said Robertson. "So you don't think about it in the same way. The rider determines the shift type and timing, and can control their ride in new ways based on their needs, riding style and trail conditions."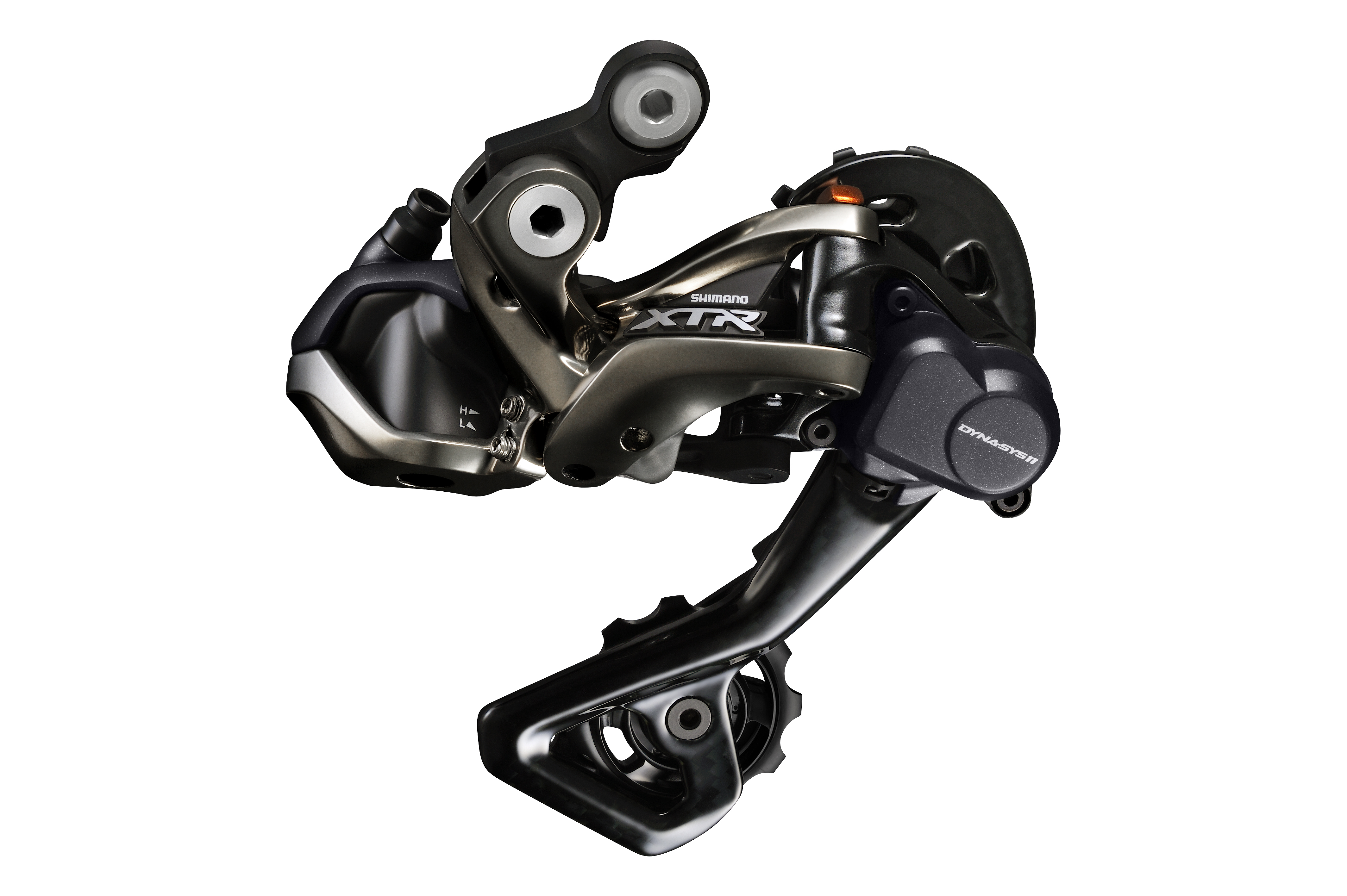 Robertson also said that Synchronized Shift allows for seamless gear changes and an accurate chain position in every gear. When riders select a sequentially larger or small gear in the rear, ideal chain line is achieved when system intuitively shifts the front derailleur. The Synchro system uses electronic technology to allow the simplicity (and some of the weight savings) of a single-chainring drivetrain, with the gear range of a double- or triple-chainring drivetrain.
Synchronized Shift can be programmed using supplied Di2 software and with a smartphone. A digital status display in the cockpit shows battery level, rear gear position and current system shift mode. At the touch of a button, the rider can switch back and forth from manual shifting to Synchro (if the rider opts to mount a left shifter, which is not necessary with Synchro).
New XTR Di2 Firebolt shifters have a short-stroke movement designed around human ergonomics. Unlike road Di2 levers that function more like buttons on a mouse, the mountain Di2 levers move more like traditional shifters, but with easier effort and less stroke.
"We designed it this way because it matches natural hand movement," said Robertson. "The system only needs a click of a button to shift, so the stroke isn't necessary, but it just feels better."
The shifters are ergonomically designed to sit on the bar exactly where the thumbs have a tendency to rest, allowing the rider to maintain an even grip on the handlebar.
The group's rear derailleur, RD-M9050, is compatible with a 1x, 2x or 3x drivetrain. Its low profile helps protect the components in sections of tight or technical trail. The M9050 front derailleur, which according to Shimano is 25 percent more powerful than mechanical XTR, allows for light effort shifts and uses computer-controlled auto trim as the chain moves up and down the cassette for a quiet ride.
Wiring can be run internally. It extends from the shifters to a junction box that contains the battery. The wires are available in a variety of lengths for various bike sizes and shapes, and Shimano said they are not affected by trail or weather conditions.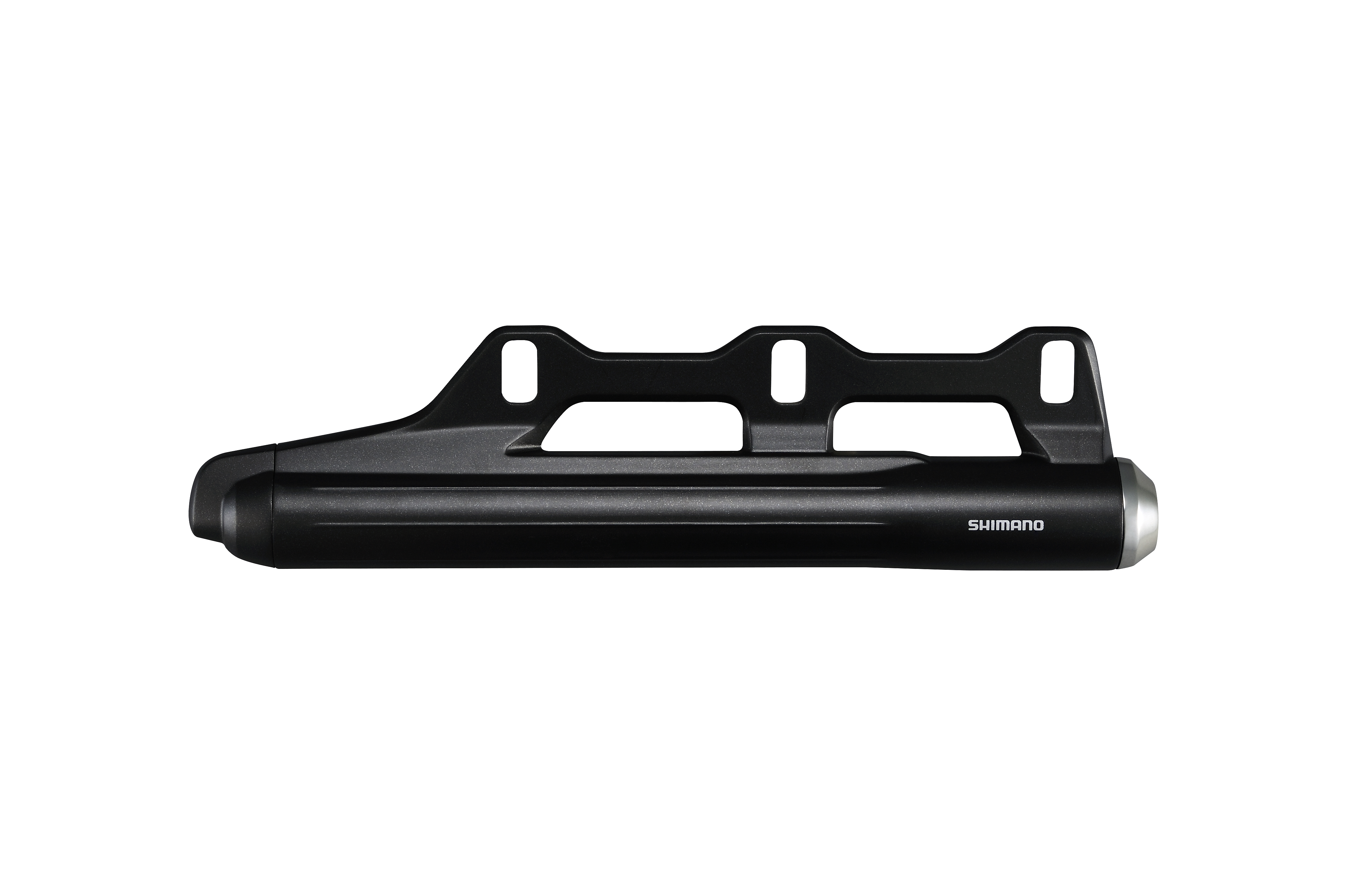 The low-profile battery can be mounted to any type of frame with standard bottle cage bosses, or inside some frames. When mounted internally, the battery is charged via a port on the handlebar-mounted digital display unit. Battery life is expected to be similar to Shimano's road Di2 systems, with many users charging the unit just a couple of times per year.
With all the configuration options, comparing weights is difficult, but Shimano said that in a typical two-chainring set-up with only a right-hand shifter (run in Synchronized mode), the electronic group is nearly exactly the same weight as the comparable 2x M9000 set up. In that configuration, the electronic group parts are 47 grams heavier than mechanical, but wires are lighter than cables.
Shimano also said the new group is "fully integrated" with Fox's electronically controlled suspension, which uses Shimano's e-tube wiring system and battery.