Zwift aims to take the monotony out of indoor cycling
SAN FRANCISCO (BRAIN) — Can indoor riding be entertaining? The founders of a new company called Zwift are hoping to make indoor cycling more social and community based with software that brings traditional video game graphics and functions to indoor cycling. 
"We want to make it a quality, non-mind-numbing experience," said Scott Barger, one of four co-founders, about indoor riding.
Barger, who led journalists through a demo of the beta software at a media event Tuesday held at the Rapha Cycle Club store in San Francisco, said his close friend and also Zwift co-founder Eric Min often found himself suffering indoors on a CompuTrainer but thought, 'This isn't really cycling. There's no community or social aspect.'
So they saw an opportunity to bring something different to the market. Zwift's platform is based on building a connected, real-time online community of users, much like traditional video games. Users pay a monthly $10 subscription fee to "play." The program is designed to host tens of thousands of simultaneous users from around the world.
And unlike other indoor cycling software that's tied into specific hardware, Zwift works with any trainer and ANT+ accessories including speed/cadence sensors, power meters and heart rate monitors. With a smart trainer the software can simulate changing environmental conditions like road terrain, wind and drafting.
A user would simply set up their trainer and any ANT+ devices, download Zwift, pair the devices with the software and join a ride or event. Zwift works on Mac or PC desktops or laptops. Zwift plans to expand its capability to work on iOS and Android-based tablets next year. While it takes many of its cues from the gaming world, Zwift doesn't work on gaming consoles like the Xbox or PlayStation.
"This isn't about engaging the gaming community, but about making indoor cycling fun," Barger said. "How do you reconnect with a community we all grew up in but perhaps have lost touch with because you move away, have kids or are too busy with your job?"
Barger said they're working with event promoters to virtualize competitive and fun rides. With Zwift, riders would be able to participate in an event virtually—like the New York gran fondo—for an additional fee. "We're talking to event promoters and they're excited about this," Barger said. He doesn't anticipate riders doing four to six hours on a virtual fondo, but perhaps doing a recon of an event or a segment of it. Virtual events would be listed on the Zwift website and real-time alerts about them sent to users' phones.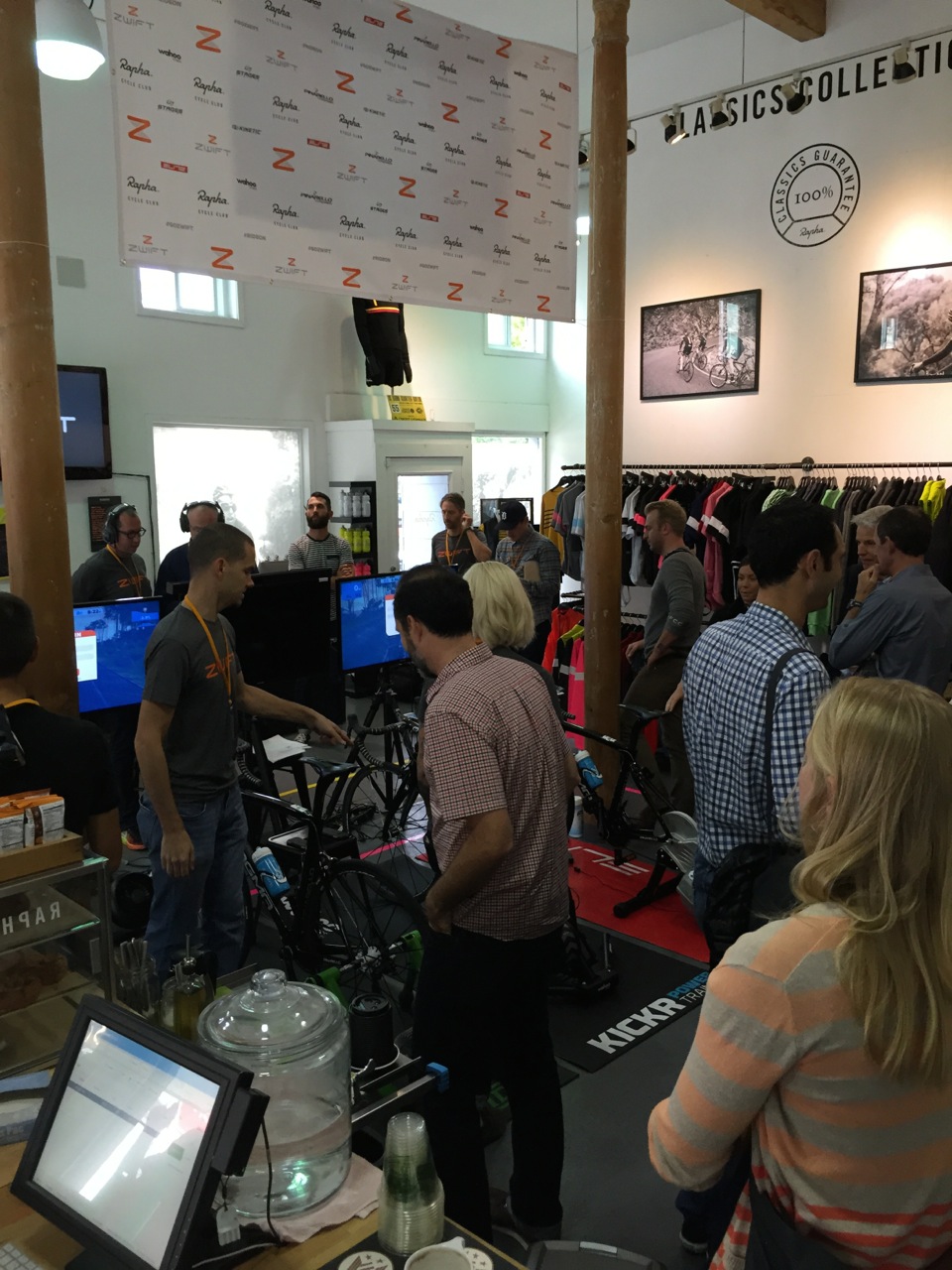 Aside from its low cost of use, Zwift's 3D user interface takes its design and function cues from the video game world. Jon Mayfield, another co-founder and vice president of game development, was a game developer for Nintendo 64 in the late 90s and early 2000s. He said he wanted to make Zwift a Nintendo-like experience—"there's nothing intimidating about this and that's something that sets us apart from our competitors."
Mayfield, a self-described gamer, got into riding in 2010, buying his first bike in 20 years. And he was hooked. "Six months after, I was writing this software," he said. He recruited gaming artists, including Lloyd Murphy, who's worked on some of the industry's biggest sellers like the Ratchet & Clank Series, to develop the 3D graphics.
Zwift users can fully customize their avatar from head to toe picking shoes, helmet and riding kit.  They can also pick their wheelset and frame colors. Users can also unlock achievements for hitting 30 mph on a road segment or drafting a rider for 15 seconds. And eventually, this will allow users to unlock virtual goods that match the goods they have purchased in the non-virtual world.
Like video games, it's about engaging all the senses so sound is as much a part of it as the graphics. Users can hear the click of their shoes into the pedals and seagulls in the background or the crickets during a night ride. And the game offers four points of view.
Zwift displays different stats including hill grade, wattage, speed, distance, heart rate, RPMs, and also includes a leader board and friends list.
While the beta program doesn't offer the ability to virtually chat, Barger said that's in the works. "All multiplayer games license this from three to four different services. We're trying them out to see what works best," he said.
Currently, the public beta program is open to several hundred users and Zwift expects to go fully live sometime this winter. The company plans to develop more than 10 maps in 2015. For the launch, media demo'd the Zwift Island, a fictitious course. On Tuesday, Zwift was debuting its software simultaneously in San Francisco, New York and London, with launch events at Rapha Cycle Clubs stores in each city and journalists trying out the system at the same time.