The new Deore XT Di2 group will be available in September.
SAN JOSE, Calif. (BRAIN) — On Thursday, the opening day of this year's Sea Otter Classic, Shimano went public with news of its second electronic shifting mountain bike group, Deore XT Di2 M8050. The Japanese company revealed the group to the U.S. cycling media at an event in San Jose Wednesday afternoon, on condition that the information not be made public until Thursday morning.
The new group brings some features of the XTR Di2 group to a lower price, and also adds wireless adjustment, customizations and firmware updates via mobile phones or tablets.
The new XT Di2 group integrates with DEORE XT M8000 mechanical components in either 1x11 or 2x11 drivetrain configurations.
The shifting is programmable, with multi-shift and Shimano Synchronized Shift functions (Synchronized Shift allows a single shift lever to control both front and rear derailleurs, moving through the gears in a programmable pattern).
The group includes the handlebar-mounted SC-MT800 display unit, which show battery level, gear position, shift mode and FOX iRD suspension position. The display also allows adjustment of shift indexing and modes, and facilitates ANT+ wireless connection to some bike computers, as well as Bluetooth connection to the mobile phone and tablets apps. The system also can be connected to Windows PCs with a wire.
Shimano said the new group will be available in September.
While the new Deore XT Di2 group is the first to be equipped with the wireless functions, the wireless capabilities can be added to previous Di2 systems with E-Tube wiring, with the addition of the new EW-WU101 wireless unit and BT-DN110 master unit, which will be available in August.
New E-Tube Project software for Apple iPads is due out July. New software for iPhones and Android tablets and phones will follow later this year.
SLX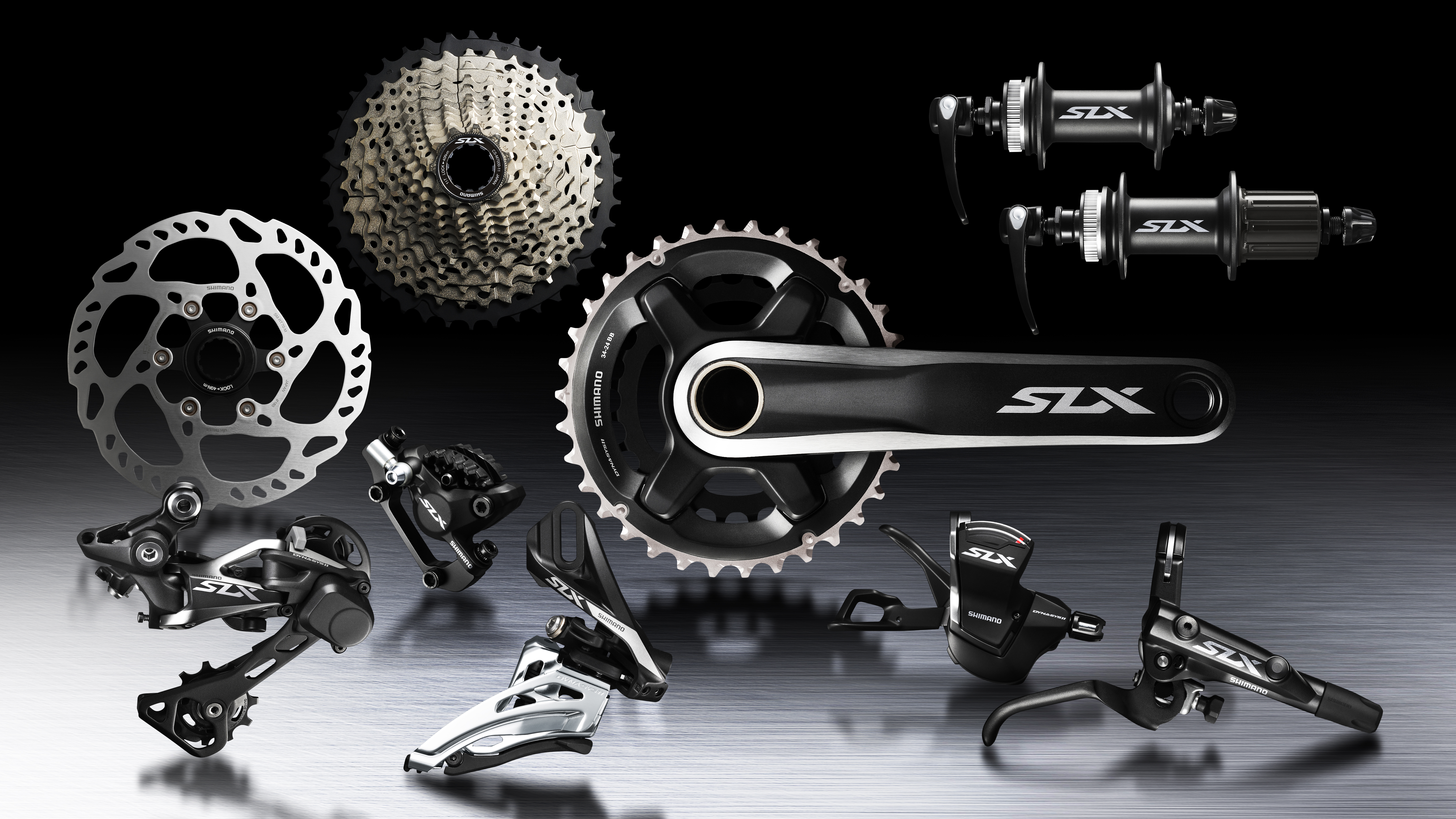 Shimano did an overhaul to its workhorse SLX group, adding more drivetrain range options, and support for frames with bigger tires, wider hub flange spacing or both.
SLX M7000 components offer 1x11, 2x11, and 3x10 crank options; new 1x11 and 2x11 drivetrains can be paired with cassettes ranging from 11-40T to 11-46T.
The new CS-M7000-11 11-speed Hyperglide cassette uses a lighter aluminum spider construction, aluminum and steel cogs and is available in 11-42T and 11-40T.
SLX FC-M7000 cranks now share premium technologies found in new XTR M9000 and DEORE XT M8000 groups, including Dynamic Chain Engagement 1x11 tooth profile and 3D composite chain rings.
The DCE profile runs faster yet increases chain retention force by 150 percent, Shimano said. Stainless steel chain ring teeth provide long life and lasting chain retention. SLX M7000 1x11 and 2x11 cranks are available with optional +3mm wider spindles for 148 OLD hubs. A new, lighter bottom bracket improves durability, has reduced seal drag and is available in press-fit or threaded options.
Both the front and rear SLX M7000 series derailleurs were totally redesigned and incorporate features from XTR and DEORE XT, including Shadow RD+ technology. Both new derailleurs are direct mount compatible.
Shimano SLX M7000 components will be available in July.