MONTEREY, Calif. (BRAIN) — Marin Mountain Bikes has released a new mountain bike at the Sea Otter Classic using a suspension design from Naild, a company formed by industry veteran Darrell Voss. 
The Marin Wolf Ridge has 160 mm of travel and the company said the design allows it to be an everyday ride in all conditions. The R3ACT – 2 Play system was tailored specifically for the Marin bike and the company said it doesn't require any lockouts or pedaling platforms to perform well on climbs and descents.
Polygon Bikes also introduced a bike this month using the R3ACT system, with 180mm of travel and 27.5-inch wheels.
Marin said the Wolf Ridge, a 29er, was in development for nearly five years.
"I've been riding mountain bikes since my first rigid bike in 1983, while the folks at Naild have been in the sport since before aluminum became a frame choice," said Matt VanEnkevort, CEO of Marin Bikes. "Those of us that have been around this long have watched the evolution from rigid, to front suspension, to full suspension. If you could have more travel, without a lot of extra weight, or negative pedaling effect, why wouldn't you? Marin and Naild have combined forces, so that you can have it all - without tricky damping, lockout levers and such. All it takes is superior kinematics and vision. I believe the Naild system will forever change the way we look at travel, and the Wolf Ridge is about to become your new favorite bike. With the Wolf Ridge and the Naild system, a 160mm travel 29er bike can be your everyday ride, and I predict you are going to love it."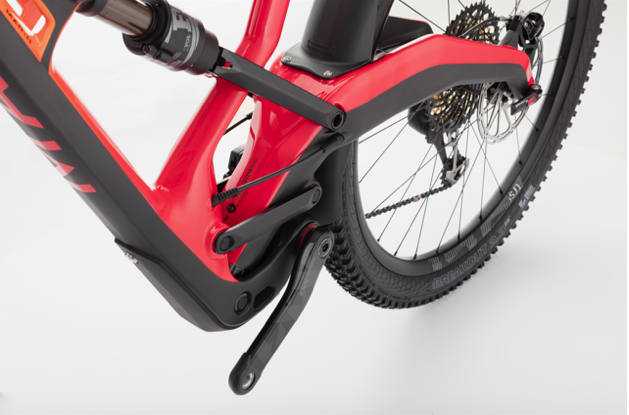 "Naild is honored to be working with a legendary brand like Marin," said Voss. "Marin has literally been at the forefront from the onset of the new age of mountain bikes. The technology that Naild is bringing to market after a decade of solitude development has many symbiotic aspects that are in harmony with the passion of Marin's core values. It's with much gratitude that Naild was able to work so closely with Marin as we brought the R3ACT – 2 Play technology to life within Marin's flagship line of bikes."
Matthew Cipes, mountain bike product manager for Marin, said,  "It's amazing having a bike that can climb so well, yet rip downhill better than any bike that I have ever ridden. It's simply mind-blowing, you have to ride it to fully understand the performance."
Reigning three-time North American Enduro Tour series champion Kyle Warner will race a Wolf Ridge this season. 
The carbon fiber 29er will be available in two builds this summer: The Wolf Ridge Pro with a SRAM Eagle XX-1 grop and E-thirteen carbon wheels, will retails for $8.599. The Wolf Ridge 9 with SRAM XO-1 Eagle and Stan's Flow MK3 wheels, will retail for $6,799.
More information: marinwolfridge.com.