BOULDER, Colo. (BRAIN) — Sean Madsen, who has developed bike fit systems and products for the Boulder Center for Sports Medicine and Specialized's Body Geometry line, is launching his own mountain bike grip on Kickstarter.
Madsen's Sushi Grip design was inspired by the tapered shape of sushi hand rolls. The grips taper toward the outside to allow all fingers to wrap around the grip for a secure connection, while a flat platform on top distributes pressure across the palm. The grip also has a vertical "wing" at the outside end, which extends above and below the bar. The wing allows the rider to securely apply pressure on the inside bar while cornering.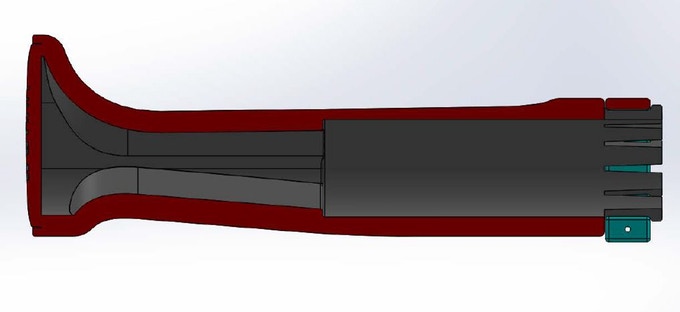 In order for the grip to taper to a diameter smaller than a handlebar, it extends 65 millimeters past the bar's end, requiring a narrower bar to produce the same width a rider is familiar with. Madsen plans to offer narrower handlebars as well as instructions on cutting bars to fit. He also noted that with a trend toward wider bars, some riders may just prefer the extra width. The section of the grip that extends past the handlebar end has an internal structure made from reinforced nylon, with a soft cover. 
Madsen was the chief biomechanist at BCSM and has performed bike fits for thousands of riders, including top pro road racers and triathletes. After leaving BCSM he joined Specialized and helped developed Body Geometry products. He left Specialized two years ago and launched a bike fitting company, Bike Fitting Solutions, last year. He's continuing the bike fitting company and has moved back to Boulder from California.
Madsen hopes to raise $57,500 in the Kickstarter campaign, which began this month. He said the money raised will go to the final design drawings, fabrication of molds, and the first production run, which would be done in Colorado in January and early February 2018. He hopes to deliver grips to Kickstarter backers around March 1 next year. Backers are promised a set of grips for a $40 pledge, or can get grips and handlebars with larger pledges. 
Madsen said that after the Kickstarter orders are fulfilled, he plans to sell the grips consumer direct and through IBD channels. "Pricing will be a set MAP to the rider, whether bought online or in a shop. Actual production costs are still undefined, so I can't quote the exact margin I will offer the IBD," he told BRAIN.
More information: Kickstarter.com.