MONTEREY, Calif. (BRAIN) — The Sea Otter Classic opened Thursday with an expo that includes more than 500 booths representing nearly 900 brands and covering 165,000 square feet of space at Laguna Seca Raceway.
Look for in-depth coverage in Bicycle Retailer's May 15 issue, and in the meantime, here's a sampling of what we saw on Sea Otter's opening day:
Gazelle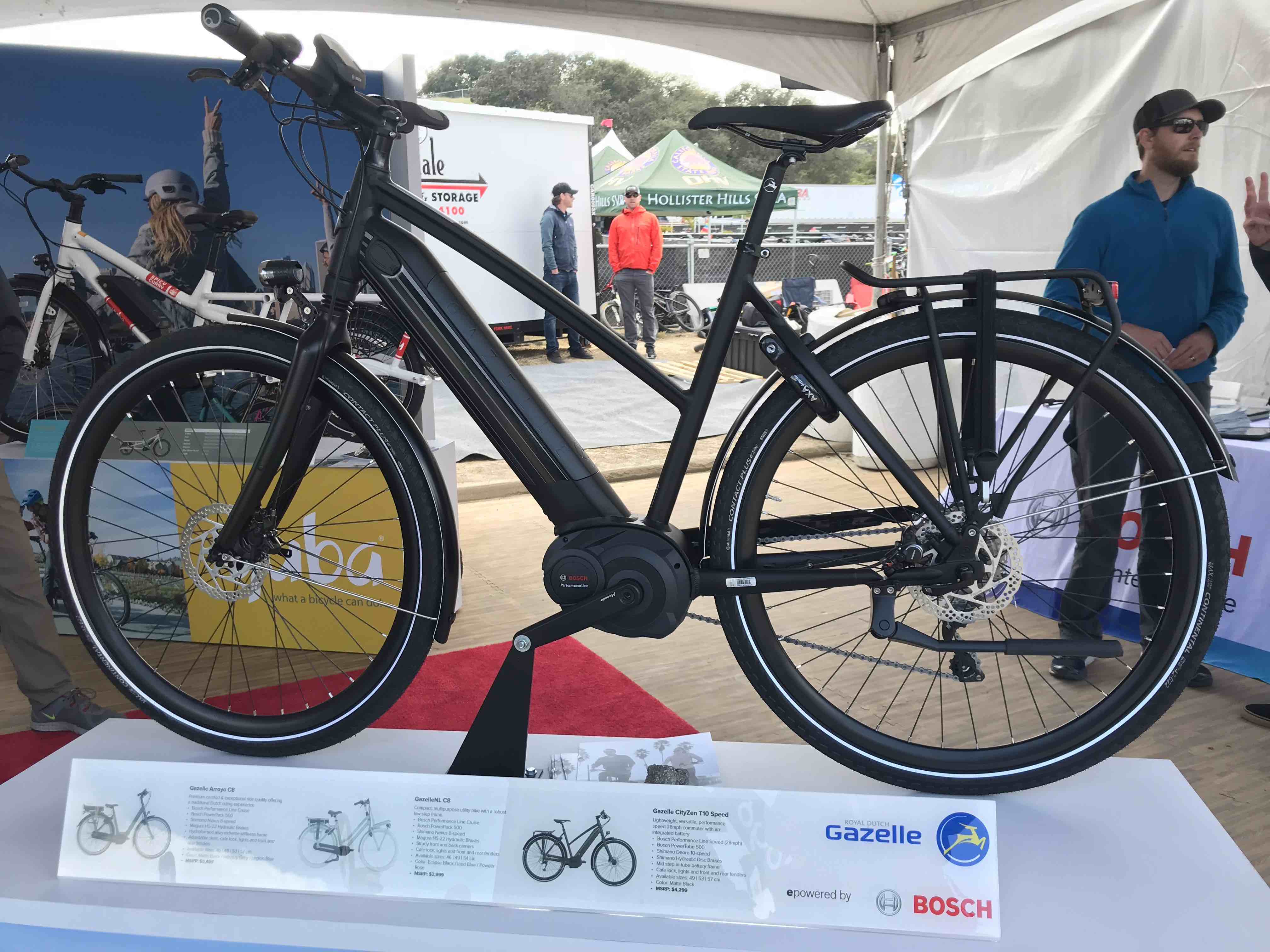 Holland's Gazelle is showing its newest commuter e-bike models at Sea Otter this year. The 125-year old brand has a long history of manufacturing utilitarian bicycles, and the CityZen is designed with transportation in mind.
"At Gazelle, we aren't trying to do everything. But we focus on car replacement, and this is your go-everywhere bike," said Sarah Hansing, a Gazelle customer service representative who works out of the company's office in Santa Cruz, California.
The high-speed pedelec CityZen Speed tops out at 28 miles per hour, powered by Bosch's Performance Speed motor and 500 watt-hour, in-tube battery with a 40 to 85-mile range. Hansing also said it will be one of the first bikes available with Bosch's Powertube battery.
The CityZen is powered by Bosch's Performance electric drive, with a 500 watt-hour downtube battery with a range of 40 to 100 miles.
Both CityZen models have integrated lights, racks, fenders and locks, Shimano disc brakes and Shimano Deore T10 hubs. The CityZen Speed will be available in late June in three sizes, retailing for $4,299. The CityZen will also land in late June in two sizes, for $2,999.
---
 BMC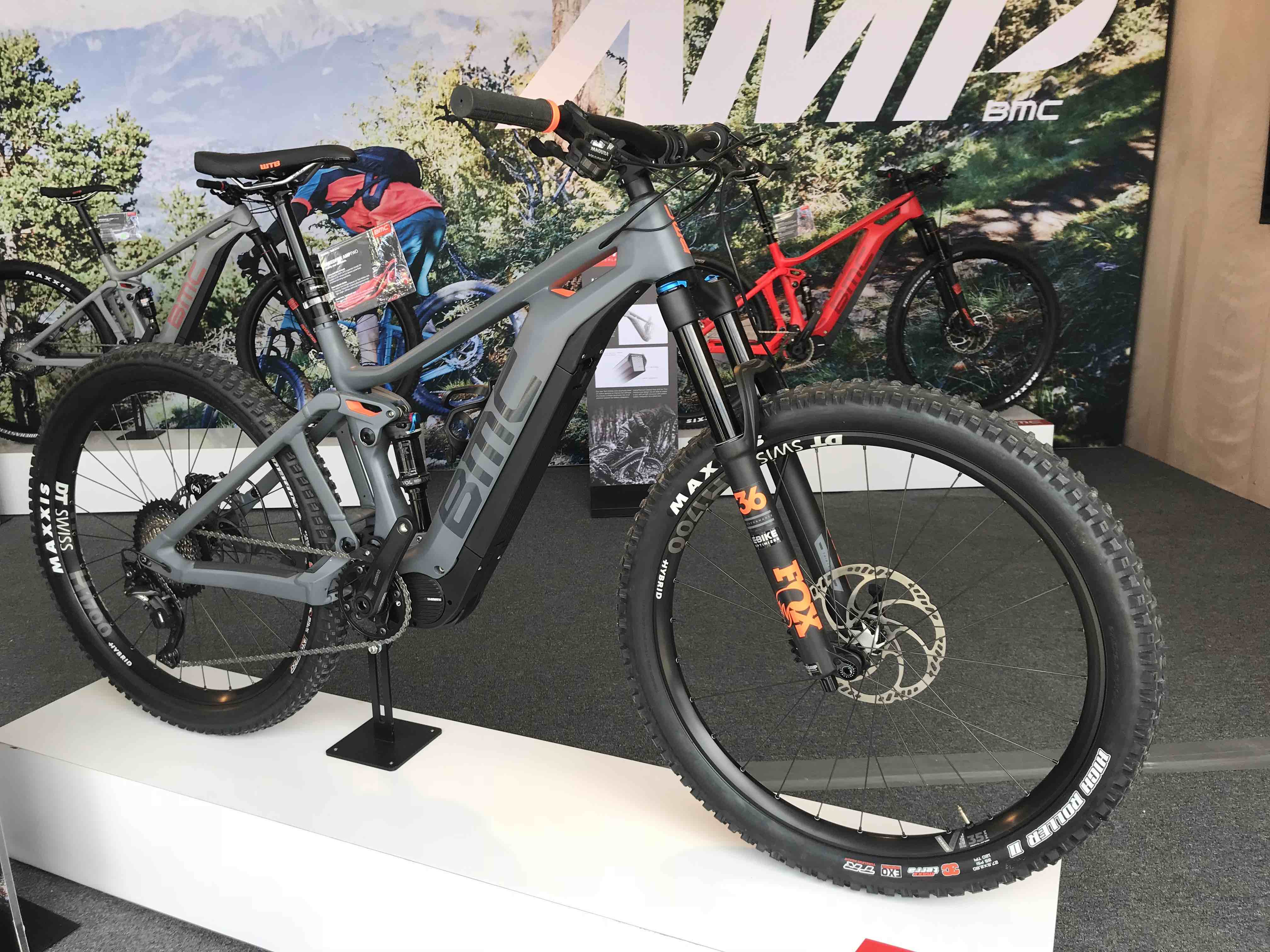 BMC returned to Sea Otter for the first time in several years to showcase the Trailfox AMP and Speedfox AMP e-mountain bikes. The Swiss company launched the AMP models in the European market last year, and brought them to North America earlier this month. Both models are powered by Shimano's latest STEPS electric motor, and retain many of the ride characteristics of the original Speedfox and Trailfox.
"The bottom brackets a bit higher on the AMP models compared to the pedal bikes, and that's due to the e-system," said BMC USA's Dan Breyer. "But the geometry is very similar and the AMP is still deserving of the Trailfox and Speedfox names."
The Speedfox AMP is available in two builds with a carbon front triangle, 29-inch wheels and 130 millimeters of travel, starting at $5,799.
The Trailfox AMP is built on 27.5-plus wheels with a carbon front triangle and 150 millimeters of travel. It will retail for $7,499.
---
Maloja 
German apparel brand Maloja is attending Sea Otter for the first time. Set up in a cozy white canvas tent with a welcoming seating area, Maloja is showing off its Alpan Way active, outdoor and lifestyle clothing collection, including road and mountain bike shorts, jerseys, jackets and pants for men and women. The company, which has sold in some retail shops in the U.S. for a few years, is expanding its reach by attending more events like Sea Otter, and working with Lake Tahoe-based sales rep Adrienne Evans.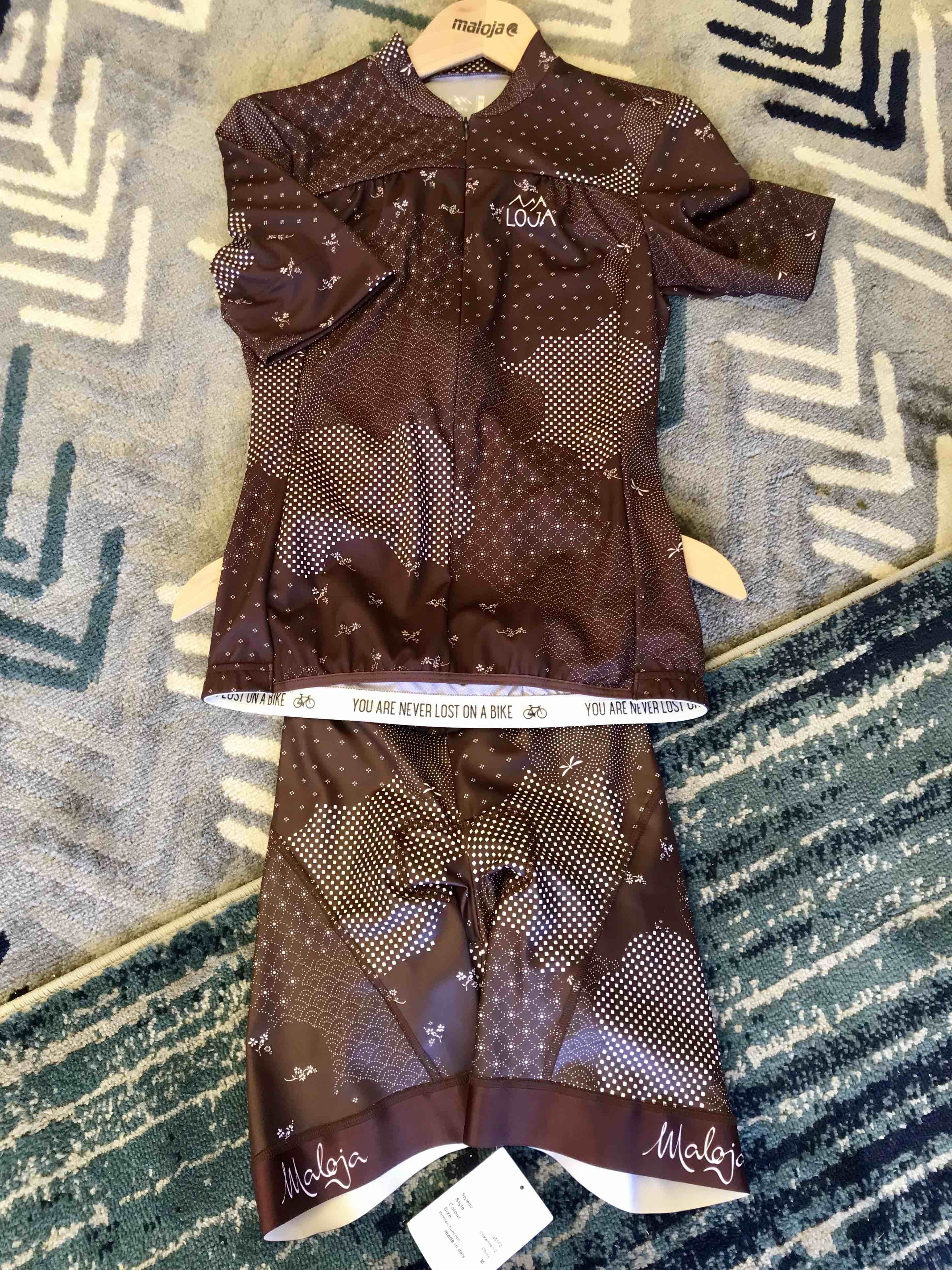 "We've already gained more traction in the U.S., and this winter we an 80 percent increase," said Maloja's Landon Sterling, who handles the company's U.S. and Canadian markets. "We've also gotten a lot of new dealers with Adrienne knocking on doors and finding the right dealers who want to work with us."
Maloja's Alpan Way line features a mix of Japanese and Bavarian cultures, with a minimalist design married with the all-over print that characterizes Bavarian design. Maloja introduces two collections per year, each with a different theme. Most of the company's apparel is made at its factory in Bulgaria, which employs 300 people. Forty employees work out of Maloja's headquarters in Rimsting, Germany, with about half focusing on design and production.
Maloja sells dealer direct in the U.S. and Canada and has a warehouse in Los Angeles and Kamloops, British Columbia. It also has three flagship stores in Germany and one in South Korea, and works with a number of teams in Europe. Maloja recently became a sponsor of the U.S. national biathlon team.
---
IRC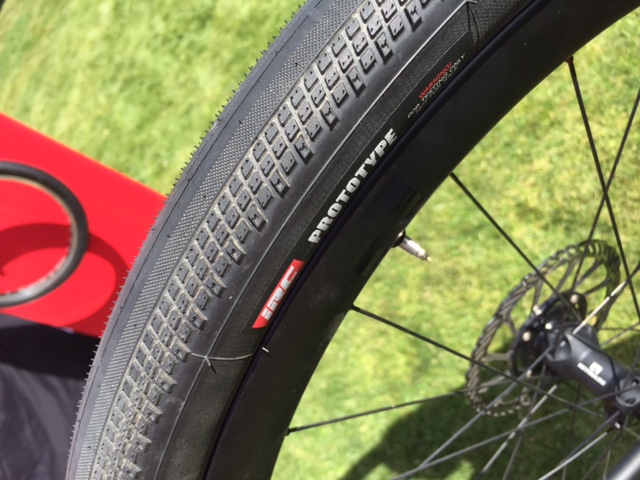 Fresh off the first year of its two-year commitment as official tire sponsor of popular San Diego County gravel event the Belgian Waffle Ride, IRC is at Sea Otter showing prototypes of its first road-plus tire, the Boken Plus. The name comes from IRC's Boken 700c 'cross and gravel tire, which is Japanese for "a very utilitarian sword," said Bruno Suttles, sales and marketing manager for IRC Tire USA.
The tread pattern is adapted from a fast-rolling BMX tire the Japanese brand developed for BMX world champion Sam Willoughby, but with side blocks spread out and voided in the center to maximize grip. "It also has puncture protection on the sidewalls — of course everyone wants that in gravel so they don't cut it on the rocks," Suttles said.
But the fast-rolling smooth center tread won't penalize gravel riders when they transition from dirt to pavement, IRC says. 'It hooks up very nice, but you don't notice the difference between this and a road tire when you're on the road," said Kris Hull of Lift Creative Studios, IRC's creative and interactive agency based in Southern California.
The 650b tire will come in widths of 47c (575 grams) and 42c (weight to be determined) for around $70 starting in the fourth quarter of 2018.
---
Sage Titanium Bicycles
Based outside of Portland, Oregon, Sage is known for its beautifully handcrafted road, 'cross and gravel bikes. But owner David Rosen, a former Nike supply chain logistics analyst and longtime bike racer, took a while figuring out what his first mountain bike would be. A visit to Whistler Bike Park's legendary flow trails sorted the matter for him quickly.
However, the new Flow Motion hardtail, debuting this week at Sea Otter, is named for a trail closer to home at Oregon's Sandy Ridge Bike Park. "It's a poppy and fun trail, and that's what this bike is all about.," he said.
The Flow Motion accommodates 27.5-inch tires up to 2.8 inches and 29er treads as wide as 2.35 inches, has Boost spacing, and follows current trends toward long and low geometry. But one fashion Rosen passed on was increasingly steep seat angles that put the rider in a more aggressive descending position. "A lot of those bikes don't climb great," he said. "I'm a big believer in versatility."
The frame is made from 3/2.5 titanium, has internal dropper routing, is designed for forks from 120 to 150 millimeters, and will feature a bead-blasted finish (unlike the raw ti samples on display at Sea Otter). "For the customer we're serving, we want that refined look," Rosen said.
That customer will be willing to pony up $3,900 for the frame, or mid-$5,000s and up for a complete — and highly customizable— build.
"The beauty of titanium is that you'll have this bike for 20 years, and that's why I got into this," Rosen said.
---
Kona Bicycles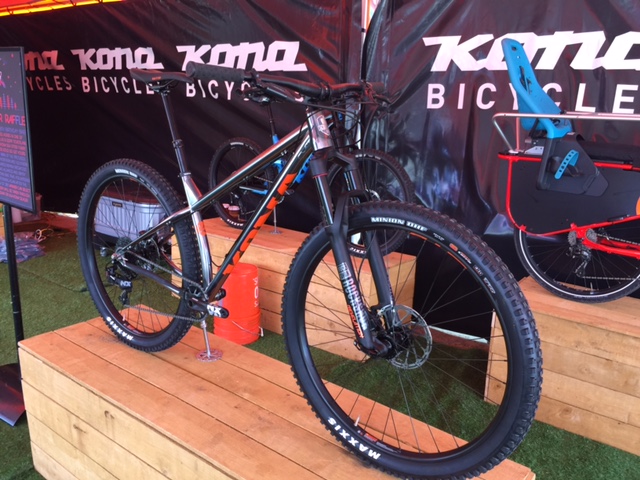 BRAIN reported last week that Kona would be raffling off an undisclosed new bike at Sea Otter to benefit two trail groups in areas affected by last year's California wildfires. That bike is front and center in the B.C. brand's booth: a complete version of its previously frame-only Honzo ST steel 29er all-mountain/trail hardtail. Boasting a mirror-like polished finish, the $2,299 bike will be available this summer with a SRAM NX 11-speed drivetrain, RockShox Revelation fork, SRAM Level T brakes and TranzX dropper post.
Kona is also showing its new carbon Operator CR DH bike compatible with both 27.5- and 29-inch wheels, which Australian Connor Fearon is racing in both configurations this season, said Matt Lareau, Kona design engineer. Available this summer (price to be determined), the Operator CR features adjustable chainstays and a new reach adjustment system consisting of two oval chips that adjust fore and aft.
For the rider who's gotta have carbon, Kona is also displaying the new Process 153 CR long-travel 29er and Big Honzo CR DL 27.5-plus hardtail, both available this summer at MSRPs yet to be determined.
Looking for a little help up the trail? The new Remote Ctrl is Kona's first full-suspension e-MTB. The 27.5-plus bike features a Bosch's mid-drive motor and its new Powertube battery integrated in the downtube. It's on display in a pre-production spec and will be available this summer at a price still to be determined.