Editor's note: A version of this story ran in the November issue of Bicycle Retailer & Industry News.
(BRAIN) — When the 27.5-inch wheel took the mountain bike market by storm about five years ago, many hailed it as a magic bullet that would all but replace the other sizes because it combined the best characteristics of 26-inch and 29-inch wheels.
The industry and consumers immediately embraced the 27.5-inch wheel and sales of 26-inch models began to slide. Even downhill bikes adopted the 27.5-inch wheel and some enthusiasts also eschewed the 29er in favor of the "just right" middle wheel size, which dominated mountain bike sales at the IBD for several years.
But fast-forward to today, when progressive frame geometries have allowed brands to retain the advantages of bigger wheels — namely speed, better traction and rollover — while providing desirable ride characteristics associated with smaller wheels. This has spurred a 29er resurgence that is challenging the middle wheel size head on.
According to The NPD Group, which tracks retail sell-through data, 29er sales spiked in 2018. Full-suspension 29er sales grew 45 percent in dollars from September 2017 through the end of August 2018, while 27.5-inch mountain bike sales fell 4 percent over the same period. A recent Vital MTB reader survey also showed that an increasing number of consumers planning to buy a new mountain bike were considering a 29er in 2017 and 2018, while those looking at the 27.5-inch category decreased (see chart below). 
(Related: The latest BPSA./The NPD Group numbers show trends through October 2018)
Many retailers also said that in 2018, 29er sales have either outpaced or are on par with 27.5 sales.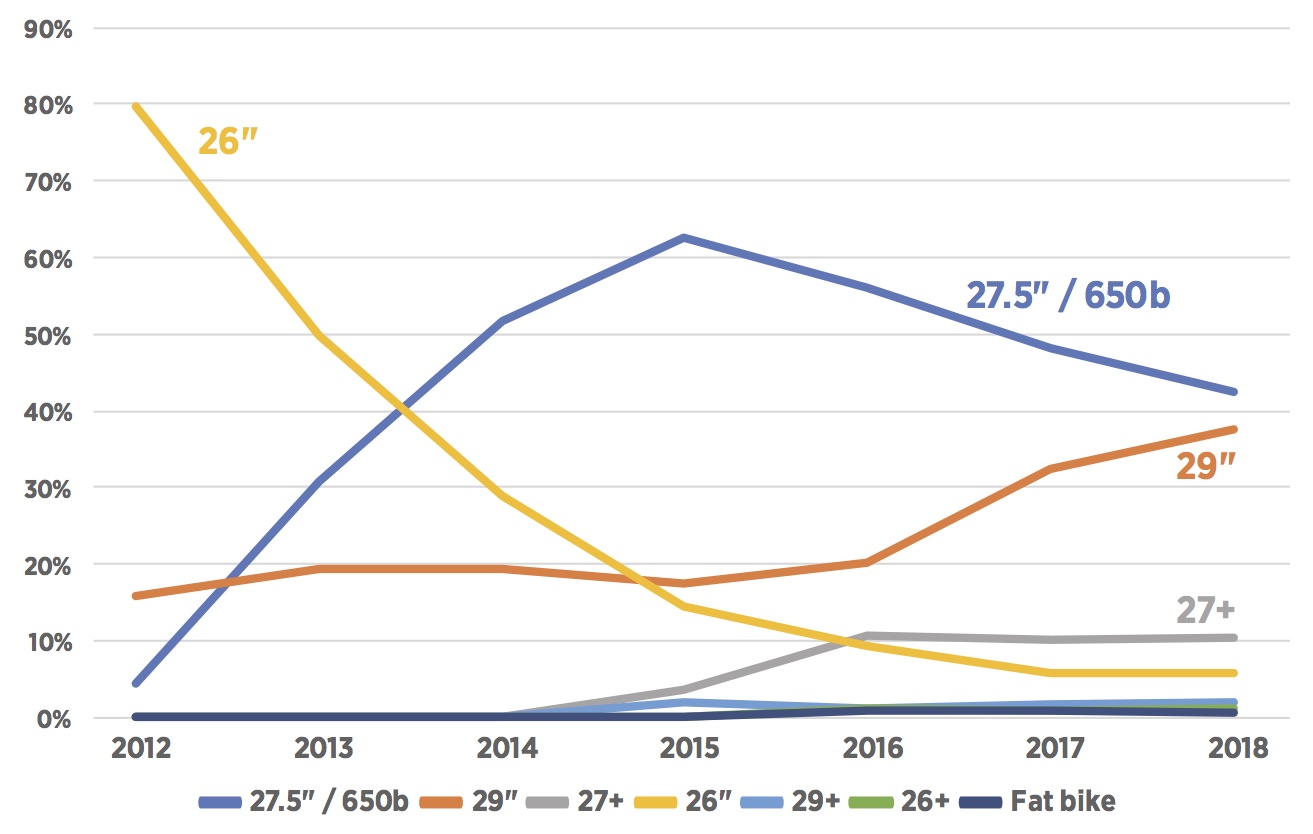 "The new 29er [Specialized] Stumpjumper has sold through better than the 650b version," said Mark Smits, owner of five Incycle Bicycles stores in Southern California. "There is some upgrading happening from 650b; it's not a rapid removal. But we can also tell what people are after based on tube sales. We're seeing more 29er tubes going out the door."
Another retailer largely quit stocking 27.5-inch mountain bikes in favor of 29ers, which he said better suit his rocky Northeastern terrain.
"Ninety-eight percent of our bike sales are 29. We still have people from the gravity side who want to check out 27.5 first, but they quickly realize that 29 is faster with better rollover and more traction, as long as the geo is right," Michael Klasmeier, owner of TrailWerx Cyclery in Annapolis, Maryland, told BRAIN in an email. "That's the major issue."
Thanks to slacker head angles, short stems and steep seat tube angles, today's 29er is more flickable and nimble, appealing to more than just spandex-clad racers. Mountain bikers of all stripes, from enduro racers and casual trail riders to gravity riders, are opting for bigger wheels. Several brands, from Giant and Specialized to Pivot, Santa Cruz, Kona, Transition and Yeti, have recently launched "shreddy" 29ers.
Transition, which has had a 29er in its line since 2012, has seen its 29er sales grow the past couple of years.
"None of us here rode our Covert 29, which we launched in 2013. It had 140 millimeters of travel and a 68-degree head angle, but we didn't really market it," said Lars Sternberg, Transition's marketing director. "We went back a couple years ago and realized we had something. In 2013, its geometry was actually pretty progressive."
Transition added the Smuggler 29 in 2015. Although it had less travel, it had an aggressive 66.5-degree head angle. For 2018, Transition redesigned its entire line, making its bikes slacker with longer chassis, steeper seat tube angles, new tubing and shorter fork offsets. It also added the Sentinel, a 140-millimeter-travel 29er that is currently Transition's best-selling bike.
"Its 64-degree head angle and shorter fork offset really creates some magic in how it handles," Sternberg said. "Normally with that head angle it gets cumbersome unless you're going down steep terrain. But going slowly on the Sentinel it remains nimble, and it's a stable bike going fast. It's a lot more applicable for varying terrain."
Beyond geometry innovations, the broader availability of components has also expanded possibilities for 29ers over the years.
Lenz Sport's Devin Lenz began building 26-inch bikes in 1995, and in 2004 he welded his first 29-inch frame. There were few tire options and even fewer suspension forks on the market for anything larger than 26-inch wheels. As a small manufacturer building 80 to 100 bikes per year, Lenz said he could always find a workaround, and was able to capitalize on the 29er niche. Lenz has been making slack, short-chainstayed, longer-travel 29ers for more than a dozen years.
"We were always a little more slack than other 29ers out there. And we kept figuring out how to make the rear end shorter and shorter," said Lenz, who builds bikes at his shop in Brighton, Colorado. "Then we started playing with more travel — 6- and 7-inch downhill bikes, which was an area with no 29er forks or tires at the time. We had to make offset hubs to run a Fox 36. We were the weird kids on the trail with big wheels, but now it's not so crazy."
One-by drivetrains have opened the door to creating an even snappier 29er as space previously eaten by front derailleurs was freed up to allow for shorter chainstays. Lenz said Boost spacing has also helped things fit better in tight places.
Still, modern 29ers aren't for every rider. It comes down to personal preference, dictated by riding style, terrain and, in some cases, physical stature. Some smaller riders have not, either through personal experience or because of perception, gravitated toward 29ers.
"For riders who are 5 feet tall and shorter, the physics just get difficult," said Transition's Sternberg. "For our 27.5 bikes we make an extra-small through an extra-large, but for 29ers, we don't make an extra-small. But then we have pro rider Christina Chapetta who is 5-foot-2 and rides a small Sentinel and loves it. Part of it is riding style, but I also think it can be misconception. I've seen a varying array of successes and failures there."
Some predict 29ers will replace 27.5-inch mountain bikes and that the middle wheel size will move to the gravel, road and mountain "plus" categories.
"I know that 27.5 will go away in favor of 29/27.5-plus bikes. It's just not sustainable to have two versions [29 and 27.5] of the same bike with different travel, leverage ratio and the like," Klasmeier said. "The only bike we stock in 27.5 is an Enduro [from Specialized]."
Many agree that the current excitement around 29ers won't be just a flash in the pan — partly because 29ers aren't a new thing. They've been around long enough to earn their chops.
"The aggressive 29er is here to stay, and I think we'll see even more progression on that end," Transition's Sternberg said. "It's going to be interesting to see what happens in, say, three years to see how things splinter into their niches. But I don't think the 29-inch wheel size is a fad. I think it's finally hit its stride."