TAIPEI, Taiwan (BRAIN) — Taiwan Cycle remains one of the most important bicycle trade shows in the world, serving as a meeting place for OEM suppliers and buyers, global distributors, and regional retailers.
The show is not known for major launches that are ready for prime time retail purchase. But many manufacturers show products in hopes that a distributor will take the ideas and develop them with some fine tuning and marketing. Here's a look at just a few of the items that caught our eye on Thursday. 
The show continues Friday and Saturday.
Exustar is now making a KEO-style road pedal with a transparent thermoplastic body, seen below. There is no performance advantage to the transparency, but it's sure to get attention on the next group ride. The E-PRS pedal is available with blue, red, gold, or bronze anodized axle assemblies that are visible through the body.
---
Spin Up makes a variety of dynamos, including components for gym bikes and share bikes that allow users to power devices using the energy created from pedaling. They also have introduced a hub-mounted dynamo that can be installed on many users' existing front hubs, with no need to buy a new front wheel with a dynamo hub. The F12W-PRO attaches to the front wheel's spokes and provides power that can be run to front and rear lights and a USB charger for phones or other gadgets. A battery keeps lights running at stop lights. The company plans to raise funds on Kickstarter to put it into production. It will retail for about $500.
---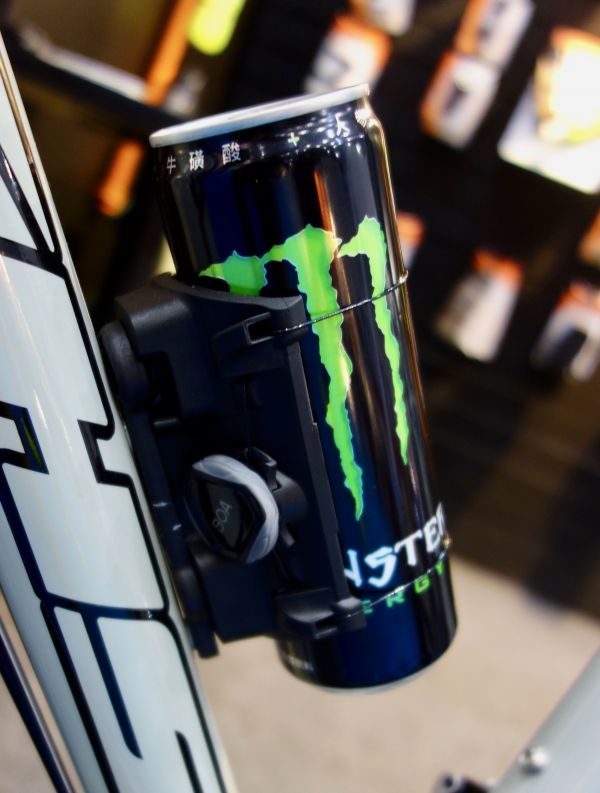 FidLock GmbH is a German company that produces magnetic clasps for helmets and other products on an OE basis for other manufacturers. A few years ago it launched its first consumer product, the Fidlock magnetic water bottle mount, which has been a good seller around the world. Its latest product is a variation on the bottle mount. Instead of requiring a dedicated FidLock bottle, the new model has a BOA cord mount that allows users to attach a variety of objects, such as this Monster energy drink can, or a regular bike bottle. Once attached with the BOA system, the object can be removed from the bike with the same twisting motion as the original FidLock bottle. 
---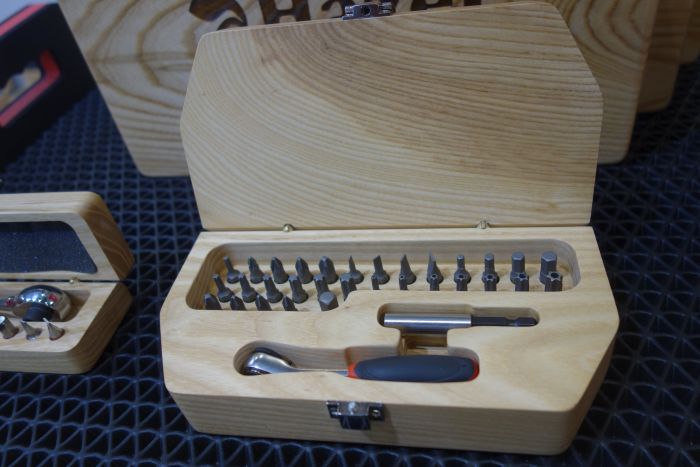 Hazel, a Taichung, Taiwan, company, works with two main materials: wood and foam. In wood, usually ash, the company offers cases and tool boxes like the one shown at right, custom cut for specific tools. It also offers larger wooden tool chests (like the one to the left), wooden wine racks, tables and bike frames. In foam, the company offers high quality CNC-cut EVA and PE trays for packaging, protection and display, such as in tool boxes. A variety of colors, prints and textures are available.
---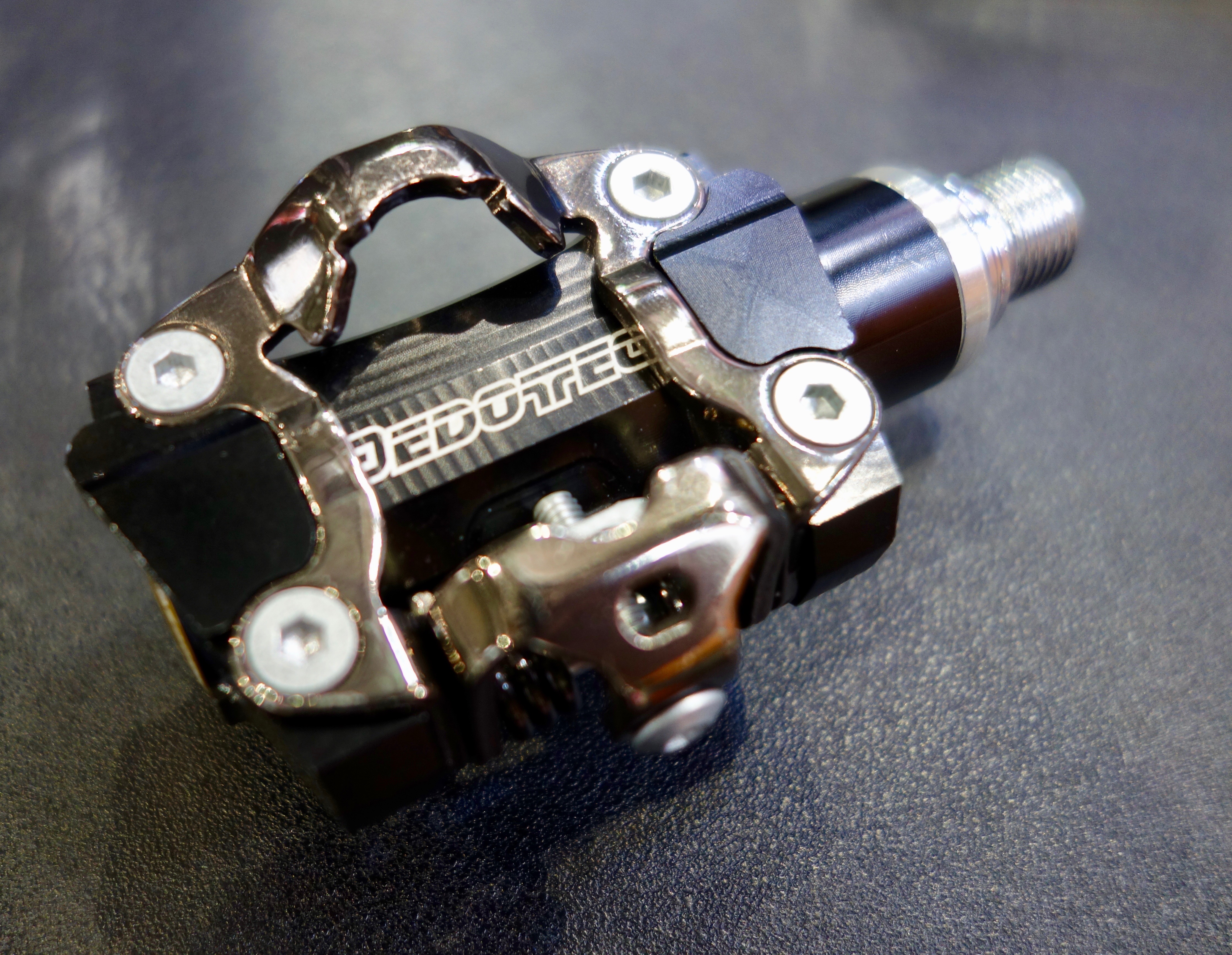 APMS International, another Taichung company, launched two new PedoTec pedal-based power meters at the show. The Formula PS1 is the only SPD-type power meter pedal that we've seen. It has a binding on just one side of the pedal and a rather large body on the under side (seen in the gallery below), making it probably unsuitable for mountain biking, but it could be used for touring or perhaps gravel riding, or indoor riding. The company also offers a Keo-type road pedal with power sensors. Both models are available as pairs with power sensors on both sides, or just one side, retailing for $900 or $600, respectively. PedoTec also offers a GPS headunit that is compatible with the pedals. The pedals can also pair with most other headunits via Bluetooth Smart or ANT+. The company, which also makes dropper posts and other accessories, is looking for a U.S. distributor.
---
Xpedo, the high end brand for the pedal maker Wellgo, is launching two models of direct drive smart trainers this year. The development of the trainers was inspired by knowledge learned from Xpedo's long-promised power meter pedal. The top of the line trainer will retail for about $1,100, a bit less than premium trainers from other brands. Xpedo also is offering its own indoor riding software, developed with a gaming company, which will be available for a monthly subscription following the free month that comes with a trainer purchase. The trainer has a convenient handle and a wide four-point support base. It is designed to allow a few degrees of rocking to create a more realistic feel, especially when pedaling out of the saddle. 
---
X-Shifter, a wireless shifting system that works with most any mechanical derailleur or internal gear hub, is being relaunched with the help of Ciclovation, a Taiwanese accessory brand. X-Shifter was first launched with a Kickstarter campaign, but delivery was delayed with software challenges. Those problems are now worked out, company founder Paul Gallagher told BRAIN. The system includes a small, two-button shifter (shown in the gallery below) attached to the handlebars. The shifter uses Bluetooth to control a small servo motor attached to the chainstay near the rear derailleur. The motor, powered by a rechargeable battery, pulls a short length of cable attached to the derailleur. A mobile phone app allows the user to configure the cable pull to work with most drivetrains, from 9 to 12 speeds. A front derailleur system is also available.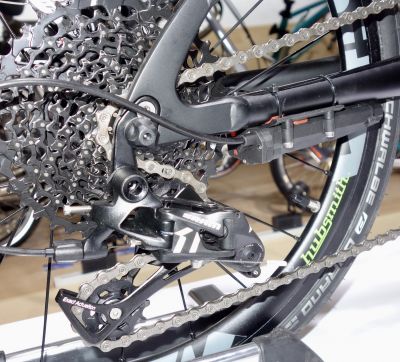 X-Shifter is ideal for complicated bikes that make routing shift cables difficult, including recumbents, hand cycles and aero bikes. The system can be used just as easily on road or mountain bikes, but some style-conscious consumers might object to the appearance of the servo motor (seen in photo to the right), which is attached to the chainstay with zip ties. The company is working on OE contracts with bike makers and products are starting to be available from distributors in many markets, including the U.S. The company showed a mock-up of its shift buttons integrated with a Shimano 105 STI brake lever, to demonstrate how a hydraulic disc brake brand might use X-Shifter to offer a shifting system integrated with its road brake levers.