As SRAM launches Force AXS eTap, a look at how the company made its new 12-speed wireless groups available at retail the same day they went public.
MONTEREY, Calif. (BRAIN) — Next week at Sea Otter, most consumers will get their first look at SRAM's new Force AXS eTap parts, lower priced versions of the Red AXS eTap parts launched in February. As with the Red group, the new Force products became available as aftermarket parts and on complete bikes the day they were publicly announced, which in the case of the Force group was Wednesday at 9 a.m. Chicago time.
Force AXS eTap parts were available from several distributors on Wednesday, and bikes with the parts were also available at retail from several brands. SRAM's Michael Zellmann told BRAIN that more than 150 bike models were available "out of the gate" when the new group launched this week.
SRAM and many bike brands will have Red and Force AXS eTap bikes on display and available to demo at Sea Otter next week. The company also expects to begin shipping the AXS mountain bike parts this month.
For the technical details of the new group, check out the report from our friends at VeloNews.com. In short, the Force group is about $1,000 cheaper than the Red group and 300 grams heavier. The two groups are largely interchangeable. Differences include the availability of a new rim brake caliper in Force that has clearance for 28 mm tires (the Red calipers only clear 25 mm tires). The largest chainring combination available in Red, a 50-37t combo, is not available in Force. And the optional Quarq power meter has replaceable chainrings in the Force group. In the Red group, the entire spider and power meter need to be replaced when the chainrings wear out.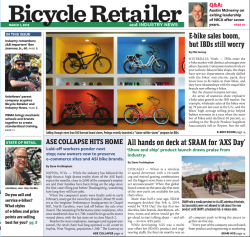 In BRAIN's March 1 print issue, we took a look at how SRAM worked to make the Red AXS group available at retail on launch. The following is a version of the article that appeared in that issue:
CHICAGO — When is a wireless 12-speed drivetrain with a 10-tooth cog and resized gearing combinations not the biggest news from a new product announcement? When that global launch comes on the same day that most of the new parts are available for sale, that's when.
More than half a year ago, SRAM managers decided that Feb. 6, 2019, would be "AXS Day," the day that media titles, bike brands, distributors, athletes, teams and others would get the go-ahead to start talking about — and selling — its new AXS parts.
While developing AXS was a multiyear effort for SRAM's product and engineering staffs, the final six months was an all-company push to bring the pieces together on that day.
"Every part of the company was on board, from product and engineering to marketing and PR … all the tools were deployed. We were having five or six meetings a week. Getting everything to come together at exactly the right time was the big challenge," said Michael Zellmann, SRAM's senior public relations manager.
Despite retailer complaints for decades, there are few, if any, other recent examples of a major component launch done this way.
"People like to buy products when they hear about them. It's something we've never done in the past, but it's what bike shops want, it's what the OEs want, and it's what bike riders want."—Michael Zellmann, senior PR manager, SRAM
For years most manufacturers (including SRAM) have released photos and details of new products months, sometimes more than a year, before they were available to buy. Retailers say the practice devalues existing inventory. And by the time products are on the sales floor, the launch buzz has worn off.
SRAM worked with more than a dozen bike brands and aftermarket distributors so that the AXS Red road components were available on complete bikes on launch. AXS mountain bike parts, including a wirelessly controlled dropper post, will be available later this spring.
"It was really a breath of fresh air from the perspective of the manufacturer, the retailer and the consumer," said Michael Mayer, Trek's director of product marketing. On launch, AXS was available on complete bikes in stock at Trek. Trek also had AXS components available for its custom Project 1 bikes.
Trek began a program it calls "Launch for Success" a few years ago, providing retailers with new bike models about a week before publicly announcing the models.
"We (Trek and SRAM) are very much on the same page in our philosophy about the launch," Mayer said, noting that Apple is the acknowledged master of product launches in recent years. "We stole from Apple, and maybe SRAM looked at us and looked at Apple."
Specialized, Cervélo, Yeti, Santa Cruz, Pivot, Niner and other brands also have successfully launched new bike models in recent years with inventory available on launch date — a practice some call "show and ship." But launching a component group with availability in the aftermarket and on bikes is nearly unprecedented, according to many.
Setting a date
SRAM wanted to be able to sell and promote AXS as the bike retail market comes to life in the spring. But pro road racing kicks off at the Tour Down Under in January, meaning the new parts would be increasingly visible to consumers and the consumer press in midwinter. SRAM wanted to introduce the products to the media, on an embargo basis, at least a few weeks before the launch date, so that the media would have ample time to get educated on the groups and prepare articles. But the media event needed to be well after the holidays to ensure participation. SRAM staff and outside reps also needed to be trained on the new products before they became available. All those factors made Feb. 6 the best choice.
"Once we settled on the date, we started working back from there," Zellmann said. "You start with a 30,000-foot view and then you start getting into the details." (Some of the details of the rollout are on the timeline on the left.)
SRAM couldn't control everything. "Spy shots" of the parts on pro racers' bikes started appearing on cycling websites and social media as early as March last year. Public patent and FCC wireless license applications gave more hints in the fall, and several top cyclocross pros raced on nearly final groups in the late fall and winter.
"People like to buy products when they hear about them," Zellmann said. "It's something we've never done in the past, but it's what bike shops want, it's what the OEs want, and it's what bike riders want. … The consumer is ultimately the most important. We came up with something we think is a substantial advance for the consumer, for the bike rider. Our goal is to provide the consumer with something exciting but do it without punishing the channel.
"It's way more fun to do it this way, but it took a ton of management and a lot more oversight," Zellmann added.
Related: SRAM's Kate Powlison discusses the AXS launch on the BRAIN/Verde podcast.