IRVINE, Calif. (BRAIN) — Shimano, perhaps for the first time, is making a major new group of components available for retail purchase soon after a public launch, both as original equipment and in the aftermarket.
Shimano went public about its new 12-speed Deore XT and SLX groups on Thursday. Journalists who were shown the new parts at a two-day event in Bellingham, Washington, in January had agreed to an embargo that prevented them from publishing the products until Thursday morning. News releases on Thursday said XT would be available for sale on June 14, two weeks after the embargo date.
To accomplish that in the aftermarket, Shimano North America assembled 500 "priority pack" component groups with the most popular specifications. The components are being air freighted from Japan to the U.S. The company's reps began selling the packs to selected dealers on May 13.
Dealers who were shown the groups were asked to sign nondisclosure agreements that prevented them from talking about the groups before Thursday. They also were barred from delivering the products before June 14, although they could presell them. Shimano North America will ship the packs a few days before June 14, said Nick Murdick, Shimano's mountain bike product manager for North America. 
The 500 packs allocated in North America were out of a total of about 3,000 made available worldwide.
The North American reps sold out of the packs before the embargo date. Retailers that have purchased the packs will be included in a bike shop finder that goes live on Shimano's website June 14.
Shimano also made changes in how it rolled out the new group to bike manufacturers.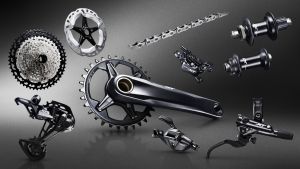 Manufacturers were shown details of the new parts in October 2018, which is typical timing.
But in a change from usual Shimano policy, bike makers were not asked to keep mum about the groups until embargo day.
"Typically we would have said, 'don't publish anything until the embargo,' but this year if companies wanted to pre-book bikes we just asked them to keep it vague. They could tell dealers the new models will have the 12-speed XT group and that was enough."
Murdick indicated there were some concerns that retailers would spill the beans before the embargo. "It was kind of a big test," he said. "But it seems to have worked fine."
In another change from usual practice, Shimano made the new parts available to bike factories before the embargo date.
"The products were available (to factories) from Japan in May ... A super motivated bike manufacturer could get bikes built and airfreight them to bike shops in the U.S. before the (June 14) start-sale date," Murdick said. He said he wasn't aware of any U.S. brand that planned to do that. Realistically, most bikes with the new parts will start arriving at U.S. bike shops in late June or July.
Retailers have criticized Shimano for years for setting embargo dates that preceded product availability by many months. Dealers say the practice devalues their inventory and dulls the buzz about the new parts when they do finally become available.
In some cases, Murdick said, the early embargo dates were necessary to allow bike brands to show next-season bikes at summer shows without requiring all attending dealers to sign NDAs, for example. It also gave manufacturers and distributors time to print catalogs.
A glaring example of the problem challenged Shimano in the last 12 months. The company announced a major update to the XTR group on May 25, 2018. But because of difficulties manufacturing the group's crankset, it didn't start shipping the complete group until early this year. The group finally shipped with what were essentially refinished and relabeled XT cranks with the new XTR chainring (the special chainring is required because of the group's chain design). The real XTR crank is now shipping, as well.
Murdick said the substitute XTR cranks and the rest of the group became available the same week the media was attending the Bellingham launch. "At least when they said, 'why are you launching XT when you haven't delivered XTR?' We could say, actually XTR is now shipping," he said.
The XTR delay was still on the minds of many journalists, who highlighted the near imminent availability of the new XT parts in their reviews on embargo day. "Needless to say, the pressure was on for Shimano to get back on track and regain their footing in the drivetrain market," wrote PinkBike. "They've responded by releasing new 12-speed XT and SLX groups, and while there may have been struggles in getting XTR to the market, the new components are on their way to retailers at this very moment."
Besides the Deore XT priority packs, some other new parts will be available from Shimano North America on June 14, including new XT hubs, XT brake rotors, a dropper post remote that was launched with XTR and a chain guide that was launched with XTR.
The rest of the new XT parts will be available by July 1 and the new SLX parts will be available later in July. Shimano also launched a new gravel racing shoe and new PRO enduro handlebars and stems on Thursday.
Murdick said the launch practice might become more common for Shimano, but said the new XT and SLX launch was a special case because the technology was all trickled down directly from XTR. That made it easier for bike makers, for example, to simply say that new models would have 12-speed XT, without having to explain and market a lot of new technology and features.
"Last year when we launched XTR, that wouldn't have been enough. There was a lot of new technology that needed to be explained. But when it's trickle down technology, things are considerably easier," he said.
More information on the new parts on the Shimano website.