Taiwanese vendors show off new products during factory tours.
TAICHUNG, Taiwan (BRAIN) — Wayne Moore said he's bringing the ancient presta valve into the 21st century.
The general manager of Legion, which manufactures disc and rim-brake pads in Changhua, Taiwan, unveiled his VMax Hi-Volume tubeless valve during the second day of the TAITRA factory tour on Tuesday. Several other companies on hand at the Iron Hill Cycling Sport Village also had new or revamped products on display outside under canopies on a sun-drenched day.
The VMax, which replaces your father's standard tubeless presta valve, has a larger diameter hole that allows 300 percent more air volume into the tire, Moore said. This makes seating tubeless road and mountain tires easier using only a foot pump — and without removing the core. Sealant also can be injected without fussing with the core.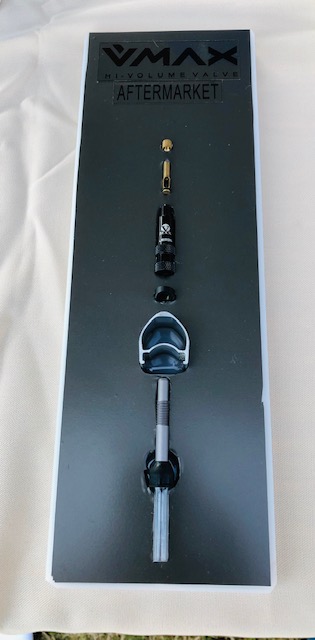 The valve also has a small hose attached that protrudes inside the tire and makes it possible to remove sealant with a standard injector and without breaking the tire bead. While Moore said he sells Stan's No-Tubes sealant, any brand will work with his valves, including the thicker Stan's Race formula.
"Nobody in the market has solved this problem," Moore said. "A few companies claim to have, but the basic presta design hasn't changed in 120 years. One-hundred-and-twenty years ago, they didn't have sealant."
VMax is not available yet in the U.S. It's been sold in Italy for six months. Moore said the valve now represents 20% of his business.
The mountain bike valves retail for $28-$30; road between $25-$28. A converter kit is available for $18. It replaces the core of a standard presta valve.
Prowheel Chain Snatcher
The bane of many a mountain biker or gravel rider is a dropped chain. Prowheel, which manufacturers cranksets and chainrings in Shanghai, China, thinks it has come up with a solution.
The Chain Snatcher consists of two pieces constructed from Plastic Steel and collectively weighing 15 grams that sandwich the chainring on a Prowheel crankset. While the inside piece guards against the dreaded drop, the outside collar catches the chain with cog-like teeth and re-routes it onto the ring. It works regardless of what cog the chain is on. It's been a year in development.
For now, the Chain Snatcher is available only for OEM Prowheel cranksets with the goal of it becoming an aftermarket item to fit Shimano and Sram cranksets. Aftermarket manufacturing will move to Taiwan.  
Ciclovation Handlebar Tape
Jerry Huang of Huangs Smart Cycling used to work for Jagwire before retiring. He began Ciclovation because "I always had a dream to have a full product line to serve our riders."
Huang was on hand to present his full line of handlebar tape color and texture options. He said making grippy tape with catchy colors and no-fuss wrapping were the goals. He said one of the benefits of his bar tape is adhesive left from the old tape does not need to be removed before wrapping.
He said he's appealing to three customers: the rider who wants to create a signature look; the mechanic who can wrap the bars easily; and the shop owner, to whom he can deliver the product quickly.
Ciclovation bar tape has an MSRP of $20-$45.
KS dropper posts
Component manufacture KS reminded everyone it has completely embraced the gravel scene with seven dropper post models now available in 27.2mm diameters to fit gravel and cross bikes. The LEV, LEV-Ci, and LEV Integra are updated with new cartridges, featuring additional volume for a more linear air spring feel and an air valve to adjust pressure. A drop-bar remote option also is available.
KS announced the e20i dropper with up to 170mm of adjustable travel has been e-mountain bike tested to endure a combined 330 pounds of rider, bike and equipment. It will be available in 2020.
RST
The Taipei company unveiled three new forks for 2020 and a new dropper. The Stitch 29 has 38mm stanchions and available in air and coil sprung versions. It has internal adjustable travel from 160-180mm. It will retail for $649.
The Spex fork is designed for juniors on 20-inch bikes. It features an air spring with 20, 60 or 80mm of travel, a thru-axle and has a retail price of $299.
The SS-A8 is similar to the Cannondale HedShok from back in the day. It has an adjustable spring design with needle bearings, 35mm of travel, and at 3.48 pounds, it's e-bike rated.
The ELEV8 A2 is RST's new mechanical air-adjusted dropper post. It comes in 30.9mm and 31.6mm diameters with 80-100-125-150-170mm travel options. A remote shifter is optional. It will retail from $159-$169.
Skwiki
This month, Skwiki entered the industry with a line of bike and drivetrain cleaners, lube and grips.
Skwiki bike wash ($9.90) is safe on carbon fiber frames and rotor discs and is biodegradable, as is the drivetrain cleaner ($13). The chain lube ($9.90) has been formulated for all-climate conditions and is biodegradable. The grips ($13) are lock-on and come in two patterns.
Taya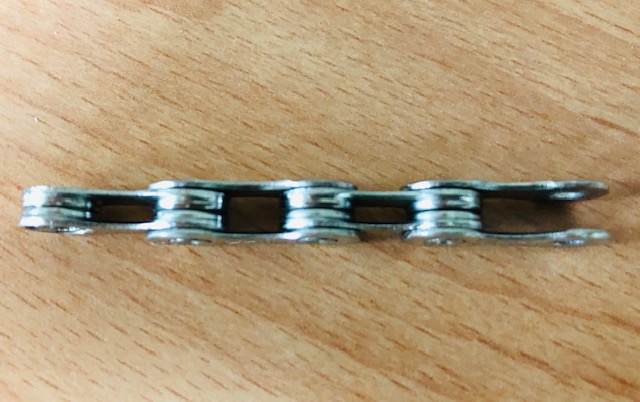 China's oldest bicycle chain manufacturer has a new 11-speed chain ($32), the EL-ONZE-117 that is e-bike rated, said to last 6,000 miles and is 20% lighter at 223 grams than other 11-speed chains. It also has an "oil-container groove" that traps lubricant to reduce noise, improve shifting and increase durability.
Taya is working on a 12-speed EL-ONZE that is expected to be out in early 2020.
DARE Bikes
Its new GF series features two carbon fiber gravel/endurance bikes. The GFX is the more gravel-oriented and can fit tires as wide as 650b x 2.25. The GFE has more relaxed geometry, and both have DARE's new variable chain stay system. Using adjustable dropouts, the chainstay length can be changed from 410mm to 425mm. It comes in five sizes and is available consumer-direct in Europe.