BOULDER, Colo. (BRAIN) — RLE Bike, a Russian-French e-bike brand, has announced a super light e-bike model designed to pair with the Tesla Cybertruck, a stainless-steel clad electric pickup Tesla hopes to put into production next year. 
The RLE Apocalypse e-bike model is designed to charge directly off a Tesla battery and is styled to match the Cybertruck with a custom air-brushed military-style finish. It also pays homage to another project from Tesla founder Elon Musk: The Boring Company flamethrower. The Apocalypse includes rack mounts for attaching the weapon and a handlebar-mounted remote to operate it.
RLE e-bikes feature titanium and carbon parts and typically weigh less than 15 kg (33 pounds). The company said the bikes can also be fitted with an optional fingerprint recognition system. RLE says a pair of the bikes plus the Cybertruck charger will start at 10,000 euros (about $11,300) before options.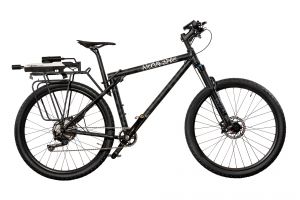 The company said it will start taking pre-orders in May. As for the Cybertruck, Tesla began accepted pre-orders in November 2019, and Musk has tweeted that the company has received a quarter million orders, which require a $100 refundable deposit. 
More information: rlebike.com/en/basic-configurations/rle-apocalypse-en.html