A version of this article ran in the February 2023 issue of Bicycle Retailer & Industry News
By Alan Coté
If you want a sneak peek at where bicycle technology is headed, consider patent applications. Applications for utility patents publish (with some exceptions) 18 months after their filing date* — often before news of a related product is publically released. Patent filings also may give an indication of the resources each company has been putting into R&D over the past several years.
While I've written an annual summary of issued industry patents in the past, perusing applications may be more insightful, as the latter become publically visible earlier, and thus may be the first look at technology a company seeks to protect. Of course, inventions shown in patent applications could represent early-stage R&D efforts that may not continue to be pursued into saleable products (or even issued patents). I've also noted issued design patents — these do not publish until issuance.
A few big bike brands may dominate the floorspace of U.S. retailers, but those are not the companies that file and own most of the industry's patents. It's primarily component manufacturers that pioneer new bike tech, and therefore have the greatest incentive to stake intellectual property claims. Areas like drivetrains, brakes, suspension, and e-bike workings are where the big changes happen, and where a few established suppliers compete for market share. Herewith, an overview of U.S. utility patent applications published in 2022 to some prominent industry companies.
Shimano: 69 (also 16 for fishing technology) (0 design patents)
Being the big kid on the block as a component supplier also means Shimano tops the ranks in bicycle-specific patent filings — for yet another year. As expected, inventions relate to derailleurs, brakes, pedals, sprocket assemblies, and such — all areas where Shimano has been a leader for decades. But they have plenty of patent filings for products they're not selling. Or yet selling. Like an electronically controlled dropper seatpost, and a wirelessly controlled shock fork. E-bike related tech is covered with inventions ranging from communication systems to battery mountings, as the company continues its push against rival supplier Bosch. And for new versions of old designs, Shimano looks to protect a power-generating rear hub, as well as a derailleur with three pulleys. Anti-lock braking has long been a holy grail in bicycle engineering, and Shimano shows a disc brake set-up that uses magnetic or optical sensors to monitor wheel rotation. The company introduced an ABS system last year for e-bikes.
SRAM: 39 (5 design patents)
The Chicago company remains very active in patent filings for its many brands including, SRAM, Zipp, Avid, Truvative, Rockshox, and Quarq — with current patents filed under the SRAM corporate name, regardless of what label sells the product. As expected, SRAM's patent filings span the full range of products they sell, from drivetrain parts to suspension to braking systems. Derailleurs get lots of attention, including one that has a built-in generator for charging a shifting battery or supercapacitor. Another filing shows a rear derailleur battery housed in the rear wheel's thru-axle. SRAM also stakes claims for a linkage suspension fork that looks aimed toward gravel riding. Also, in February 2021, SRAM acquired Time's shoe and pedal business and its related patents. However, I found no new pedal-related filings — so no reveals of related progress with product development. Unlike their competitors, SRAM makes use of design patents, with two for rims and three for brake rotors issuing in 2022.
Specialized: 12 (4 design patents)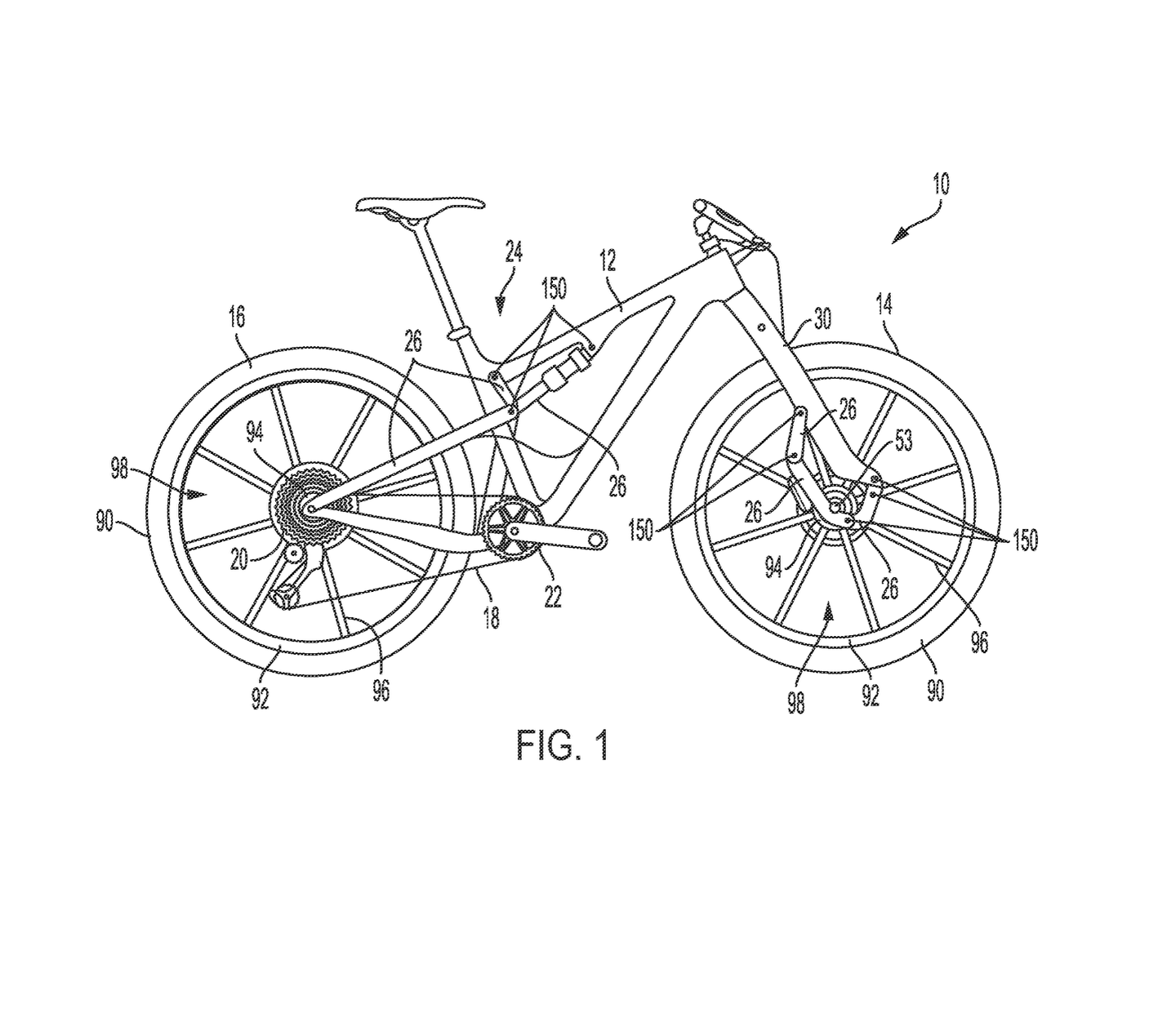 Among the big four U.S. bike brands, Specialized continues to lead the way in patent work by a large margin. The company's filings span a wide range of inventions that include both bicycles and accessories. Three filings are directed to suspension — but surprisingly, all are for a linkage suspension fork, a configuration that's been out of fashion for decades (one is shown in the drawing to the right). Specialized also looks to protect a shoe lacing system with rotary dials, a saddle with different stiffness regions, a helmet fit system, and a display screen that mounts on a toptube to show e-bike battery levels. Even Specialized's ubiquitous water bottles could have company, in the form of a spill-proof lid for a coffee-style beverage container.
Campagnolo: 8 (0 design patents)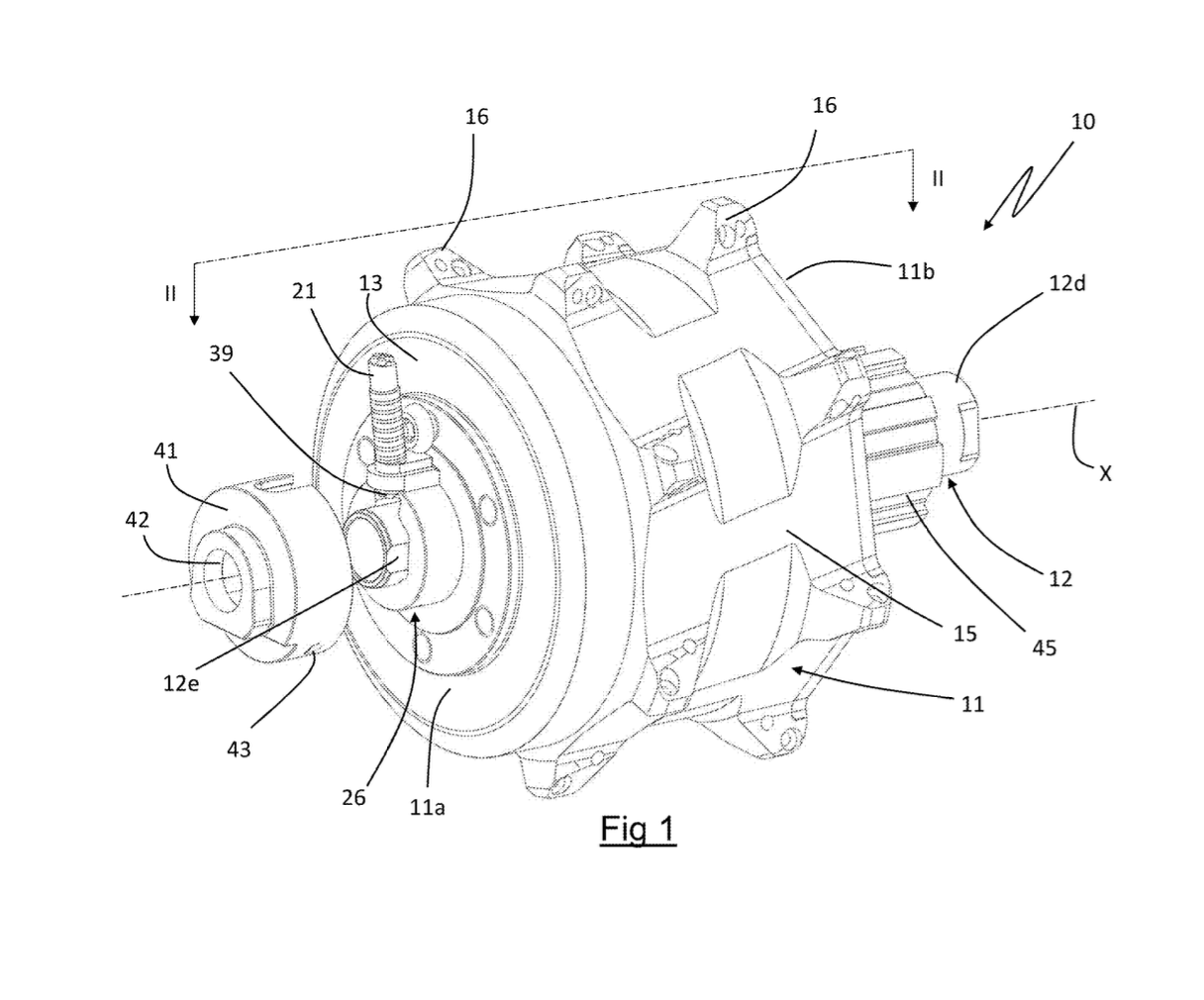 The iconic Italian company continued its recent trend of filing fewer patent applications each year. 2020 saw seven filings, 2021 marked 11, with 2022 settling in at eight – well down from the 32 applications in both 2018 and 2019. Campy is pursuing wheel inventions in three different filings, and a carrier for the largest two cogs of a cassette in another application. Temperature compensation for power meter strain gauges gets another application. Surprisingly, or perhaps not, is a single filing for a motorized rear hub (left) — first Ferrari announced an SUV, now e-bike tech from Campagnolo. Several derailleur-related filings include both cable and motorized actuation. The company has received numerous patents over the last decade for wireless shifting, but there's nothing new revealed for the year. Campagnolo's 2022 patent work gives little away as to where they're headed, other than their patent budget having shrunk — which suggests their R&D work has as well.
Bosch: 1,387, dozens bicycle-related (0 design patents)
Technology giant Bosch is of course a major supplier of e-bike power systems. But plucking the e-bike-only tech of the company's 1,387 filings is extremely tough. The company produces a huge range of technology used both in its own brand of complete finished products (e.g. Bosch home appliances) as well as components made for other manufacturers — like e-bike motors. Bosch also makes automobile sensor systems for crash avoidance with cyclists and pedestrians. Suffice to say, Bosch has lots in the pipeline, from patent filings from basic designs for mounting an e-bike battery to a frame, to one titled: DYNAMIC SPATIOTEMPORAL BEAMFORMING.
Yamaha: Approximately 5 bicycle-related (0 design patents)
Yamaha's patent filings number in the hundreds each year, and for 2022 about five of those are directed towards bicycles. Or e-bikes more specifically, for which Yamaha has long-term designs of being a player in the market. One filing shows an e-bike display (for battery level, etc) that mounts in place of a stem cap. Other inventions claim sensors for a bicycle's speed or applied torque to manage power delivery and battery life. A wildcard invention: a system for virtual cycling in which an indoor rider sees in real-time what an outdoor rider is experiencing, including scenery, as well as using slope measurements from the outdoor rider to control the resistance of the indoor trainer.
Canyon: 7 (0 design patents)
The German brand continues its push of consumer-direct-only sales in the U.S., and is investing in protecting its inventions. Consider that in 2022 Canyon had more than three times as many utility patent filings as Trek, Giant, and Cannondale combined. Keeping with the consumer-direct model, two of their patent filings are for boxes for shipping bikes, including an e-bike-specific carton. Four other filings claim e-bike technology, including a battery assembly, as well as a frame tube configured to hold a battery.
Fox Factory
: 21 bicycle-related (0 design patents)
The company is well-known for its suspension technology – used both on bicycles and motorized vehicles. As such, some of their inventions may be applicable to human and motor powered rigs alike. At least 21 of Fox's 27 total U.S. patent applications last year include bicycle in the description, with 18 of those related to suspension. Inventions cover shock assemblies, damper technology like adjusters and valves, many with electronic sensing features. Fox also makes claims for e-bike tech that uses different component sensors and ride data (like GPS) to manage battery life. Fox continues pursuing new patents on "Methods and Apparatus for Virtual Competition" directed to mountain bike racing and ski racing. The company already has three issued patents from the same parent application that dates back to 2008 – but with no apparent movement towards commercializing the esports inventions.
Tektro: 6 (0 design patents)
Tektro made its name with brakes, but 2022 patent publications show that the Taiwanese company is on a push to develop electronic shifting systems. One filing shows brake/shift levers for front and rear motorized derailleurs, with a control/junction box that can mount to the frame or handlebar stem. Another application shows an electronic front derailleur with an integrated battery. These follow the 13 patent filings seen in 2021 that showed wirelessly controlled rear derailleurs, systems for pairing wireless components together, low battery management protocols, and more. Tektro's first patent application for derailleurs and shifting was filed way back in 2015, with a steady stream ever since — suggesting they're setting-up to be more than a brake supplier. At the recent Taipei Cycle show, Tektro (through its TRP brand) released a full 12-speed mountain bike group set to go head-to-head with upper-end drivetrains from the major players. 
Others:
Giant showed only two U.S. utility patent applications for 2022, with no design patents granted. That's down from nine total in 2021, spanning everything from tools to shoes to composite frames. Trek had no U.S. utility patent filings, but had two design patents issued. They've bottomed-out after five filings for 2021, eight for 2020, and 11 for 2019. Finally, laterne rouge Cannondale again showed no recent U.S. patent filings, and ditto for its (former) parent company Dorel Sports. PON Holding acquired Dorel in 2021, giving it ownership of numerous bike brands, but PON shows only three bicycle-related patent applications in the last 10 years.
*Patent applications published in 2022 were submitted to a patent office (US or foreign) between July 2020 and June 2021. I use the term "filings in 2022" to describe what first became publicly visible in 2022, though they were actually submitted up to 18 months earlier.
---
Alan Coté is a Registered Patent Agent and principal of Green Mountain Innovations LLC. He's a past contributing writer to Bicycling, Outside, and other magazines, and a former elite-level racer. He also serves as an Expert Witness in bicycle-related legal cases. Nothing in this article should be considered legal advice, nor does it establish a client relationship.