MONTEREY, Calif. (BRAIN) — In the days before the opening of the Life Time Sea Otter Classic here on Thursday, many brands announced new products that they will show in person at the event's expo. Many other brands plan to make public announcements of new products on Thursday morning.
Among the new products released this week prior to the show:
Fox Factory expands FLOAT shock line with XC and trail options
On Tuesday Fox Factory announced two new variations of the technology introduced with its FLOAT X and FLOAT X2 shocks two years ago. The additions are the FLOAT SL, an ultra-lioght shock for cross-country racing, and the FLOAT, for "weight conscious trail riders."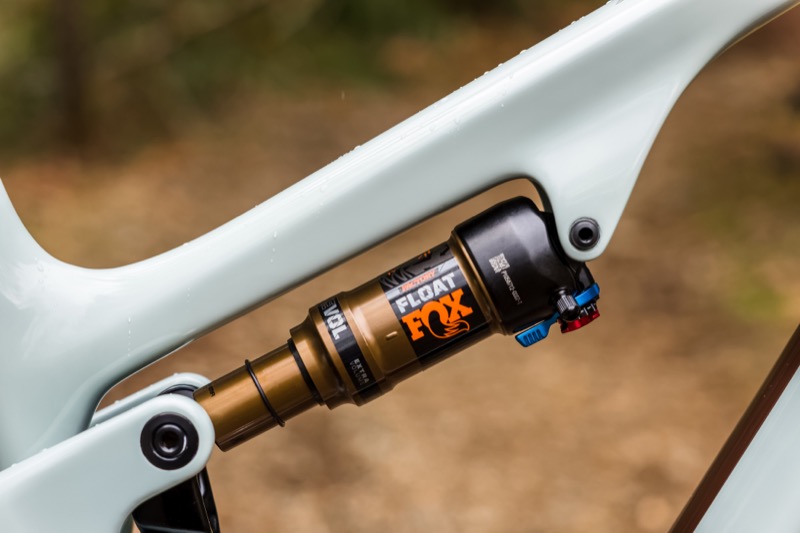 The FLOAT SL is Fox's lightest shock and features an all-new main piston, valving, and IFP (Internal Floating Piston) design. The FLOAT shares damping technology with the FLOAT X but is 150 grams lighter and allows more frame space for water bottles or other gear. 
Our Outside colleagues at Pinkbike took a deeper look at the new Fox products. Fox Factory is at booth R43, R93 and R95 at the Sea Otter expo.
Cane Creek's new cranks, shocks, forks and computer mounts
On Tuesday Cane Creek Cycling Components announced four new products: A bike computer/accessory mount, some 3D-printed titanium e-bike cranks, a limited edition series of its Helm suspension fork, and a new generation of its Air IL and Coil IL shocks.
The modular computer mount has four mounting orientations, several angle adjustments and compatibility to run an optional accessory mount. Every computer mount comes with a Garmin and Wahoo adapter.

The 3D-printed ti Electric Wings cranks are said to be as light as carbon, but stiffer and tougher. They are available in 165mm length at $1299.99 retail.
The limited edition Works Series Helm forks are available with four travel options: 100mm, 110mm, 120mm and 130mm. The Works Series can be travel adjusted in 10mm increments with just a few tools at home. The World Series forks are built with a stiffer chassis than the standard Helm. 
The updated Air IL and Coil IL shocks are both small and stronger, according to Cane Creek.  They both now feature a thicker inner damper tube for increased strength and a 17mm reduction in overall width on the valve body. The AIR IL features a 6mm reduction in the outer diameter of the air spring while increasing the max pressure to 350psi (Up from 300psi). The Coil IL features added detents on the preload collar to allow more precise preload tuning.
Cane Creek is at booth Y53 at the Sea Otter expo.
Saris' new racks
Saris has introduced several new products in recent weeks, which it will have on display starting Thursday at the Sea Otter, at booth A11. The new products include bike racks designed around RVs and e-bikes. The Saris modular hitch system (MHS), now can handle bikes weighing up to 80 pounds in certain configurations, and the two-bike configuration of MHS DUO bike trays is now RV compatible. 
Saris' electric-lift Door County racks for e-bikes are now RV-approved, as well. 
Chris King's 3D Violet parts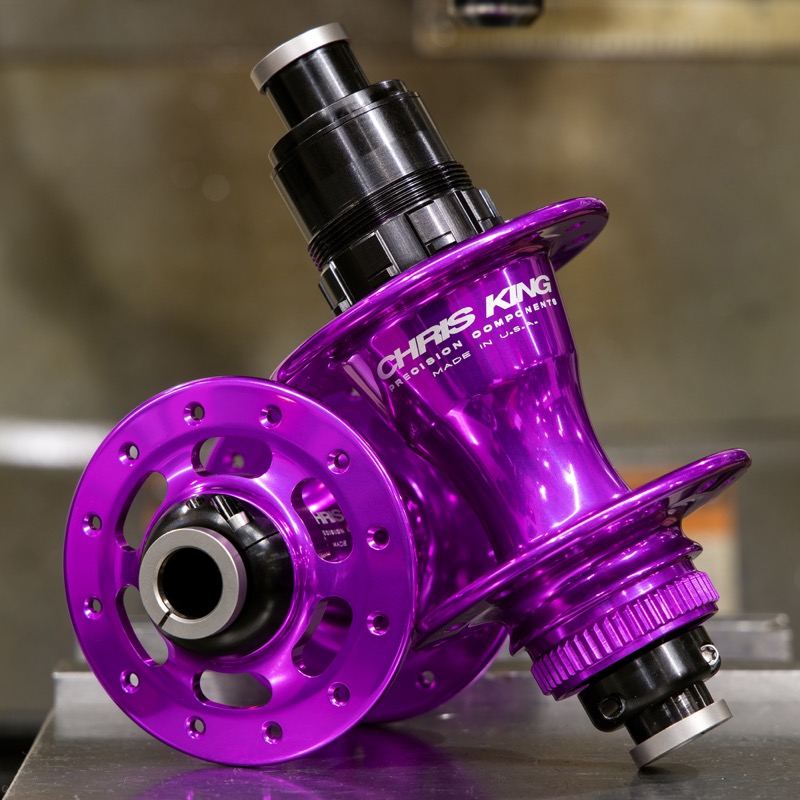 Thirty-five years after the first appearance, Chris King Precision Components is bringing back components with anodized in 3D Violet. In 1988, Chris King's first color anodized headsets were 3D Violet, following the brand's silver and black headsets. This year the color will be available on all of Chris King's current product offerings including the recently re-introduced Boost 6-Bolt hubs.
Chris King Precision Components is not exhibiting at the Sea Otter expo, although the brand hosted a Guest House media event at Santa Cruz Bicycles headquarters in Santa Cruz on Tuesday. The event featured a variety of custom frames outfitted with 3D Violet components. 
Denago's first mid-drive e-bikes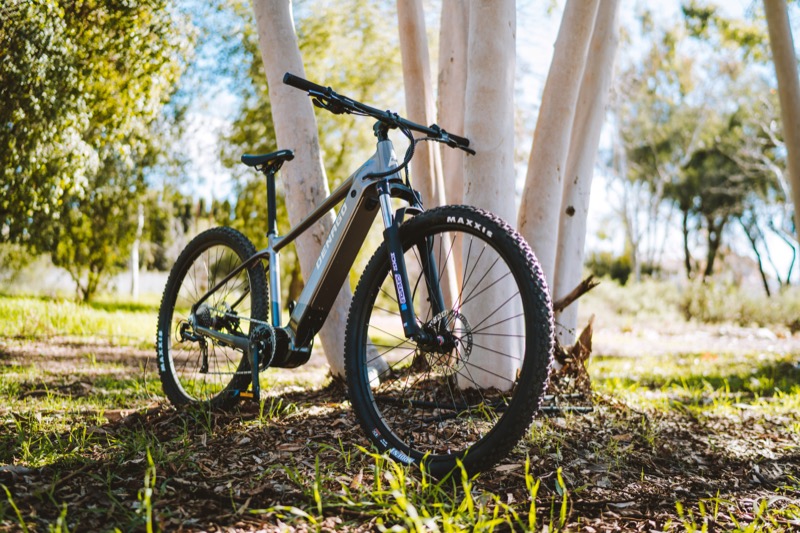 E-bike start-up Denago (see our October article about the brand) has released its first mid-drives, the eXC1 and eXC2 models. The eXC1 retails for $2,749 with a Bafang M410 motor and Suntour XCM32 fork with a 500Wh battery; the upgraded eXC2 model ($3,199 retail) adds a dropper seatpost, Bafang M510 motor, and larger 672Wh battery.
Denago is at booth P72.
Thule's new Epos bike carrier
Thule's Epos is a foldable, and tiltable hitch bike carrier that can carry e-bikes and has an optional tail light. Our Outside colleagues at VeloNews gave it a look. Thule will be at booth S149 at Sea Otter.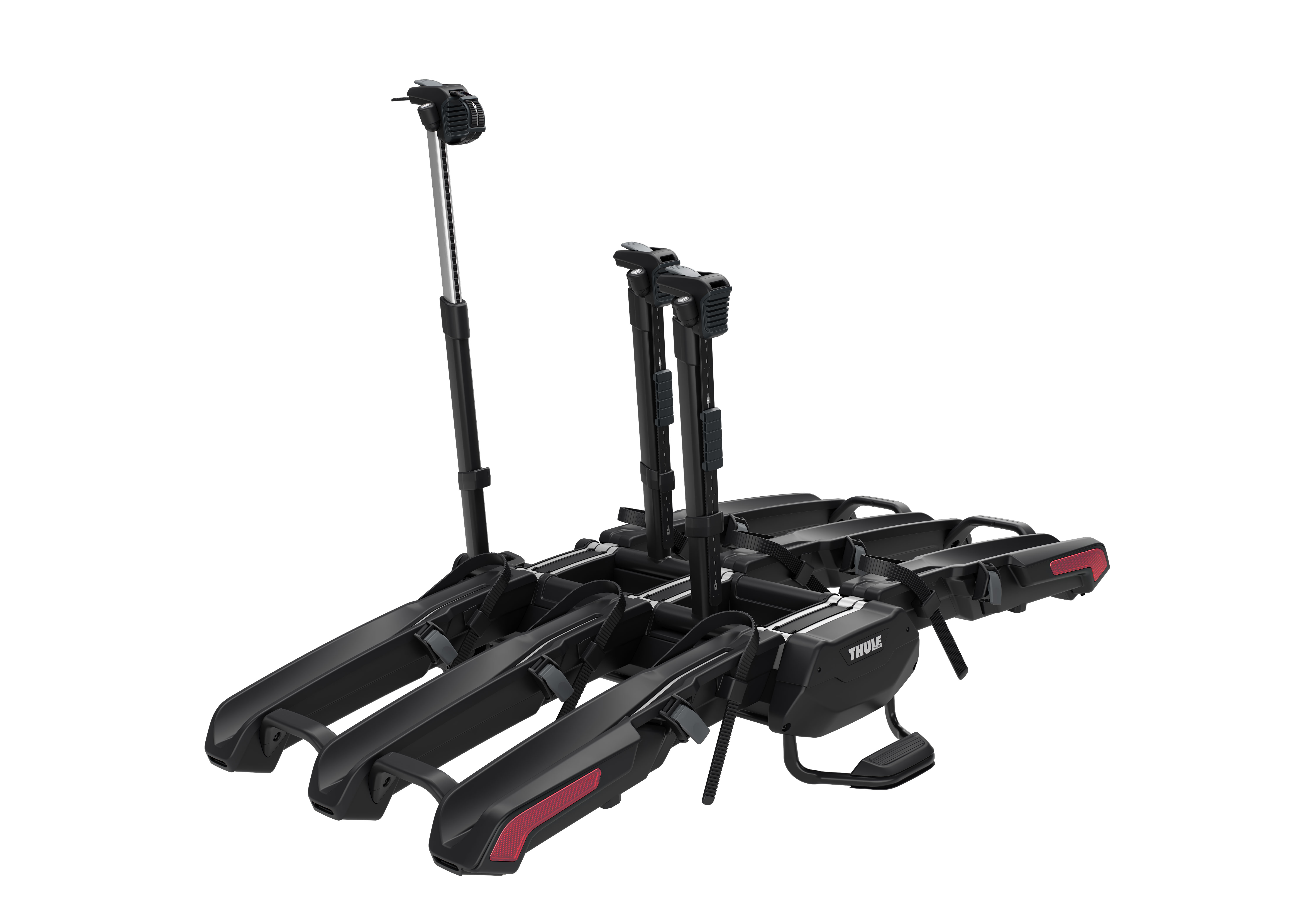 5Dev's ti cranks
U.S. manufacturer 5Dev, which has released several machined titanium chainring options in recent months, will show its new titanium crank at Sea Otter. The cranks will come in 167.5 mm length for regular bikes and 157.5mm for eMTBs. They will be available in May. 5Dev will be at booth #A15 and #A23 at the expo. 
Wait, there's more!
As mentioned, a raft of brands have new products embargoed for public release on Thursday, the Sea Otter's opening day. Watch all our Sea Otter coverage for new products and business news from the event. You can also download the official Life Time Sea Otter Classic festival guide, which was produced by BRAIN's staff.