LEWISBURG, Pa. (BRAIN) – Earl's Bicycle Store, which is located in Central Pennsylvania, has co-branded with Giant and reopened as Giant Lewisburg-Earl's Bicycle Store following a complete remodel. Owners Earl and Lisa Rissler joined forces with Giant after carrying the brand for 11 years. 
The Risslers began the remodel last fall and the new store offers a full selection of Giant, Liv and Momentum brand bikes and gear. 
"I knew what I wanted to do with the store, and the team from Giant took my ideas and improved upon them," said Earl Rissler. "It all came together great. Customers are impressed, we're hearing from them that they really like it." 
Giant retail services executive James Yao said the goal was to preserve and emphasize the unique look and feel of the shop, which Earl Rissler and his team converted over from an old auto parts store when they moved to the building three years ago. 
"Working with Earl, his staff and family was great," Yao said. "They know their business and knew exactly what they had in mind for the remodel. I think we accomplished all that they were looking for while giving customers an organized shopping experience that makes sense in Earl's unique building."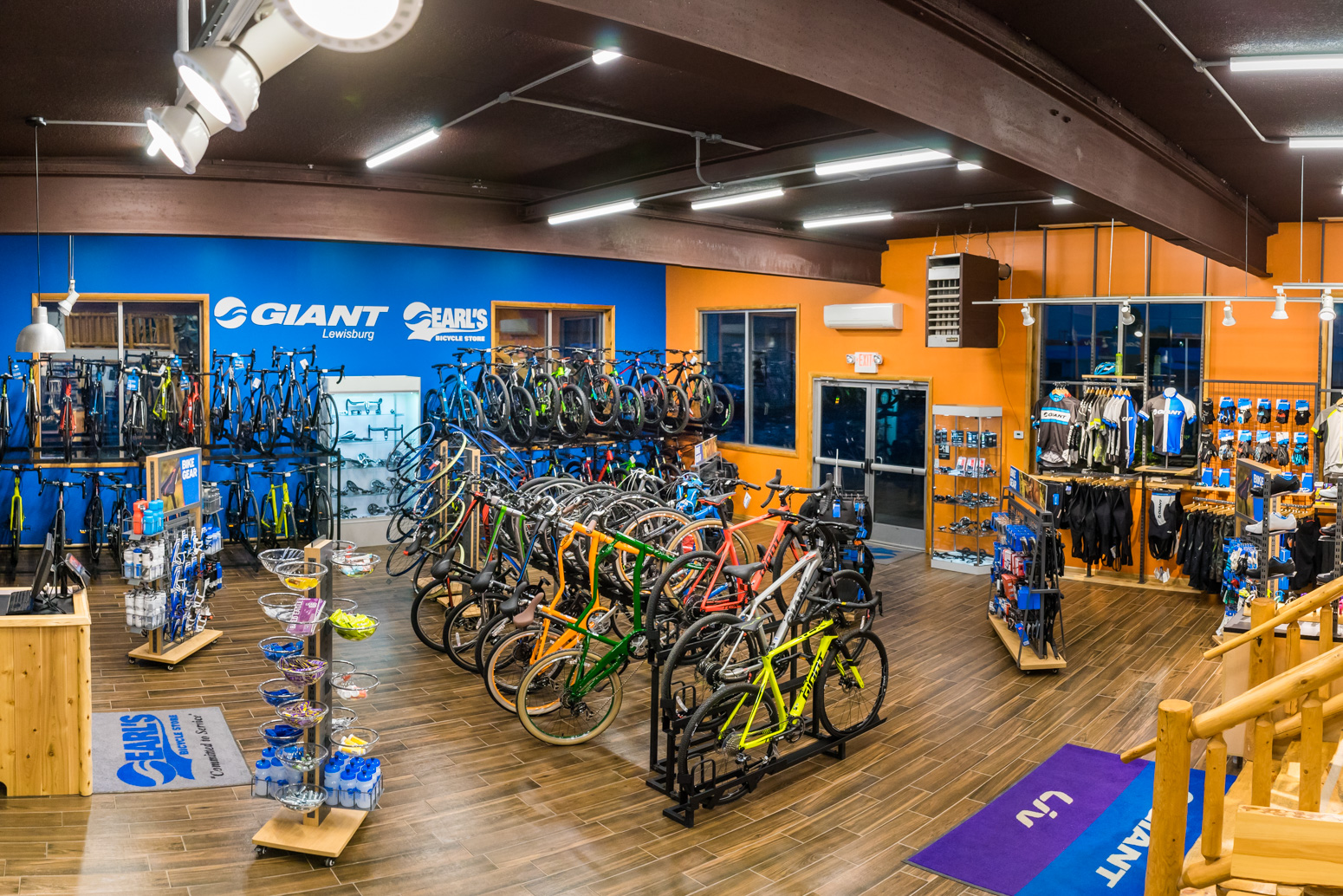 There are currently seven Giant retail stores in the U.S. Most are new and known by location, including Giant Santa Monica and Giant Little Rock. There are also several co-branded stores like Giant Lewisburg-Earl's Bicycle Store. 
"By co-branding a store like this, we can be sure the community knows it's still owned by Earl and still has the same superior sales and service that Earl has always offered," said Yao.
The Earl's Bicycle Store building has gone through extensive renovations since it was first acquired, and last year the Risslers added a café that serves coffee, smoothies and snacks. The latest remodel included new LED lights, fresh paint, updated colors and graphics and new fixtures. 
"We moved to this location just over three years ago," said Earl Rissler. "Before we moved in we did a lot of structural changes, opening up the spaces. We basically went to the stud walls and even moved a bunch of those. All new plumbing and electrical work, we pretty much re-did the whole thing. But with this latest remodel, we've really made it nice, brought it up to modern retail standards."