The company also reported a 40 percent sales growth and has added 24 new stores in 2017.
NEWPORT BEACH, Calif. (BRAIN) — With a store count that continues to tick upward at a swift pace, Pedego's dealer event gets bigger every year. About 200 retailers are attending this year's event here Monday and Tuesday, including owners of the majority of its 113 Pedego-branded stores, as well as 10 prospective owners, other Pedego dealers and international distributors.
To kick off the event, Pedego co-owner and CEO Don DiCostanzo introduced and showed a photo of every store, ranging from the company's first in Huntington Beach, California, to its newest in Leeds, England, which opened in November. Several retailers took a moment to share their story, including Pedego Boulder, which opened 32 days ago and has sold 31 Pedegos, and Nicole Zinn, owner of Austin's Rocket Electrics, who is set to open Pedego Austin early next year. Zinn attended the second Pedego dealer meeting in 2012 and was one of the company's first retailers, using its bikes for its hefty tour business.
"When we attended the second meeting, we could all fit at about three tables. It's great to see how much the company has grown, and we're excited about our new store in Austin," said Zinn, who also recently moved Rocket Electrics to a new downtown space where she sells only Riese & Müller e-bikes.
Pedego also hosted an industry roundtable on Monday. Navigant Research's Ryan Citron, Tony Donaldson, editor of E-Bike Action magazine, and Bicycle Retailer's Doug McClellan discussed several topics, including the current state of the market and predictions for the future. Citron shared some results of a comprehensive study his company conducted for 2016.
"We came up with a more conservative figure for e-bikes sold in 2016," he said. "We interviewed all the major manufacturers and looked at sales numbers when we could get them. We figured out that about 160,000 e-bikes were sold here in 2016 so our numbers are bit lower than the 400,000 unit sales figure that's out there. But that's still 15 percent growth, and a means there is a lot of opportunity for Pedego and other brands. There is still a low consumer awareness — a lot of people don't know what an e-bike is, but that is changing."
DiCostanzo said that despite increasing competition from more brands entering the market, both online and at brick and mortar, Pedego's sales in 2016 grew 30 percent over 2015, and the company added 20 stores. In 2017, 24 new Pedego stores opened and DiCostanzo said the company's goal for this year was a sales growth of 30 percent.
"But we didn't do that. We grew by 40 percent," he said. "So for 2018, our projection is to grow our sales by 50 percent and add 30 stores. We have 10 prospective dealers here, so we're already on our way."
DiCostanzo also said the company's average selling price is also on the rise but that Pedego hasn't raised its prices. Average selling prices have increased from $2,135 when the company launched in 2011, to $3,148 in 2017. It has also expanded its range of Class 2, throttle-assist e-bikes in recent years to include a fat-tire model. Its best seller is the Interceptor cruiser, which accounts for 42 percent of its sales.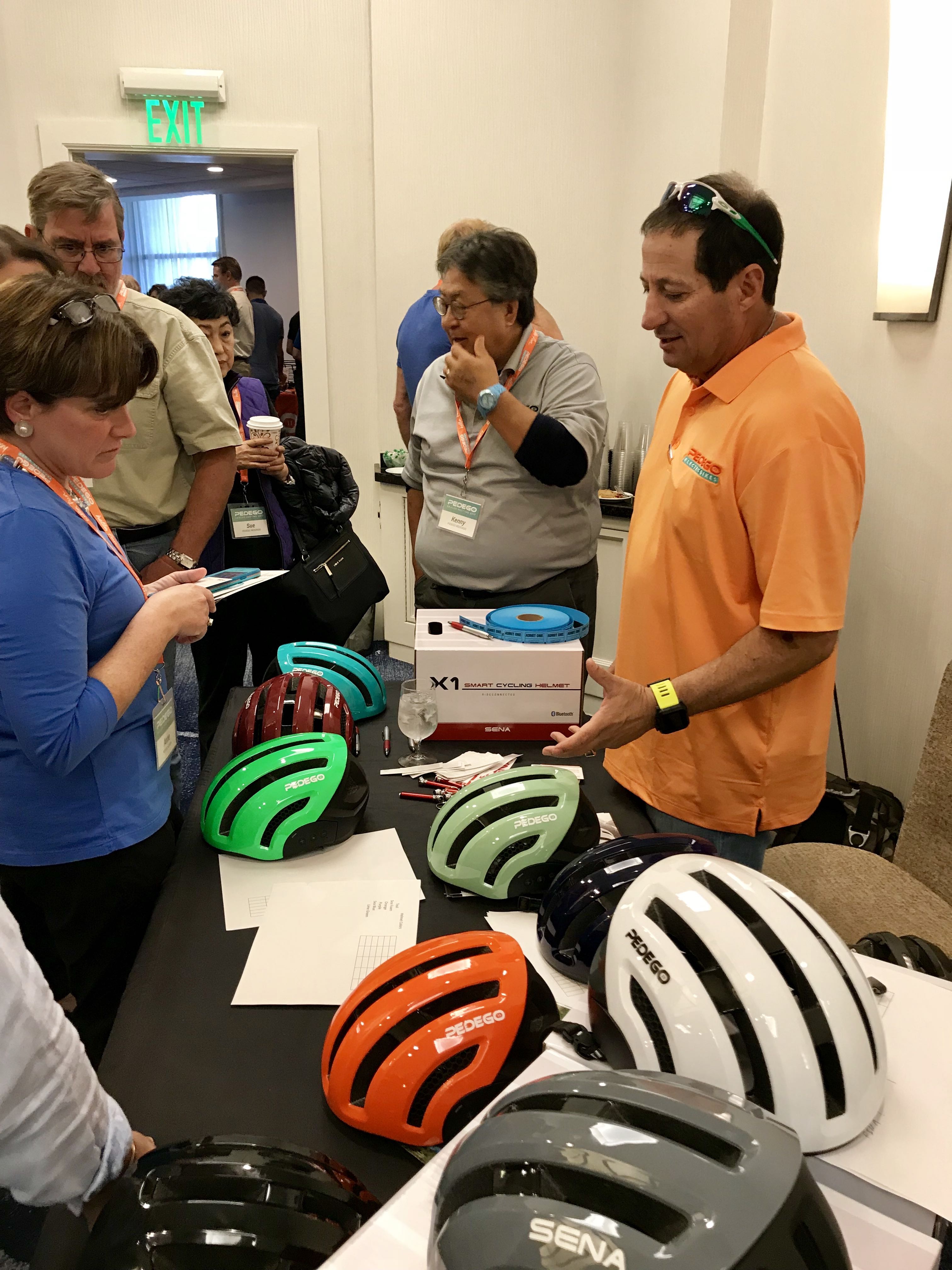 Pedego recently invested around $120,000 in its 40,000 square-foot headquarters in Fountain Valley, California, adding a new rack system that has increased the company's warehouse capacity.
"It took about two weeks and we were open and shipping and receiving bikes the whole time. We can now hold about 5,000 bikes in just half of our warehouse," DiCostanzo said. "And they're in categories now, so are easier to find. We're investing this kind of money because we are optimistic we are going to grow this business a lot."
The company also continues to add new staff, including industry vet Steve Lindenau, who has worked for Trek and most recently was CEO of BH Bikes and ran Easy Motion in North America. Lindenau began consulting for Pedego in June and was hired full time in September to manage international distribution.
"Pedego was always my main competitor when I was at Easy Motion. So Don and I would grab lunch two or three times per year to catch up on stuff. That's how I got to know Don and Terry (Sherry, Pedego's co-founder)," Lindenau said. "Pedego does so many things well and that's one of the reasons I was excited to give it a shot. Pedego is in a good place to grow international sales, and we have the perfect tour and rental product so we'll be focusing on that part of the market."